Ali Abbas with the cast of Tum Kon Piya, including Ayeza Khan, Imran Abbas, Qavi Khan and Shameen Khan.
Ali Abbas has steadily been making progress on television but not many people know that acting runs in his blood; he is Waseem Abbas' son.
The going has been tough for Ali Abbas but with big projects like Yasir Nawaz's anticipated serial Tum Kon Piya and a film debut on cards, things seem to be looking up for the actor.
Ali Abbas was a successful TV executive four years ago when he realized something was missing from his life. Like his father and grandfather, he too wanted to pursue acting. However, there was only one problem: he didn't quite look like a Pakistani 'hero'. From there on, Abbas began his mission to combat his weight issues and deal with strong opposition from his father, TV legend Waseem Abbas.
He shares his story of shedding a number of kilos for the camera and eventually convincing his father that this was his true calling…
On taking up acting
"My father was the biggest obstacle in my career," he shared. "I still remember that once my father's old friend Aurangzeb Legahari (actor) asked me if I wanted to be an actor and even before I said anything my father quickly replied 'no'."
A law graduate by qualification, Abbas worked in a law firm for almost a year before joining Style 360 as a senior producer.
"I was only 26 years old when I held a key management position in a leading channel. I had money, fame and name but there was something missing in my life," he said. His fiancé, now wife, motivated him to follow his destiny and pursue an acting career.
Was it tough to convince his father?
"I have this amazing chemistry with my father, we are good friends and the element of respect is also there. So I managed to convince him on the condition that I won't use his name for my benefit," he revealed.
When asked if there were any perks and privileges of being a star kid, his response was 'no'. "Being a star kid is not an easy thing because there is this constant pressure of being compared to your father," Abbas continued.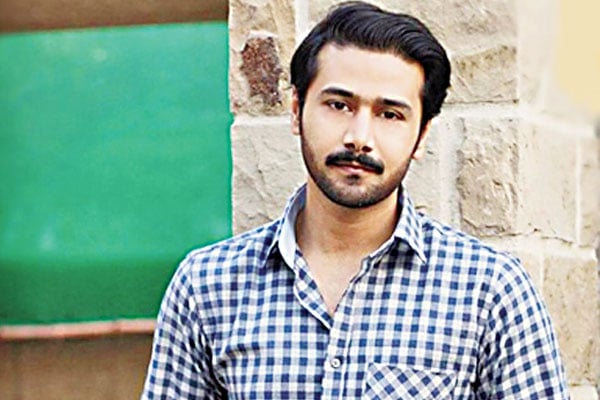 Abbas' acting career kicked off with Amin Iqbal's drama Meri Dulari opposite Yumna Zaidi on Geo TV. He weighed 86 kilos before stepping into TV and lost around 9 kilos to look the part.
"After losing 9 kilos I thought that I had achieved a big target but when the drama was aired I felt I didn't seem fit enough for television and so I started working out again," he added.
Abbas' performance was praised by all and sundry despite not many people knowing about his relationship with Waseem Abbas. He shot to prominence with Guriya Rani where he played an abusive husband with a grey past and later did the award-winning serial Sasural Mera.
This year he has three big projects under his belt – currently on-air Main Kamli, Kisay Chahoon, and Yasir Nawaz's Tum Kon Piya starring Imran Abbas and Ayeza Khan. And while everybody has been looking forward to the chemistry between the lead pair, Abbas has also played an equally important role in the love triangle.
On being averse to social media
Calling him an introvert won't be wrong because Abbas likes to stay within his own space. Social gatherings, media meet-ups and parties don't attract him at all.
"I lose my temper whenever I see someone being praised simply on the basis of their social network and not because of their talent," he added.
Even in this day and age where celebrities seem to be living more of a life on social media than for real, Abbas doesn't like to use social media as a publicity tool. "Once a fellow actor introduced me to a bunch of people who could generate fake likes on celebrities' social media pages. Since then, I lost my trust in this medium. It is better to get real accolade for work than to pay for it," he asserted.
The actor also added that the lobbies within the industry and excess number of channels have made the situation worse for young talent. "With so much work being done on television it has become impossible to notice every newcomer," Abbas added.
Is working in films on his agenda?
Abbas is currently in talks with some filmmakers and audiences will soon see him venturing into movies. "The people I am in talks with are not super commercial – they are aiming to make semi-commercial films with some serious messages," he shared.
He also added that he doesn't want to work with producers who rely on clichéd scripts and avoid experimentation. He draws inspiration from actors like Noman Ejaz, who believes in setting new trends and moving against the tide.