Fashionfocus
The designer is part of a group of four designers selected to show at the Fashion Scout - a platform for emerging global talent.
The past few years have seen the Pakistani fashion industry grow in prominence. Consistency at fashion weeks, an increased focus on smart marketing techniques and a shift towards fast fashion means our industry is not just becoming more creatively savvy but also realizing the importance of having a proper business model. But while sales in domestic market are significant, our designers continue to face challenges in replicating the same internationally. Dubious "Pakistan Fashion Weeks", held abroad, don't do them any favours in cementing a strong foothold either. The only attention that does come their way is often from neighbouring markets that can associate with the aesthetic. However, it seems as if all that is about to change. Designer, and chairperson for Fashion Pakistan Council, Wardha Saleem, is headed to London Fashion Week to showcase at the Fashion Scout segment, along with three other designers.
"I was selected by the British Council Pakistan to be part of their designer mentoring program called The Fashion DNA. It is a program that aims to create a platform that brings together British and Pakistani fashion professionals and institutions through workshops and showcases," Wardha told Instep, while explaining how she landed the golden opportunity. "The program takes the format of intensive training, including face-to-face sessions, online sessions,UK catwalk shows and showcasing."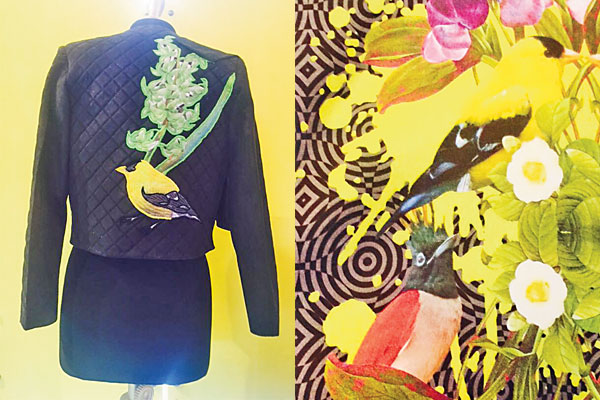 "I was then selected as one of the four Pakistani designers to be trained and mentored by four British fashion professionals to develop a business model and a line of ready-to-wear Autumn/Winter apparel for the EU Market," she continued. "The showcase at Fashion Scout during London Fashion Week is part of this program along with 4 days of workshops /trainings at CFE London and London College of Fashion."
The collection will combine Wardha's love for digital prints with techniques like quilting, applique and patchwork.
The Fashion Scout is an independent showcase at the London Fashion Week that gives innovative, emerging designers, the chance to put their collections in front of top global editors, buyers and stylists. The off-schedule initiative has gained reputation for nurturing exciting talent from across the globe and has become a prominent fixture among Paris showrooms. Popular names to come from its roster include designers like Peter Pilotto and David Koma.
Given that the showcase is frequented by big names like Anna Wintour, Kate Moss and Suzy Menkes, Wardha has undoubtedly found herself a lucrative platform to break into the international market. However, designing for the Western market is no easy feat especially with an aesthetic that echoes desi kitsch. While Wardha's attention to detail and flair with traditional outfits is commendable, selling them as a whole to international clients may prove to be a daunting task. However, Wardha assured that the collection has been designed to be commercially viable and wearable for the Western buyer, while retaining the label's signature.
"I normally work with tonnes of colour and embellishments but we have modified our approach keeping the European market and the season in mind," Wardha said. "The collection is relevant to the Western market but still stays true to my aesthetics. We have created Western silhouettes with local craftsmanship. We have also been closely working with our program mentors to make a collection keeping the business aspect in mind."
The designer, who has developed a niche clientele in the domestic market, will be showcasing her Autumn/Winter line drawing inspiration from the rich culture of Pakistan. The collection will combine modern flora and fauna digital prints with elements of neon details. It comprises of separates, to be shown across 10 different looks, and incorporates techniques like quilting, patchwork, appliqué and signature embroidery.
Wanting to go international is a step in the right direction for any designer looking to leave a bigger mark but statistics show that for every 100 labels created abroad, only one is commercially successful. Showing a one-off collection is, hence, not enough. The idea should be to create a presence, meet global demands and maintain it. Wardha assured that it is exactly what the British Council program has taught her and other designers.
"This program has helped us understand and incorporate the core business of fashion strategy. Taking the right product to the right market at the right time with effective costing and ability to produce and deliver. With their help, we plan to create our brand awareness and through this showcase, we hope to build relationships with potential buyers and experts," Wardha concluded.
The London Fashion Week kicks off on February 19th and the designer will be showing her collection on February 21st.