After appearing in Karachi Se Lahore and Ho Mann Jahaan, Ahmed Ali is all set to star in Hareem Farooq's Parchi.
Not many people know that Ahmed Ali was a national level tennis player before he made a leap into the entertainment industry as not only an actor, but also a musician. His hysterical stint at the Hum Style Awards last year was undeniably one of the highlights of the evening and his acclaimed theatrical performances in plays such as Grease have helped him prove his mettle as a gifted actor.
Ali debuted on the silver screen with a supporting role in IRK Films' horror-thriller, Siyaah. He then rose to critical and commercial success with the Wajahat Rauf rom-com, Karachi Se Lahore, in which he conveniently overshadowed the lead pair. Ali was later spotted in Asim Raza's glamorous musical drama, Ho Mann Jahaan.
After a hiatus of over a year, the actor is now all geared up for his next cinematic outing, Parchi, which will be a collaboration between producer, Imran Kazmi and director, Azfar Jafri.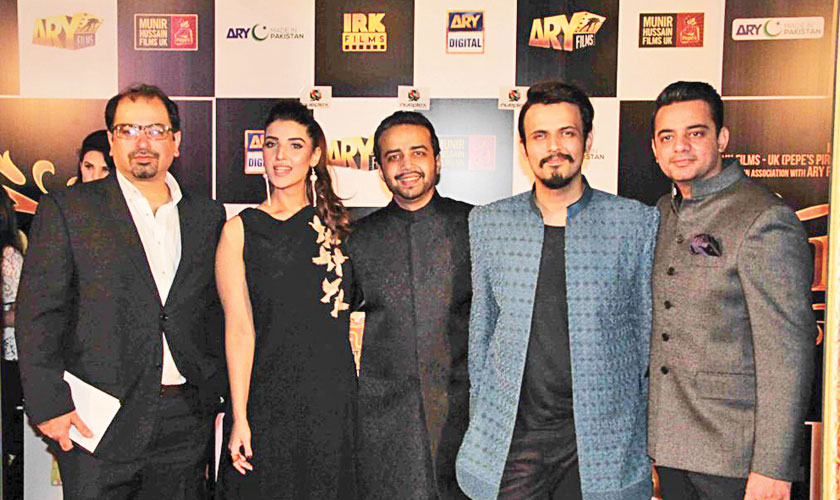 Hareem Farooq, producer Imran Kazmi, Usman Mukhtar and director Azfar Jafri will be working alongside Ahmed Ali in Parchi.
Being helmed by the producers of Janaan, the film features Hareem Farooq, Ali Rehman Khan and newcomer Usman Mukhtar in titular roles alongside Ali. Parchi revolves around the lives of three men who land themselves into trouble and end up seeking help from an authoritative and dominant woman that will be played by Farooq. Ali describes the film as a "situational comedy."
"I've known Imran for quite a while now and he spoke to me about the film sometime last year when they were developing the story," he told Instep over an exclusive telephonic chat from the sets of his film that went on floors earlier this month. "He then approached me when the concept was materialized. I went through the script and I really enjoyed it. I thought there was room for every character. I took a few months to make up my mind since I had to say no to a few other films and then I went ahead with it."
Considering the fact that the film consists of an ensemble star-cast with three male leads to be precise, was screen-space and time a concern for Ali? "It doesn't really matter anymore. The script and character are more important. I feel it's just so much fun to carry a film with a bunch of talented actors instead of being the solo lead. Also, I'm going to bank on a trustworthy filmmaker and look at other aspects as well like promotion and what would be better for my career. I don't want to be selfish and put in a catalyst because I want to take my time and do good projects."
Shedding some light on his role in the film, the Guzaarish famed actor disclosed that he plays a rather simple character compared to what we've seen him portray previously.
"The producers were looking for somebody with a lot of energy, who could get into the character's skin and make it real and relatable. It's actually a very plain character and I've incorporated a lot of facets in it. It was a very important role on paper but I couldn't see a fourth dimension to it, which after having discussed with my director, I added myself," he noted. "It's very subtle; I didn't want to over-play the character like I did in Karachi Se Lahore so the situations are comical instead. I also love Azfar's take on the script, it's very fresh."
We asked Ali what took him so long in finalizing his comeback of sorts to which he blamed the ongoing dry spell in cinema that's made him cautious of taking up any project. "I was hesitant looking at a few recent releases. It's a very ruthless and unforgiving industry, one bad move and you're labeled that way," he shared. "Janaan, for instance, proved that a film doesn't rely on star power, but a powerful script. We need to ease our public into different genres sensibly and that's where I see Imran having a very genuine approach to storytelling. All in all, I'm glad that Parchi landed in my lap."
Apart from his cinematic endeavors, Ali has also been appearing on television, showcasing his versatility and diversity with quite a few unconventional chartbusters, namely Ishq Parast, Nazo and Mera Yaar Mila De. However, the rising star feels his true callings are film and theatre. "Television pays the bills but it can get very hectic. Also it doesn't offer me the kind of stories I'd like to do," he observed. "If it were up to me, I'd only stick to theatre and film because they're more concentrated and focused on the plot. Every line exists because of a reason."
On a parting note, Ali revealed that he intends to enjoy filming Parchi to the fullest since he has no other acting assignments lined up in the near future. And even though Ali has impeccable comic timing, the young gun hopes to venture into dramatic and action-oriented cinema with films like Parchi that allows him to push his boundaries even further.