Nawab Asif Jahan and Farrukh Zaad have incredible chemistry," Sarmad Khoosat shared. "Isee Umair Jaswal and Meesha Shafi as the next Fawad and Mahira."
InstepprEVIEW
Sarmad Khoosat talks about Mor Mahal, Pakistan's first fantasy drama in 25 years.
Just think of the elements that are coming together. Conceptualized by Imran Aslam, Mor Mahal has been scripted by Sarmad Sehbai, directed by man-of-the-moment (or should we say 'Manto' of the moment?) Sarmad Khoosat and it's an A&B Production, brought to screens by Babar Javed (makers of Manto). Follow that up with rock-star Umair Jaswal's TV debut as Nawab Asif Jahan, Meesha Shafi as Farrukh Zaad, one of his three scheming wives, and a stellar cast including Sania Saeed, Hina Bayat, Ali Saleem and many more in intriguing roles and it's no wonder then that Mor Mahal is becoming a point of obsession even though its first episode is still more than a month away. And we don't know half of what's going to hit us!
"Mor Mahal can be called the hilal erotica of Pakistan," Sarmad Khoosat laughed, in a brief conversation with Instep, careful not to give away too much, too soon.
Mor Mahal, set around 200 years ago in an era fusing Mughal, Greek, Egyptian and Turkish civilizations, will be the first Pakistani fantasy drama to be televised since Alif Laila and Ainak Wala Jinn almost 25 years ago; though they can barely be compared for the difference in budget and scale. Both Alif Laila and Ainak Wala Jinn were PTV productions and while private channels have taken relatable dramas to another level, they have not touched upon the wonderful world of fantasy. Mor Mahal, on the other hand, has been shot in the fictional state of Jahanabad where Nawab Asif Jahan's court and empire is riddled with corruption, mystery, scandal, sorcery and intrigue.
Sarmad Khoosat shared that this 40-something episode period drama/fantasy would be aired some-time in the third week of March and while all the defining elements were strong and impressive, Mor Mahal was essentially a story of fiercely resilient, powerful women. There would be no weeping willows here.
"Imran Aslam conceptualized Mor Mahal almost 11 years ago," Khoosat responded to whether popular Turkish TV serial Mera Sultan had inspired the making of this fantasy drama. "He and Sarmad (Sehbai) came up with the idea because they wanted to bring the extravagance of the sub-continent to life. Perhaps Mera Sultan's popularity did encourage the producers to take the plunge but that had nothing to do with the concept, which was eventually turned into a series."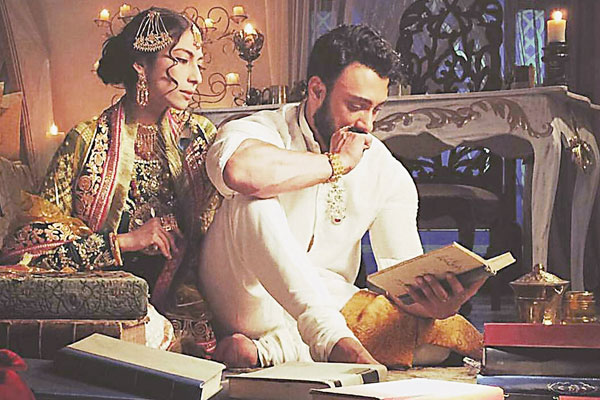 Nawabs, their harems and debauchery, are running themes in Mor Mahal and they work around two extremely beautiful characters – Meesha Shafi and Umair Jaswal. They both look magnificent in the posters that have now been revealed but one has to question the prudence of casting two relatively inexperienced actors in such monumental roles.
"I always found Meesha's face very interesting," Khoosat explained. "It's a face I love. Meesha has an odd, quiet fierceness that makes her perfect for the role of Farrukh Zaad. She has a range but she can act. And she is a singer so she enunciates very well. We have channeled the best of her."
As for Umair Jaswal he shared, "I originally cast Umair in a supporting role but when we met him we thought he fit the role of Nawab perfectly. Jaswal auditioned and Sehbai sahib met him and decided that this was the nawab. It was a fate thing."
Other than the lead pair, Mor Mahal has an ensemble cast including Sania Saeed, Hina Bayat, Fizza Ali, Janan Malik and a whole bunch of kids from the Lahore theatre scene. "We've come across some very impressive actors," Khoosat said, adding that it'll be a treat to watch them on television.
There is no medium bigger than television in Pakistan. While the world enjoys the power of cinema, in Pakistan it is TV that gets people obsessed over stars and their characters, their relationships, romance, struggles and scandals. The simple, everyday stories that Pakistani TV dramas narrate are relatable tales and perhaps the biggest reason for TV's popularity has been the bridge that it creates between the screen and the viewer. But for the very first time in 25 years, Mor Mahal will be bringing a fantasy drama series to screens and it promises to be bigger than anything that has been televised in a long time.
"It is a 'once-upon-a-time', plot driven story," Sarmad Khoosat concluded in our conversation. "It has costume, drama, music, glitz and glamour and it's still a relatable story because it boils down to human relationships." We can't wait for the episode to air, around the third week of March…