Mohsin Abbas Haider, producer Fizza Ali Meerza, Javed Sheikh, director Nabeel Qureshi and Fahad Mustafa strike a pose at the Na Maloom Afraad 2 trailer launch in Karachi.
InstepREport
The Fahad Mustafa, Javed Sheikh and Mohsin Abbas Haider starrer is all set to be the
most anticipated film of 2017.
Karachi: You know it's not your average film cast and crew when they show up on time to their film's promotional activities. Mohsin Abbas Haider sat in a corner, waiting for the press and media to turn up, Nabeel Qureshi and Fizza Ali, masterminds behind Na Maloom Afraad and Actor in Law, were inconspicuously hanging around and Fahad Mustafa came to say hello as if he were just another ordinary person at the venue. This was how the trailer launch of Na Maloom Afraad 2 commenced at Nueplex on Wednesday.
Eventually, the media whipped up a frenzy and all the cast members got caught up in a whirlpool of selfies, TV interviews and red carpet pictures. However, for those of us who turned up on time, as given on the invitation card, there were a lot of moments of calm where one got to speak to all the brains behind Na Maloom Afraad 2. "Of course, there is a lot of pressure on me," commented Qureshi at how he's expected to be critically and commercially successful the third time round. "But pressure is good, it's what keeps one motivated and driven."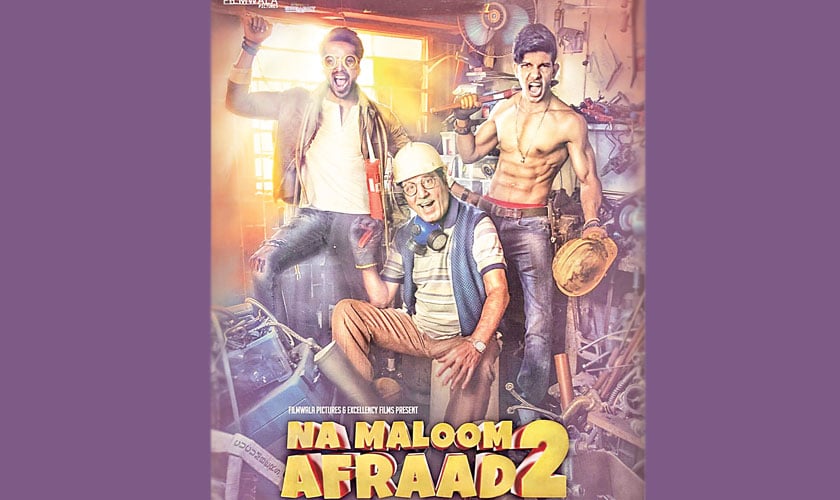 Haider was the first actor to arrive at the launch and we wondered how that happened. "I'm a punctual man and if I'm given a time, I usually arrive five to ten minutes beforehand. But that was the atmosphere of the film as well. Everyone was extremely professional and punctual."
Eventually the audience shifted inside the theatre, where the stars took turns to share their experiences. Here is what we learned: Marina Khan is all set to make her film debut with NMA2. "Parwaaz Hai Junoon was supposed to be my first film, since I signed it first, but NMA2 is releasing earlier so I guess this is my debut," shared the veteran actress while also revealing that she will be playing the role of Hania Amir's mother. Amir is the newest addition to the NMA clan and we couldn't be more thrilled. She brings with her a youthful energy that fits perfectly with the rest of the NMA stars. "Pakistan's film industry is reviving, we're seeing a lot of films. But we want you to go watch NMA2 because it's a good film, not because it's Pakistani. We have to stop selling this sentiment now and start producing better quality films," shared Mustafa in his usual honest and tongue in cheek style.
The trailer was finally unveiled and the audience had to watch it three times in order to absorb all the elements that are working in the film's favour. NMA2 has been shot in Cape Town, South Africa, and while the location is foreign, the characters are very quintessentially Pakistani. "Pakistanis are Pakistanis no matter where they are," laughed Qureshi when asked about how the film will retain it's local angle, considering it has been shot in South Africa. The film revolves around a Sheikh Baqlava, played by Nayyar Ejaz, who has lost his gold toilet commode while visiting Cape Town. Mustafa, Sheikh and Haider somehow get tangled up in this absurd robbery. Amir plays the manager of the hotel where the Sheikh is staying and Urwa Hocane is continuing to play Mustafa's love interest this time round. Unfortunately, Urwa wasn't at the launch herself therefore we couldn't learn more about her character.
Also present in the audience was Mehwish Hayat, who has worked with the crew in both their films. "I have a question from the stars," she asked. "I just wanted to know, did you guys miss me?" she quipped.
After looking at the trailer, one thing that immediately stands out is how crisp the film looks. Technically, the film seems to be at par with international standards. We wondered if the technical details, such as cinematography and editing, have been handled locally or were done by foreigners. "Rana Kamran is our D.O.P and he went with us to Cape Town to shoot the film. Everything you see on screen has been done by a Pakistani. All of the post production has been handled by us. We purchased a new Alexa camera for the film; this is the first Pakistani film to have been shot on it. We just got our sound engineering done from India, but everything else has been done by us," Qureshi revealed.
That is perhaps what makes NMA2 a force to be reckoned with. Brilliant performances, witty dialogues, and a professional attitude is what makes NMA2 stand out from the crowd. The film will be releasing on Eid-ul-Azha, competing with Humayun Saeed's Punjab Nahi Jaongi at the box office, but it would be safe to assume that Nabeel Qureshi's third film is going to break box office records yet again.