(From left to right) Members of music group Khumariyaan, Sparlay Rawail, Shiraz Khan, Farhan Bogra and
Aamer Shafiq playing at the residence of Reece Smyth, Chargé d'Affaires of the U.S. Embassy.
BeyondBorders
Electrifying Khumariyaan take London and Dublin by storm.
With several fantastic instrumental singles to their name and an album in the making, folk-rock act Khumariyaan is one of the best musical acts to have emerged from the burgeoning independent music scene of Pakistan in recent years.
Based in Peshawar and Islamabad and featuring Farhan Bogra, Aamer Shafiq, Shiraz Khan and Sparlay Rawail as members, the band is known for its reputable live shows, a statistical reality that became obvious more than once this past week as the group made its UK and Ireland debut.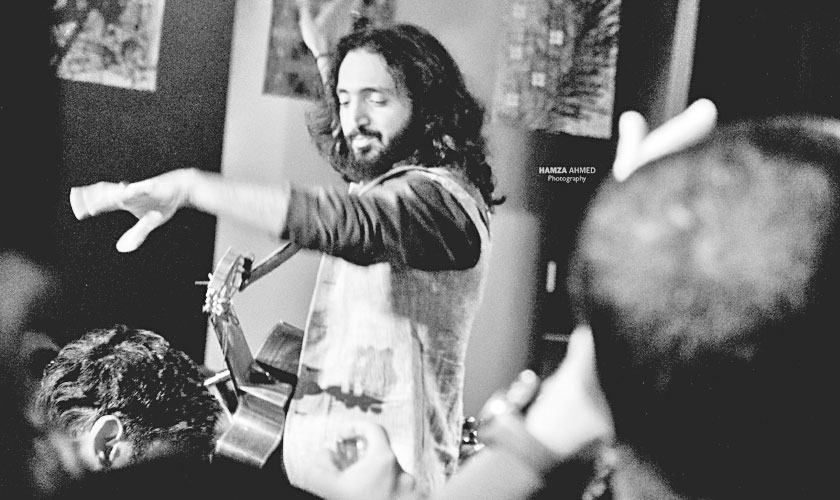 Having seen them weave magic on several occasions, we knew they would do well but now that the show(s) are done with and reports about the gig(s) are pouring in, it looks like they put up an electrifying performance, first in London and later in Dublin.
The tour began in London where the boys played the Alchemy Festival 2017 which was held at the South Bank Centre and presented by Funoon London.
Reporting on the group's interactive performance, Funoon London noted on its website: "They started off with the sure-fire 'Bela', and then presented two collaborations with British singer Sabiyha, one of which was a beautiful rendition of 'House of the Rising Sun'. True to their signature performance style, the tempo accelerated as the concert went on, with the band performed rousing, extended versions of their hits 'Tamasha', 'Zwangeer' and 'Surr Mangay'."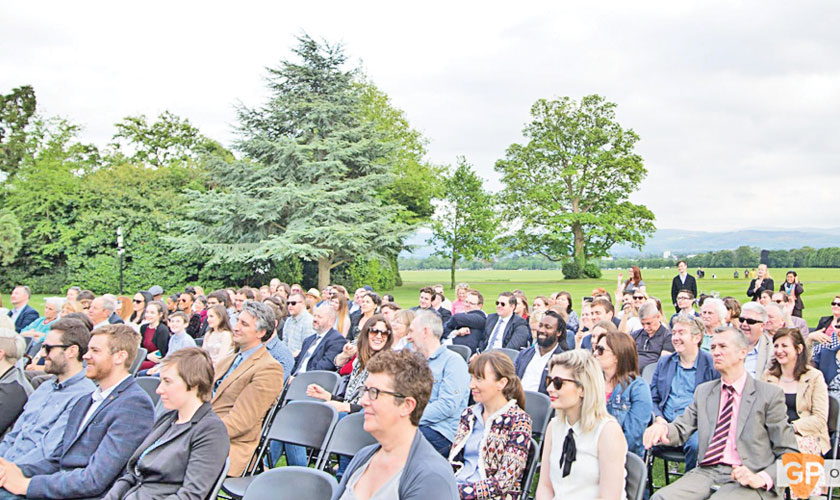 The music, wrote Funoon London, brought the audience to its feet as strangers danced, engaged and connected with another. "Khumariyaan are often asked what role their music plays in responding to the violence affecting their home city – the answer is that it cuts through cynical political rhetoric and division, speaks to the heart and the sense of beauty that lives within us, and reminds us what makes us human. And it's not just Peshawar that needs that."
Guitarist Sparlay Rawail, speaking post-gig stated, "We couldn't have asked for a better UK debut. The love and excitement with which we were received by the audience was wonderful. And their open-mindedness in coming to see us in such numbers – not just Pashtuns but people from so many different backgrounds – we salute that. It was every musician's dream."
Afterward the UK gig, the band went to Ireland upon the invitation of the US Embassy. During this two-day trip, they jammed with local musicians, performed to a packed house at Trinity College and finally ended up at the abode of Reece Smyth, Chargé d'Affaires of the U.S. Embassy and performed on the lawn of his residence in the heart of Phoenix Park.
GoldenPlec, a site that has been covering music in Ireland since 2002, reported how the band also took part in a discussion while in Dublin. "They (Khumariyaan) say society is slowly changing for the better, uniting through music," noted the site. "Their music is intentionally instrumental so that all people of the many different languages and ethnicities in Pakistan can come together.
Khumariyaan are helping to drive this social change through their music, as well as outside of it. The band members consist of lecturers and activists.
They hope to set up a record label to make it easier for other musicians to create music, and aim to only collaborate with female musicians which are rare in their heavily patriarchal society."
–With information from Funoon London and GoldenPlec