Intro: The year 2015 has come to an end; now is the time to reminisce what we have lost, gained, anticipated, toiled for and ended up with.
On the international scene and at home, women have scaled new heights and have been honoured in their respective line-of-work.
As the year winds up, here's a flashback into the yearlong scores by women. You! highlights some of the women achievers of 2015...
International front
First black female Republican joins US Congress
In January, Mia Love of Utah became the first black female Republican in Congress.
First Muslim Pilot in Europe
In May, Moroccan Myriam Adnani became the first Muslim female pilot in Europe.
Greece first female PM
In August, Vassiliki Thanou, president of the country's Supreme Court, was sworn in as the first female prime minister in the history of Greece.
First ever female US Army Rangers
In August, Kristen Griest and Lt. Shaye Haver became the first female soldiers ever to graduate from Ranger School.
Most Powerful Arab Women for 2015
In September, Forbes named Nemat Shafik (the Deputy Governor of the Bank of England) and Naglaa Al-Ahwani (the Egyptian Minister) as the Most Powerful Arab Women for 2015.
Nepal's first female president
In October, Nepal elected Bidhya Devi Bhandari, a women's rights campaigner to become the country's first female president.
Iran's first woman ambassador
In November, Iran appointed its first woman ambassador Marzieh Afkham to head its embassy in Malaysia.
Angela Merkel tops Forbes list and also named Time's 'person of 2015'
German Chancellor Angela Merkel topped the Forbes list of the world's 100 most powerful women for the fifth consecutive year. Also, in December, Time magazine named her as 'Person of the Year 2015'.
Afghanistan's first female Supreme Court judge
In June, Afghanistan appointed Anisa Rassouli to be the country's first female Supreme Court judge.
UK's first Punjabi-origin barrister
In October, a Punjabi-origin barrister Bobbie Cheema-Grubb became the first Asian woman to become a high court judge in the UK.
Saudi women make history
Saudi Arabians voted 17 women into public office in municipal elections in December, the first to allow female participation.
First Asian Elected Mayor in UK
Harbhajan Kaur Dheer, 62, was elected first female mayor of Ealing Council in London.
Svetlana Alexievich wins 2015 Nobel Prize in literature
Svetlana Alexievich, the Belarusian female writer whose oral histories have recorded thousands of individual voices to map the implosion of the Soviet Union, won the Nobel Prize for literature.
First female bishop in House of Lords
Rachel Treweek became the first woman to serve as one of the Lords Spiritual in the British Parliament. For the first time in its history, the British Parliament will have a female bishop sitting in the House of Lords.
UK Polls; record 8 Muslim women elected
In May, a record of 8 Muslim women MPs were elected in general elections in Britain. The election included the first Muslim SNP MP, Tasmina Ahmed Sheikh, elected in the landslide by the nationalist party in Scotland as well as the first female Muslim Conservative MP Nusrat Ghani.
Pakistani elected in Canadian elections
In October, two Pakistani women Salma Zahid and Iqra Khalid, representing the Liberal party, won seats in the Canadian elections 2015.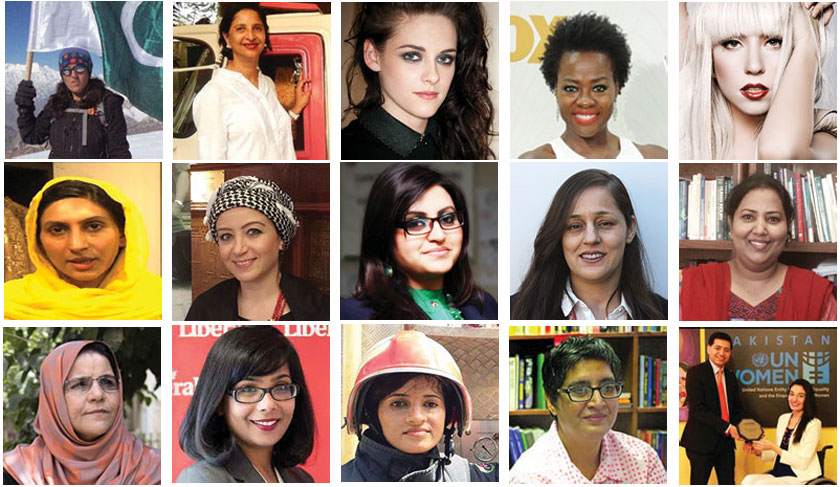 National front
Pakistan's first female fire-fighter
In July, Pakistan Shazia Perveen became Asia's first female fire-fighter.
First-ever women entrepreneurs' delegation
In October, Pakistan's first-ever delegation of women entrepreneurs have made history by visiting Sichuan Chamber of Commerce for footwear imports and exports in Chengdu.
Sabeen Mahmud honoured posthumously
In December, Pakistani activist Sabeen Mahmud was honoured by the global affairs magazine Foreign Policy in its annual list of 100 Leading Global Thinkers.
Mazari named goodwill ambassador
In December, UN Women, the United Nations entity for gender equality and the empowerment of women, named Muniba Mazari as Pakistan's first female goodwill ambassador.
First ever female truck driver
Shamim Akhtar, 53, from Rawalpindi set a new record and became the first ever female truck driver of Pakistan.
Ayesha Ranjha
For the first time, an Additional Commissioner Punjab Revenue Authority (PRA) Ayesha Ranjha made her way to the limelight as she sealed out nearly 13 fashion outlets in Lahore for not paying General Sales Tax.
First female lawyer from Chitral
In August, Rahila Kanwal of Chitral became the first female lawyer from Chitral.
And the award goes to
Peter Mackler Award 2015
In October, Syrian woman Journalist Zaina Erhaim was awarded with Peter Mackler Award 2015
Pakistani wins Commonwealth Youth Award
In March, Gulalai Ismail, a 28-year-old Pakistani was awarded the 2015 Commonwealth Youth Award for Excellence in Development Work.
International Women of courage award
In March, Tabassum Adnan of Swat got international women of courage award in the US. She is the founder of Khwendo Jirga which is the first ever women-only Jirga.
BBC's broadcaster of the year award
British Pakistani Mishal Husain won Broadcaster of the year at the London Press Club awards.
Ladiesfund Women's Award 2015
Artist, textile designer and researcher Noorjehan Bilgrami and veteran journalist Zubeida Mustafa were awarded lifetime achievement award at Ladiesfund Women's Award 2015. Rights activist and journalist Najma Sadeque was also honoured with the posthumous courage award.
Best woman award
Nosheen Lone from Pakistan won the Best Woman Award, for her remarkable discoveries in the field of technology, in a competition for female entrepreneurs held in the United Kingdom.
Rubina Bhatti honoured with Peace Award
In October, The Administrator of the United Nations Development Programme and former Prime Minister of New Zealand Helen Clark honoured prominent Pakistani Christian Human Right activist Rubina Feroze Bhatti with N-Peace Award in New York.
Sitara-e-Shujaat for Shaheed
Mrs. Tahira Qazi Shaheed (Gallantry) and Mrs. Saima Zareen Shaheed (Gallantry) were conferred with Sitara-e-Shujaat.
Pride of Performance
Record breaking mountaineer Samina Baig got President's Award for Pride of Performance.
Anusha wins UN 'Global Achievers' award
In December, Minister of State for Information Technology Anusha Rahman was awarded the 'GEM-TECH Global Achievers 2015' award by the ITU and UN Women in New York for initiating a number of projects and programmes that have had a profound impact on the ICT sector in Pakistan.
First women-only auto-rickshaw
Pakistani environmentalist Zar Aslam launched her own service exclusively for women passengers and drivers in Lahore.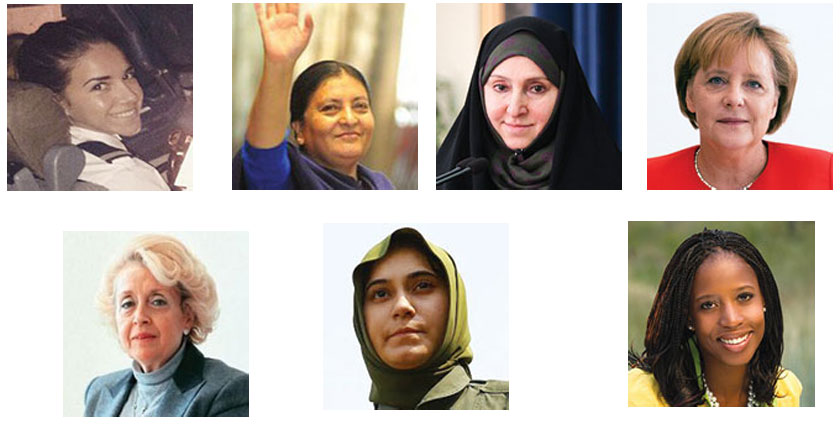 Showbiz front
American wins first French 'Oscar'
In February, Kristen Stewart became the first American woman to win a Cesar, France's equivalent of an Oscar. She was given the award at the 40th Annual Cesar Film Awards Ceremony in France.
Viola Davis makes Emmy history
Viola Davis made Emmy history when she won the award for best actress in a drama series, becoming the first black woman to take the honour in the prestigious category.
Billboard's woman of the year
In September, Lady Gaga was named woman of the year by music magazine Billboard.
Highest-paid actress
Jennifer Lawrence topped the Forbes list for being the world's highest-paid actresses.
Highest paid models
Gisele Bundchen topped the Forbes list of highest paid models for the ninth year.
Woman of the Year
In September, Deepika won Woman of the Year at GQ awards - winning the title for the second time. She had earlier bagged the same title at IIFA Awards in June.
Glamour Award for Victoria Beckham
In November, Victoria Beckham was awarded Glamour Women of the Year Awards in New York.
Mahira wins best actress
Pakistani actress Mahira Khan bagged the Best Actress award for movie 'Bin Roye' at Masala Awards 2015.
Rides high in Hollywood
Laraib Atta, daughter of legendry singer Atta Ullah Khan Esakhelvi, made entry in Hollywood as Pakistan's first youngest female visual effects artist. Her Hollywood film projects include Johnny Depp's Sweeney Todd, 10,000 BC, and the Chronicles of Narnia sequels.
Pakistani illuminates NY Time Square
In October, artist Shazia Sikandar glittered New York's Time Square with a new look by using her digital skill on the electric billboards all around Times Square.
sporty ones
Highest-paid female athlete
Tennis player Maria Sharapova topped the Forbes list of the world's highest-paid female athletes, earning almost $30 million over a 12-month period. Sharapova, tops the list for the 11th straight year.
Illustrated's 2015 'Sportsperson of the Year'
Serena Williams was named Sports Illustrated's 2015 'Sportsperson of the Year'. The first after three decades.
Afghani women mountain climbing group
For the first time in the history of Afghanistan, a group of women climbed 16,000 feet up a mountain.
Arab woman officiated at Wimbledon 2015
41-year-old Kuwaiti line umpire, Aseel Shaheen, became the first Arab woman to officiate at Wimbledon.
First Pak woman footballer play in UK
In July, Pakistan's first female professional footballer Almira Rafeeque made history by becoming the first sportswoman from the country to play the sport in United Kingdom.
Sportswomen of the Year Awards
Football coach Annie Zaidi of Pakistani origin won the 2015 Sportswomen of the Year Awards.
Swabi's pride bags medal in USA
In August, 11-year-old Nayab Bibi from Swabi district, KPK won a bronze medal at the Special Olympics held in Los Angeles.
First female power lifting gold medal
Twinkle Sohail, 19, became the first Pakistani woman to win international gold medal at the 2015 Asian Bench Press Championships.
Silver medal in swimming
In July, Pakistani swimmer Aqsa Janjua won silver medal in Special Olympics 2015 in 50 meters freestyle swimming at Los Angeles
Riding solo through northern areas
In August, 20-year-old Zenith Irfan travelled through Kashmir, riding different motorcycle models all alone on difficult remote tracks.
Woman as men's football coach
In October, Raheela Zarmeen became Pakistan's first woman to be part of men's football coaching staff team.
Award for excellence
Government honoured Ronak Lakhani with Tamgha-e-Imtiaz for her team's achievement at the Special Olympics Pakistan (SOP) in Los Angeles.
Maria wins Squash Championship
Maria Toorpakai Wazir from Fata won the second Bahria Town International Women's Squash Championship.
The Rising stars
Wayne Hills graduate
In January, Rihab Mahmood, a student at Wayne Hills High, won an honour for the project to aid students in Pakistan. The 18-year-old collected and donated a year's worth of school supplies for 65 elementary school students.
IELTS Award 2015 winner
27-year-old Pakistani girl Maria Khan became won the IELTS Award, the first of its kind in Germany.
Pak girl top scores globally in Math
In July, a 17-year-old Pakistani Ayesha Memon received the highest marks in the world - 10,000 schools in 160 countries - in the Cambridge IGCSE mathematics examination.
Swati girl honoured in US
In September, a student of 8th grade hailing from Swat, Khyber Pakhtunkhwa, Hadiqa Bashir was awarded Mohammad Ali Humanitarian International Award in the United States for her struggle for minors and against forced marriages.
Best Cadet Award
In October, Masooma Maryam Shigri got the Best Cadet award during the Passing Out parade. She is also the first female army commissioned officer from Shigar district, and Baltistan division.
For whom the bells tolled
First English woman priest dies
In July, first English woman to be ordained in the Anglican Communion, the Revd Joyce Bennett, died.
Best-selling author dies
Best-selling author Collins died of breast cancer. Throughout her career, Collins sold more than 500 million copies of her 32 novels.
Najma Sadeque passes away
In January, prominent human rights activist, journalist and environmental writer Najma Sadeque passed away.
Sabeen Mahmud shot dead
In April, Sabeen Mahmud, a prominent Pakistani social and human rights activist, was shot dead in Karachi.
First PAF female pilot dies
Pakistan Air Force (PAF) Flying Officer Marium Mukhtiar became the first female pilot to have died on a mission when a PAF trainer jet crashed near Kundian, Mianwali.