you & me
Asad Ahmed is a renowned Pakistani guitarist, who has been on the local music scene for three decades now. Over the years, Asad has done extensive sessions contributing his guitar work and compositions to albums by Vital Signs, Junoon, Ali Haider, Najam Sheraz, Haroon, Sajjad Ali and Rahat Fateh Ali Khan, to name a few. He has also been a part of Coke Studio for long.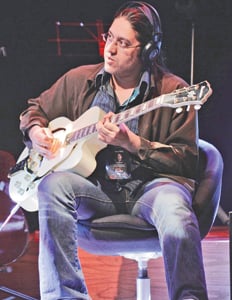 Asad started his music career in 1987 with 'The Barbarians', a band that was fondly regarded as Pakistan's first ever rock band. In 1992, Asad formed 'Awaz' with Haroon and Faakhir. However, after the disbanding of 'Awaz' in 1997, Asad established his own studio. It was also at this time that Asad Ahmed returned to his roots of rock by forming 'Karavan' with Sameer Ahmed. In 2005, 'Karavan' released an unplugged album which was only made available online. 'Saara Jahan', which was released in 2010 was the band's final release as they parted ways later in 2011. Asad has recently launched his new music album 'Rebirth' in collaboration with EMI Pakistan. This week in our You & Me section, meet this talented guitarist and find out about his likes & dislikes...
What is your specialized field of singing? Are you into jazz or rock & roll?
Rock.
How many albums have you released so far?
I have released three albums with 'Awaz' and four with 'Karavan'.
What's your latest album all about?
'Rebirth' is my first solo album. A sonic guitar landscape of epic proportions with Rock, Blues and Jazz stylings with a fresh sound. It is a direct response to fans who have been demanding an instrumental guitar album since two decades.
Did you learn music professionally?
My elder brother was a guitarist and when he left for college, he left his guitar back at home. I picked it up and very quickly learnt to play 'Smoke on the Water' by Deep Purple.
What is your most memorable concert to-date?
My sold out concert at Wembley Arena with band Awaz in 1995.
Your claim to fame song:
'Yeh Zindagi Hai' by The Barbarians back in 1989.
What do you usually wear in daily life?
A pair of jeans and a T-shirt will do just fine.
Your favourite international labels:
Zara, Diesel, CPS and Armani.
Your favourite international music celebrity:
Paul Stanley from band 'Kiss'.
Your favourite music composer:
Jimmy Page.
Who is your icon in music industry?
David Gilmour from Pink Floyd.
How do you deal with your female fans?
Very politely.
One thing you like best about yourself?
The fact that I am a pretty good judge of character.
Your most irritating habit: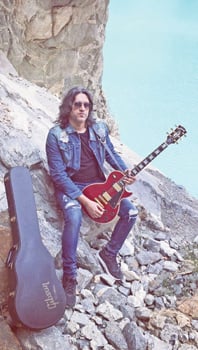 Chewing gum.
You like girls who are...
Intelligent with a good sense of humour.
You don't like people who are...
Fake.
You are afraid of...
Nothing.
Your most valuable possession:
My 35,000$ guitar collection.
Your all time favourite movie:
It's a tie between 'God Father' and 'Schindler's List'.
Are you a shopaholic?
Not at all.
Your idea of romance:
A private chartered flight from London to NYC on her birthday to have dinner for two on top of the Empire state building. Done that and trust me it works!
What bores you the most?
When I'm sitting idle. I prefer working all the time.
When feeling low you prefer:
Solitude.
You are crazy about...
Italian food.
Among your friends you are known as...
Trust me you don't wanna know :).
Are you a social person or a loner?
Quite social with the right people.
How do you like to spend your Sundays?
Home in the company of my better half.
In your childhood were you a bright student?
Extremely bright but daydreaming of becoming a superhero in class.
Who was your favourite rock/jazz star when you were growing up or in your teens?
'Kiss'.
Your favourite hangout?
Cafe Flo for dinner or a nice 'chai place' with the boys.
Your ultimate desire...
To eradicate racial prejudice and poverty once and for all. We are all equal.