literature
Poetry has always been an essential part of Urdu literature. The epic chain of Urdu ghazals and nazm has incorporated great poets like Meer Taqi Meer, Mirza Ghalib and Mirza Sauda. Whereas, the modern poetry had gems like Faiz Ahmed Faiz, Jaun Elia, Ahmed Faraz, Nasir Kazmi, Josh Malihabadi and Mustafa Zaidi. But this strong tradition of Urdu poetry would have been incomplete without a feminine touch.
This week You! pays tribute to some of the finest Urdu poets of the Sub-Continent:
The first lady of Urdu Poetry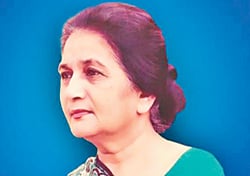 Ada Jafri was born on 24th of August, 1924 in Badayun, U.P, India. Her birth name was Aziz Jahan. She learned poetry from maestros like Akhtar Sheerani and Jafar Ali Khan Asar Lakhnavi. Jafri is regarded as 'The first lady of Urdu poetry'. She was raised in a society dominated by male poets and intellectuals. The expression of feelings by a woman was considered a taboo then. In the early '50s, she was recognized as the first Urdu poetess. Though she wrote in gender-neutral notes, her words have been infatuated with the eternal feminine beauty. To critics, her work was full of polite expression. She amalgamated traditional and progressive thoughts in a beautiful way. Ada Jafri was an expert in both genres of Urdu poetry, nazm and ghazal. One of her most famous ghazals 'Honton pe kabhi unn ke mera naam bhi aaey' was sung and popularised by the late Ustad Amanat Ali Khan. Her first book, 'Main Saz Dhundti Rahi' was published in 1950 and was a hit. She was honoured with several awards, including the 'Kamal-e-Fun Award' and 'Baba-i-Urdu Molvi Abdul Haq Award'. Ada Jafri passed away after a long illness in March 2015 in Karachi. She was 90.
A poet of romance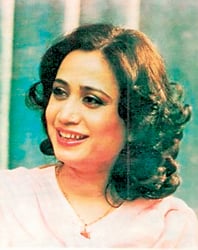 Who doesn't know about Parveen Shakir? Parveen Shakir is one of the most popular female poets who gave a face to sentiments, exploitations and experiences - specific to women. Parveen Shakir was born on 24th of November, 1952 in Karachi, Pakistan. Known for her often bold approach towards expressing sentiments of a woman, Parveen Shakir started writing at an early age. Her first book 'Khushbu', which is also her magnum opus, was published in 1976 and received critical acclaim. Parveen Shakir mainly wrote in two forms, one being the ubiquitous ghazal and the other being free verse. Her poetry is an alluring fusion of classical metaphors and modern sensibility. Many of her couplets and ghazals now hold an iconic state in the world of Urdu literature. Her marriage with Dr. Syed Murad Ali did not work out and ended up giving her the pain of separation, which affected her poetry in many ways. Still remembered as 'Khushboo ki Shayra' (Poetess of fragrance), Parveen Shakir had an accident in December 1994. Her death was indeed a great loss to the Urdu poetic world.
A progressive poet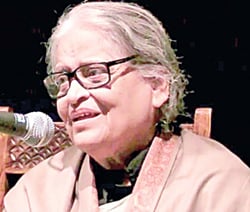 Born in a family of intellectuals, Zehra Nigah is a progressive Urdu poetess and a scriptwriter. Her elder sister Fatima Surayya Bajia was a famous playwright and her brother Anwar Maqsood is a satirist and a playwright as well. She is one the few female poets to get recognition in early '50s when the poetic scenario of the country was dominated by male poets. Nigah writes equally mature poetry in the form of ghazal and nazm. Apart from her magical writings, she is popular for her beautiful rhythmic recitation of poetry in several mushairas. Zehra Nigah found herself writing poetry for the first time when she was just 14 years old. Inspired by traditional Urdu poetry, she memorized the works of all classical Urdu and Persian poets by heart. Her home in 1922 is known to be the centre of historical scholarly gatherings of major Urdu poets like Iqbal, Faiz, Majaz, and Firaaq. Her poetical collections 'Waraq', 'Firaq' and 'Shaam Ka Pehla Tara' were critically acclaimed. Awarded with the honours like Pride of Performance, Zehra Nigah has written several super hit television serials as well. She still writes and tends to impress everyone with her beautiful works in mushairas every now and then.
An agent of change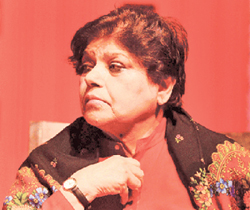 Apart from being a top notch progressive poetess, Kishwar Naheed is a feminist social worker as well. Her work for the development of women in society is notable. She has been a symbol of feminism in Pakistan. Naheed's poetry speaks liberty in loud notes. Her blunt yet soft style accentuates her dogmatic approach towards women empowerment and participation in Urdu literature made her become a part of many women empowering movements. She was born in Bulandshahr, India in 1940 in a Syed family. She was married to a poet Yousuf Kamran and after his death, she had to work and raise her children alone. She has worked in major NGOs in and outside Pakistan and was the Director General of Pakistan Arts Council as well. She also writes for the Daily Jang newspaper. Her popular work, 'We Sinful Women', holds a special place in the sphere of Urdu poetry. Her poetic collections have been translated in English and Spanish as well. She has also been honoured with the top civilian award, Sitara e Imtiaz by the government of Pakistan.
An unconventional poet
Fahmida Riaz's life speaks volumes about her struggle towards ultimate perfection. She invented her own unique style in the free verse form of poetry. Born on 28th of July, 1946 in Meerut, Uttar Pradesh, India, Fahmida Riaz got her poem published in 'Funoon' for the first time when she was just 15 years old. Ahmed Nadeem Qasmi's 'Funoon' was the best literary magazine at that time with major poets and writers contributing in it. In Zia's regime her Urdu publication 'Awaz' was banned for freedom of speech and she was almost imprisoned. Riaz's unique approach towards poetry gives her readers a strong fragrance of traditional metaphors embellished with the feminine thought of liberation. She also holds the honour of Sitara e Imtiaz given to her by the president of Pakistan in 2010.