International Women's Day first emerged from the activities of labour movements at the turn of the twentieth century in North America and across Europe. Since those early years, International Women's Day has assumed a new global dimension for women in developed and developing countries alike.
However, when we talk of Women's Day in our part of the world we usually take into account suppressed, subjugated and weak women. Normally women NGOs hold rallies and organise seminars on the occasion of Women's Day where the plight of women in Pakistan is highlighted. There is no doubt that both rural and urban women are discriminated on the basis of gender. Sometimes they are victims of domestic violence and sometimes they suffer because of cruel 'jirga' system and social customs, prevailing in our society, that work generally against women. Nevertheless, there is no dearth of courageous, talented, hardworking, intelligent and professional women in Pakistan who, despite all odds, have done commendable work in their respective fields in a bid to bring some meaningful change in the lives of hundreds and thousands of women and children. Since International Women's Day is actually about celebrating women empowerment, You! has dedicated this issue to all the brave women out there who are working tirelessly for a progressive Pakistan.
The 2016 theme for International Women's Day is 'Planet 50-50 by 2030: Step It Up for Gender Equality'. Though gender equality seems like a far-fetched idea in the present scenario, the good news is that our women are moving forward and they are determined to make their presence felt in every field be it journalism, philanthropy, IT world, engineering, politics etc. In this regard You! pays tribute to all the wonderful women, on the occasion of Women's Day, who have made an impact on the society by their extraordinary zeal, vision and work. They are not necessarily rich or famous but they are celebrities in their own domain. Here are a few dynamic women who are outstanding in their contributions and are definitely worthy of appreciation:
Shabina Mustafa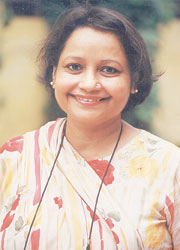 Shabina Mustafa
Shabina Mustafa is a living example of endurance, struggle and hard work. The year was 1999 and Mustafa was moved by the plight of a young girl denied the opportunity to benefit from vocational training because she could not read or write. While chasing her dream to disseminate education, Mustafa decided to use the space in her garage to set up an informal school for underprivileged children, which was later dubbed as 'The Garage School', starting with about a dozen students and the generosity of friends and family who donated benches, desks and a blackboard. The Garage School is formally registered as a project under the Safi Benevolent Trust (SBT).
In the beginning of 2007, TGS opened a branch in Neelum Colony, a low-income area in the heart of Karachi's elite Clifton locality. Shabina aims at giving the underprivileged children all the requirements of a basic education. *She works on the five basic principles in educating these children, taur (training), tareeqa (approach), tarbiyat (grooming), taleem (education), and tareeqi (progress).
Today, even after so many years, the school still operates from a rented building in Neelum Colony, Karachi, and has helped hundreds of students over the years.
Students from the school, most of whom are the children of domestic workers, have gone on to find good jobs and many are pursuing higher education. "We now have one student who is going to SZABIST and another who is in NUST. We have young women who studied in our school and have returned to become teachers as well," says Mustafa.
Roshaneh Zafar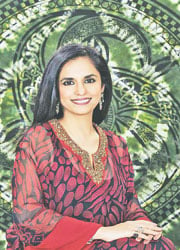 Roshaneh Zafar
Roshaneh Zafar launched Kashf Foundation in 1996, with an overarching vision to financially empower women by developing a female centric approach to the provision of microfinance services in her own country, Pakistan. Dr Muhamad Yunus inspired her to start a microfinance institute in Pakistan, similar to the Grameen model in Bangladesh. Today, Kashf Foundation is one of the biggest specialized non-profit microfinance institutions in the country, empowering women, men and their dependents with the means for entrepreneurship, sustainable growth opportunities as well as with the spirit of positive affirmation. Before establishing the Kashf Foundation, Roshaneh Zafar worked with the World Bank's Water and Sanitation Programme (1990-1994), as a Consultant for the Swiss Development Corporation (1995), and as a Consultant for Action Aid Pakistan (1995). It is for her ability of redefining boundaries in development and pioneering a new holistic approach to the empowerment of women that Roshaneh Zafar was awarded the Tamgha-i-Imtiaz (2005), one of Pakistan's highest civilian awards, by the President of Pakistan. The US State Department also honoured her with the One Women Initiative Award in 2009.
Kashf is the first specialized microfinance institute in Pakistan working exclusively for low-income women. "We are the first ones to mainstream insurance for poor households in Pakistan, and the first institution to put clients at the centre of product design. In the future I see Kashf growing more innovatively and venturing into education and healthcare," says Zafar.
Seema Aziz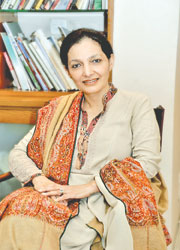 Seema Aziz
Pakistan has the second lowest literacy rate in the world. With a solid commitment to change the destiny of this country through education Seema Aziz, an entrepreneur and philanthropist established Care Foundation in 1988. Today, Care Foundation is managing 270 schools, many in rural areas of Punjab, educating more than 175,000 children and providing higher studies scholarships to more than 800 students. Care builds and runs its own schools, with no government or donor funding. In 1998, the government of Punjab invited Care to adopt 10 failing state schools. "We managed to turn these schools around and enrolment increased by several hundred per cent," says Ms Aziz. "Through our espousal of state institutions, we helped to pioneer public-private partnership for the first time," she adds.
The best part about Care schools is that they have kept English as medium of instruction for underprivileged children. According to Seema Aziz, "How can I say that my children will go to English schools, but I will open schools where children only study in Urdu. We are educating the children of our nation, the future of our country. We must give them a fair chance." The schools charge nominal tuition fee as Seema does not want her children to feel they are being educated on charity. It is heartening to see that many of the school alumni have gone on to become teachers themselves. Others have trained as engineers, businessmen and women, doctors, surgeons, soldiers - their lives have been transformed by Seema Aziz and her Care schools.
Her company Bareeze is also a success story. She started her business in 1985 with one shop in Lahore and now the company has 460 outlets in Pakistan and has expanded into countries, including the UAE and the UK.
Jehan Ara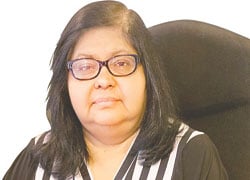 Jehan Ara
Jehan Ara is one of the most successful entrepreneurs of Pakistan. She is currently serving as the president of Pakistan Software Houses Association (P@SHA), which holds a notable position among the top IT companies of the world. The company's major objective is the development and protection of software industry in Pakistan. It also collaborates with companies beyond the borders to provide its clients with the best of software products and services.
Aside from being a business woman, she is also an enthusiastic social activist. She is passionate about product and service development, new ideas and empowering youth and women in Pakistan. She has helped kick start several initiatives including the 'Pakistan branch of Women on the Web', 'Take Back the Tech', and 'Women's Virtual Network', all of which aim to have some impact on improving women's social situations and supporting their entrepreneurial skills. The ambitious project 'Women's Virtual Network' is designed to help educated women dealing amicably with employers and other professional workers, giving them a chance to explore themselves in the world, with rapid IT growth.
Maria Umar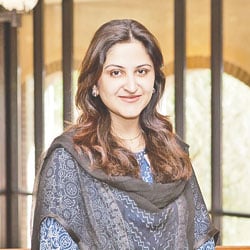 Maria Umar
Maria is the founder and president of Women's Digital League (WDL) - an online platform that provides digital training and work to Pakistani women. Maria Umar is a great source of inspiration for women. Maria was a school teacher. After being refused maternity leave, she quit her job. "During this time I found online work. And it made me realize this was the perfect way to work for women in Pakistan who are largely discouraged from working outside their homes," says Umar. She set up her own oDesk account, gave away a few jobs of writing starting from her own family. Gradually it became what we call 'The Women's Digital League'. This company gives a chance to all the educated young girls to get a job in the digital world. The company has been expanded to 'The Digital League', a platform for Pakistan's digital workforce, which provides digital solutions to individuals and corporate clients. While Women's Digital League focusses on training rural Pakistani Women in micro online tasks. TDL focuses on all kinds of computer-based services such as affordable content writing, virtual assistance, Facebook/Blackberry/iPhone apps, CRM systems, CMS systems, website development, and videography to clients all over the world. Local and International media has featured her as an innovative leader. These publications include Mashable, Forbes, Virgin, Ashoka and Dawn to name a few.
Khadija Mushtaq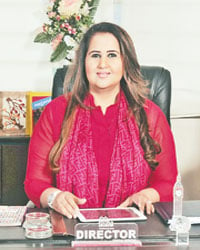 Khadija Mushtaq
Khadija Mushtaq is a Pakistani educationist and entrepreneur who has revolutionized the concept of education starting from early years of schooling to university education and beyond. She is the executive director of Roots School System - the third-largest private school chain in Pakistan. Established in April 1988, Roots School System has more than 40 Campuses nationwide. Roots School System RSS is a model private sector educational institution styled on the modern educational system of international standards, specially designed to meet the requirement of the students to meet the challenges of the 21st century. Mushtaq is also the CEO of Roots Ivy International Schools and the chancellor of Roots Ivy International University. She is an honorary member of the Cambridge Advisory Council, the top forum for educators in Pakistan. Mushtaq received the Yale Educator Award in 2009 and the Best Councillor Award from MIT in 2010. She represented Pakistan at the University of London International Programmes Global Symposium in 2014. Mushtaq is also an activist and patron in chief of several NGOs, including 'Liberating the Girl Child' foundation.
Shaheena Waqar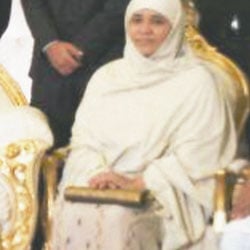 Shaheena Waqar
Born in Risalpur, Shaheena Waqar established an organisation known as the Women Aid Trust, along with two other friends, in 1997. Through this organisation, she has been able to help women in prisons by teaching them different skills and educating them so they may be able to sustain themselves once they return to the real world. She believes that this exercise helps build a sense of community amongst these women, who have been convicted for some petty crime, thrown away in prison and now feel dejected and lost. By providing them computer classes, sewing centres and recreational institutes, Waqar is able to produce in them the motivation they need to rebuild their lives.
Parveen Saeed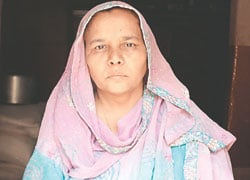 Parveen Saeed
A journalist-turned-social worker, Parveen Saeed is a driving force behind 'Khana Ghar'. Saeed initiated this project in 1989 in a bid to provide hot meals for three rupees to people from low income group. It was first started in Surjani Town, Karachi, and later expanded to Khuda Ki Basti. The three-rupee meal served at 'Khana Ghar' includes one roti and a plate of curry. "We charge money because we want to discourage the poor from being dependent on free food, they feel better once they realize that they have earned their food," explains Saeed. Around 300 people eat at Khana Ghar in Khuda Ki Basti daily, and the cost of the operations comes to about Rs 4,000 a day. With generous support and donations from August 2008, Khana Ghar grew and established another 'dhaba' doubling the number of people being fed and the good deeds being earned. For hundreds of families in Khuda ki Basti and Korangi, Parveen Saeed is a beacon of hope in our city. "The basic problem of our country is poverty because of which the poor can't afford two square meals a day. We want to work towards eliminating this hunger that is the root cause of all crimes," says a determined Saeed.
Naila Jamall Aladin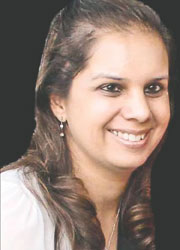 Naila Jamall Aladin
Naila Jamall Aladin is known for her tireless work to establish 'The Learning Tree School', which found its roots in 2000. What is unique about this school is that it incorporates diversity - it doesn't just focus on education, it helps children groom themselves for what's coming ahead. The school caters for all students, including those who have special needs, and helps them understand their strengths and weaknesses so they may fare better. This school instils in its students the idea of giving back, helping the community and benefiting more than just oneself, and all these traits are much needed for every individual in Pakistan today. Though just a drop right now, Aladin and her school are working towards creating substantial waves and they should be supported and appreciated.
Saba Gul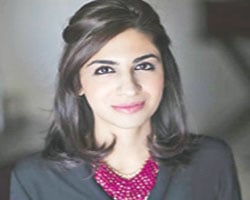 Saba Gul
An MIT alumna, Saba Gul is the founder of 'Popinjay', which was previously known as BLISS. "Popinjay is an artisan-made handbag label that simultaneously enables livelihoods for underprivileged female artisans by creating a hand-made product that revives ancient craft techniques. It was inspired by the beauty of the Punjab, where craftsmanship has been stunted by the lack of connections to global markets. In October 2013, it launched its debut collection," says Gul in one of her interviews to a publication. "At first, I was a one-woman show with 25 artisans but no finished product, no market and no customers. Today, we have 150 artisan women, a full-time team, committed investors, hundreds of products sold every month across the world (primarily North America) and a band of loyal customers. Our products have been carried at the Emmy Awards (Sharmeen Obaid-Chinoy) and featured on CNN, Al Jazeera and NBC News, and most recently the US retailer, Anthropologie, has picked up our products as well," she adds.
Sonia Sahar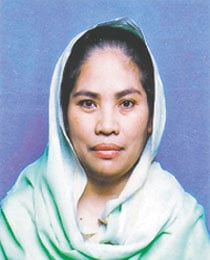 Sonia Sahar
Sonia Sahar, has over 11 years of experience in the development sector with expertise on gender, women's health, and women's political rights. She has worked extensively with political parties, government officials, and elected representatives to combat violence against women, advocating for the implementation of measures to ensure women's protection in conflict and disaster-affected areas. She provided technical support to Balochistan's provincial assembly to pass the United Nations' Safe Motherhood Resolution and assisted the province's women's parliamentary caucus in drafting their by-laws.