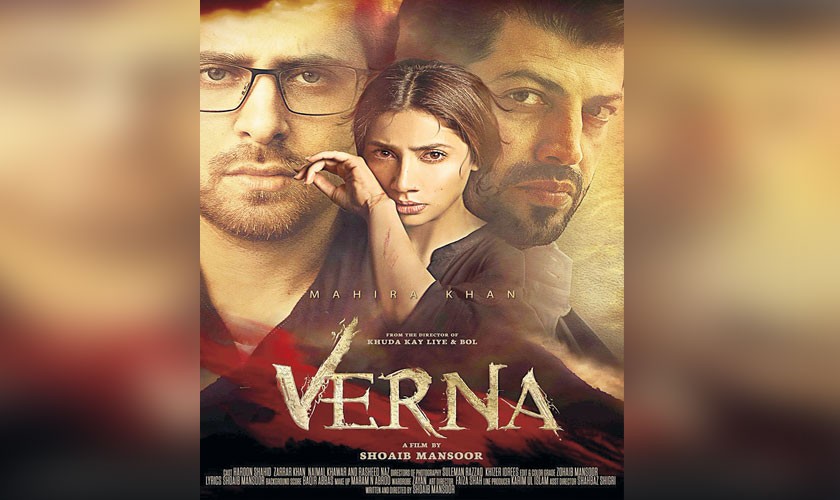 "Don't tell me what rights Islam gives women; tell me what rights Muslims give women."

These words, for me, epitomize what Shoaib Mansoor's third film, Verna that released this weekend, stands for. These words remind me of Naseeruddin Shah's monologue in Khuda Kay Liye, in which he says that "Din mein darrhi hai, darrhi mein din nahin." It's the kind of line that will stick. KKL was a brave film, made in unstable times; Shoaib Mansoor's Bol was even more hard hitting, serving several sensitive and misplaced issues at the same time and in his third outing the acclaimed writer/director makes a case for women's rights just as effectively.

It is by no means perfect. The very premise of the film – how a certain civilian can just run up to a Governor's car, open the door and rant – is beyond far fetched. There are numerous similar instances that leave you in disbelief and may even ruin the film for you. For a woman to return to her rapist, for a woman to bury her loved one in her home, for three inexperienced people to plot a revenge sequence… Shoaib Mansoor's plot is riddled with loopholes and some of the dialogues are just as weak. I do believe that Shoaib Mansoor's art of story telling is stellar but at the same time his execution suffers a set back; it hasn't met technology.

Verna does have its strengths; for one, it does not bore. It's gripping story-telling and you're anxiously waiting for the next scene throughout its duration. You wait nervously for Sara (Mahira Khan) to be picked up as the family is picnicking in the park, because that black four-wheeler lumbering around is ominous. Then you wait for her to return and you wonder what state she'll be in. You're on the edge of your seat when you witness her insecure, regressive husband Aami's (Haroon Shahid) reaction. You wait for the moment when she realizes who her abductor and rapist is. There is something or the other that grips you, even when it's as unbelievable as her return to the rapist for evidence.

And the lessons that are entwined in the storyline are priceless…
Who made it acceptable for a man to hit a woman?
Sara's husband is struggling with the situation, unable to come to terms with it and wishing he didn't know so they could just forget it and go on with their lives. Ignorance is bliss, he says. And at some point when she's arguing, he slaps her. She storms out in a rage and then rushes back and punches the living daylights out of him.
A woman is a person BEFORE she is a wife or daughter
Why should a woman lead her life and act according to guidelines set out for her by her family? Sara's parents want her to hush things up in a classic "bhool jao" way but she goes ahead in search of justice. Sara's in-laws want to handle things their way – the typical hot headed reaction of "dekh lain gey" – but she goes and admits herself for a medical examination and registers an FIR. Throughout the film her family wants to dictate her feelings and her actions but she does exactly what she wishes even in the most sordid of circumstances.
How a woman dresses DOES NOT matter
Sara's mother in law reprimands Sara and her own daughter, Mahgul, for wearing jeans and t-shirts around the city, with a "yeh toh hona hi tha" as an unbelievable reaction. Sara's case is eventually picked up by TV channels and she is put face-to-face with the stereotypical variety of misogynist mullah who says, "When women dress this way in front of men, who watch Bollywood films and pornographic content, then these crimes are inevitable."
"Do the children in madrassahs, who get raped and sodomized also dress provocatively and do those maulvis also watch Bollywood films and porn?" she questions aggressively. Point. A woman's code of conduct or the way she dresses DOES NOT justify, in any way, how she is treated. Nothing justifies rape or harassment.
You cannot stereotype how a rape victim should behave or appear
Sara is shown as an emancipated, Oxford graduate who returned and married a musician she fell in love with. She's a beautiful, modern woman who dresses in western attire on her personal time. Several reviews I read judged Sara for not looking like a rape victim and I wanted to ask, how exactly should a rape victim look? Should she suddenly have stopped wearing jeans in favour of a shalwar kameez and dupatta? Should her clothes have been torn and bedraggled and should she have looked less beautiful? Because Mahira does look beautiful in every frame. "Look at you! You don't even have a single mark of resistance or struggle on your body; it's as if you wanted this to happen!" Aami spits these unbelievable words at her. In a way, that's what we're implying when we're judging a woman by the clothes she wears.
At the end of the day, Verna is a must watch. It's a film that deals with VIP culture, feudalism and misogyny. It also points all fingers at the warped system we deal with on a daily basis. But it leaves enough room for hope, which is just as important as raising a flag for the issues at hand. It is also built upon very strong performances, especially Mahira Khan who works out of her comfort zone to deliver the grittiest performance of her career. Zarrar Khan, the Governor's son and antagonist, is almost flawless in his character and he incites both hatred and revulsion. Again, one wishes that the plot were stronger and the execution smoother but the messages sent out in Verna are much more significant than the movie itself.