The falcon is the National Bird of Saudi Arabia, Qatar, Oman, UAE and Yemen so it was obvious who this gorgeous sculpture
studded with 625,000 crystals was created for.
InstepREport
Participating in the regular Swarovski Sparkling Couture - Infinity exhibition, designers from Pakistan look at the Middle Eastern market with interest.
Dubai: A giant rotating falcon was the centerpiece at this year's Swarovski Sparkling Couture - Infinity exhibition, held in Dubai this week. Encrusted with 625,000 minute crystals and sparkling as it caught light, it was an example of how the crystal giant – Swarovski – was integrating art, culture and fashion and bringing it all together for designers to experiment and innovate. It was also offering a two-way channel, exposing designers to the Middle Eastern region while Swarovski expanded to more regions officially. The last Sparkling Couture exhibition, held in 2015, included designers from the Middle East, South Asia and the Far East and this year saw expansion by the inclusion of African designers too. Amongst the pool were six eclectic names from Pakistan.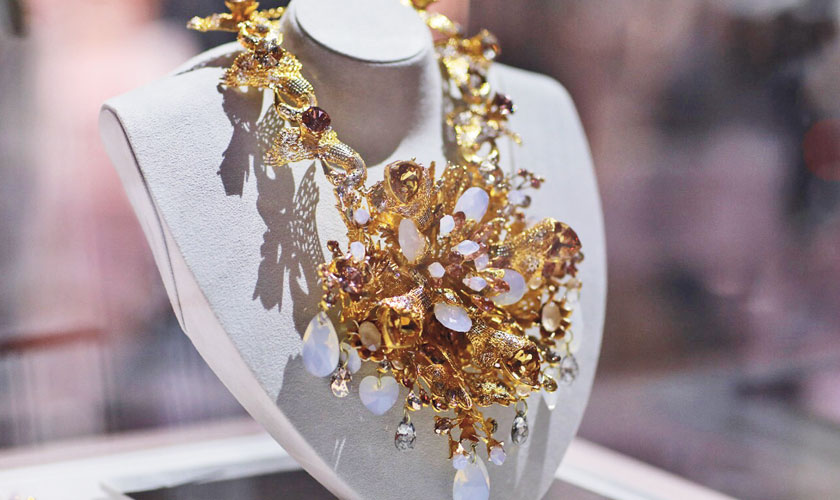 Rema Taseer's accessories made a very strong statement at the exhibition.
Bunto Kazmi, who's considered a pioneering partner as she's an influential name in the world of bridal couture and uses only Swarovski crystals in her creations, was one participant. She was represented by her daughter in law, Sehr Kazmi, who had lent a bridal sari from her personal collection to the exhibition. Maria B indulged in edgy western couture this time, while Sania Maskatiya created a piece that would work in Pakistan and the Middle East. The workmanship was impeccable. Zainab Chottani's outfit was traditional wedding wear and surely was made to appeal to the South Asian population in Dubai. Swarovski has also extended an invitation to accessory designers and one felt that Rema Taseer's statement piece was truly standout. It picked up a lot of appreciation from the local press. Naushaba Brohi was a surprise card as the designer behind Inaaya does not conventionally work with crystals and it was a challenge to change her brand ethos for the event. Her pieces certainly were different from anything else that one saw.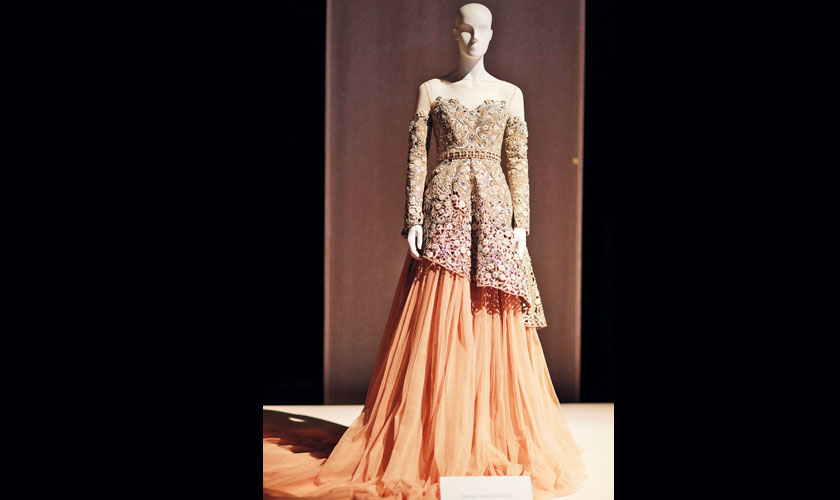 Sania Maskatiya had flown in straight from Turkey, where she was styling a shoot for her collection Samarkand, and she expressed interest in expansion to the Middle Eastern region.
An early evening media session was followed by a break after which the evening blend into a gala night, allowing Dubai's top buyers to mingle over cocktails under the twinkle of hundreds of thousands of Swarovski crystals, which weren't limited to the exhibits but even adorned the sky high curtains for extra impact. The Arab world is known for bling and bling there was albeit it was restrained very tastefully.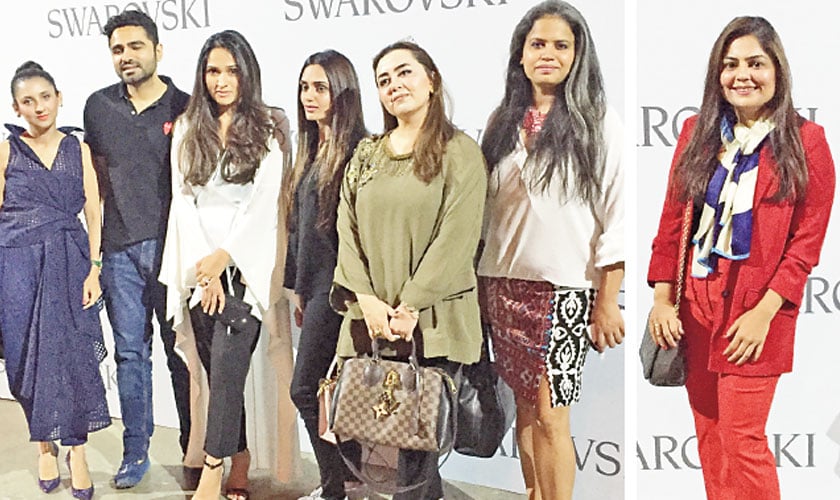 The Pakistan troupe of designers: Sehr Kazmi (for Bunto Kazmi), Umair Tabani, Sania Maskatiya, Rema Taseer, Maria B and Naushaba Brohi (Inaaya) with Zainab Chottani (right).
A note or learning point for brands in Pakistan would be the way the event was branded. There was not a single brand other than Swarovski on the backdrop of event's media wall and even Swarovski branding was subtle and tasteful. Money speaks volumes and of course, one cannot deny the power of the Middle Eastern market, evident in the cars that pulled up and the gowns that walked down but even if these people were social royalty, they were not offered a red carpet for photographs; it was considered an intrusion on their privacy. The carpet that rolled out from the foyer to the interior was plush and red but it was not populated with messy brand logos, pesky photographers or the selfie generation. Rich, clean and sparkling, that appeared to be the memo.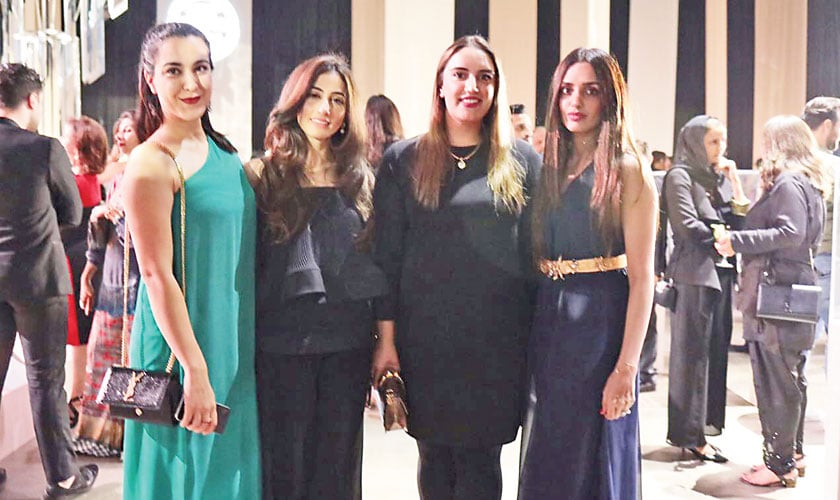 Adding some star value to the gala, Bakhtawar Bhutto Zardari turned up to support Rema Taseer. Council heads Sehyr Saigol and Feri Rawanian also attended the gala evening.
Conclusively, what does participating in an event such as the Swarovski Sparkling Couture Exhibition mean for a designer, and why should they be interested? It is a question several people asked in Pakistan. One doesn't think it's for everyone, but targets designers who want to expand beyond Pakistan's saturated market. For one, Swarovski is encouraging brands to sign up as official brand partners, which means they commit to only using Swarovski crystals in their creations. Maria B, Sania Maskatiya and Zainab Chottani have the official seals. This ensures quality and one hopes it will also expose the designers to Swarovski's grand arena of international fashion, as the brand does work with top couturiers in the world. Who knows what kind of collaborations we could be looking at in the future? We do know that the level of craftsmanship that Pakistan can offer is unparalleled in the world. Designers just need to have a crystal clear vision of what they're looking for and have the vision to aim for it.