Kaavish boys Maaz Maudood and Jaffer Zaidi with house band member/guitarist Omran Shafique at the
Coke Studio 10 launch event in Karachi. Photo by Maheen Sabeeh.
MusicMix
Ahead of the second episode, the music director reflects on paying tribute to Mehdi Hasan and the comeback of his music outfit, Kaavish.
After a lukewarm pilot episode, Coke Studio 10 is looking to up the ante with the upcoming second episode that will see a number of heavyweights collaborating. While the penchant for cover songs remains a key component of the production, there is enough potential in the second episode to eclipse the first one. But first, a brief preview of what's coming up.
Ali Zafar and Shuja Haider (music director) are pairing up to pay a tribute to the late Master Inayat Hussain with 'Jaan-e-Bahaaraan' in the second episode. Originally composed by Hussain with lyrics by Tanveer Naqvi, it is re-imagined musically by Haider. That's cover number one.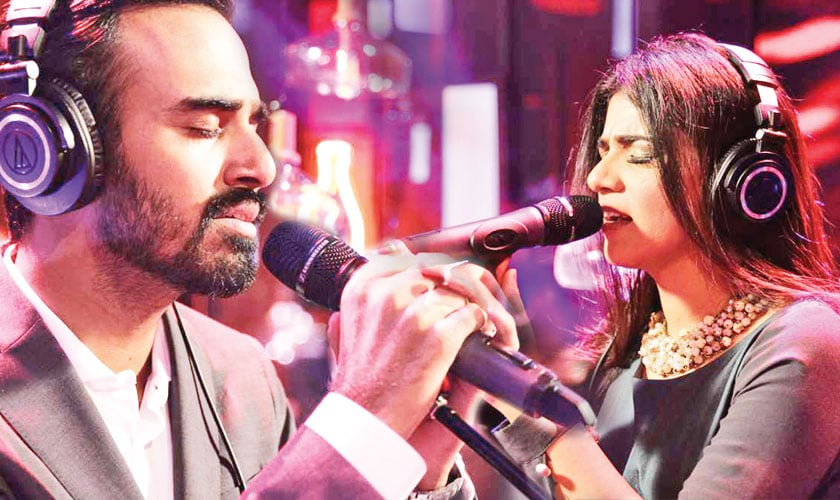 Kaavish, the music group from Karachi who made a memorable debut with the album Gunkali, return to Coke Studio with an original track called 'Faasle'. The track, dealing with themes of unrequited love, also features Quratulain Balouch.
Another cover that will be presented in the same episode is coming from Salman Ahmed, the once respected songwriter, guitarist and producer of iconic Junoon albums, whose work since the break-up of the original line-up has been appalling and whose political anthems (for Imran Khan's PTI) and Bollywood tunes are an affront to music and his own legacy. Ahmed makes his debut with Junoon's landmark hit, 'Sayonee' and will be joined by Ali Noor (who is appearing solo on the show for the very first time) and Rahat Fateh Ali Khan.
While the above-mentioned songs certainly have big names attached and could fetch strong numbers, we're most excited to hear Jaffer Zaidi and Ali Hamza as music directors.
Ali Hamza, having made several appearances on Coke Studio alongside his music group Noori (and brother Ali Noor) is going solo this season as music director. In the upcoming episode, Hamza is set to present an original, folk-centric song called 'Tinak Dhin' on which he is joined by Ali Sethi and Waqar Ehsin. Hamza has penned the lyrics and is both composer and music director.
Jaffer Zaidi, who remains the one man to have made the progression from house-band member to music director, is set to make another splash, this time with his music group Kaavish and in the company of Quratulain Balouch. Having delivered a beautiful, minimal tribute to the late Mehdi Hasan in the first episode by collaborating with Ali Sethi, Zaidi is set to resurrect his music outfit, Kaavish with an original single called 'Faasle'.
Speaking to Instep albeit briefly, on the sidelines of the Coke Studio 10 press conference in Karachi just last week, Zaidi shared his views on the evolution process of Coke Studio, the daunting responsibility of paying tribute to someone as sacred as Mehdi Hasan and what's next for Kaavish.
"I've been a part of eight seasons," began Zaidi. "I know it was Rohail (Hyatt) bhai's vision that started it, and when he was doing Coke Studio, it was still in the evolution process. Since Strings took over, I believe it has grown. Personally I wouldn't say that what Rohail bhai did was less or what Strings have done is more. It's just that the show has grown on its own in terms of popularity and is bigger than any one person."
As Zaidi explains it, the idea to cover Mehdi Hasan, heard in the pilot episode, was first suggested to him by Strings and there was some trepidation on his part initially.
"Because of my mother (Nayyara Noor), I have a very different way of looking at all these artists. From early childhood, I placed them on a higher mantel. When I shared this idea with Ali (Sethi), it was definitely something I was very scared of doing because Mehdi Hasan was/is genuinely the king of ghazal. It just had to be a vocal song and the music just had to support it. Fortunately enough, Ali delivered."
Reflecting on his working equation with Ali Sethi, Zaidi told Instep that it was a collaborative process through and through. "It was a great experience; he (Sethi) is very cooperative, very involved in the whole process. He cared about what I was doing. I think it's always a good thing when you're working with an artist who is that involved and who cares about he's doing."
While Zaidi's capability as music director can be heard on Coke Studio 9 as well as Coke Studio 10, it's the return of his claim-to-fame outfit, Kaavish on the platform that is most exciting.
"Kaavish hasn't done much in the last five or six years now," Zaidi explained in that trademark soft-spoken manner of his. "Also because somehow I was going through a certain phase where music wasn't really happening that easily, well my own music I would say. Producing for other people was still easier. But Kaavish's own music was on standstill. Though this song was made a year and a half ago, we thought it would be nice to have something out there."
Though absent from the spotlight,
Zaidi maintained that the band has no plans of dissolving. "We have never thought of dissolving it. The industry has been in a sad state for a very long time, but that is not at all our reason for not making music. I don't want to call it a phase because it sounds like a cliché, but I probably grew out of the musician that I was before. I'm hoping that this is another beginning for Kaavish to start an album."