Singer-songwriter Atif Aslam, easily the country's most popular music star, is in the midst of having another landmark year. He has sung a number of Bollywood songs this year for films starring the likes of Salman Khan and Sushant Singh Rajput. He has played live shows not just at home but also abroad in places like Orlando, Dallas, Trinidad, Calgary, Washington D.C, Toronto and many more. Aslam also hosted and featured prominently at the Lux Style Awards which concluded this summer and released his own kind of music in the form of songs like 'Pehli Dafa' and 'Younhi' – each accompanied by a music video.
But the year's not over and Aslam is not done just yet. Currently making waves for joining the 2017 edition of Pepsi Battle of the Bands (on which he is a judge), Aslam sees the show as a way of giving back to the music community and fostering talent.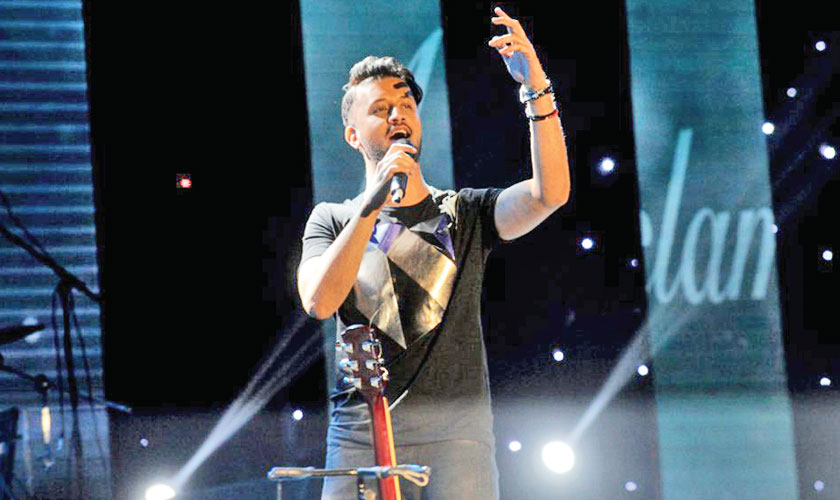 Atif Aslam performing at the Air Canada Centre during his recent North American tour. Image courtesy: SK Hasan Ali/Corbis via Getty Images
He is also clear that the music he makes now is for himself. In an interview with The Star while in Canada, Aslam revealed these views and shared, "My first album was about finding the connection with the Supreme. My second album (Doorie, 2006) was finding another market. My third album (Meri Kahani, 2008) was rushed. And my film experience was about gaining experience. It's time to explore my own identity a little bit. I was playing music because I liked it. I got lucky that people started loving it and I became a rage. I sort of lost my identity. It was difficult for me to get out of the house, walk on the streets. I am trying to avoid the things attached with fame. I want to feel normal."
Speaking to Instep from the sets Pepsi Battle of the Bands, the 34-year-old spoke about his reasons for aligning himself with the show, the cliques within music and more…
Instep: What made you say yes to Pepsi Battle of the Bands considering you've done a music show before, Sur Kshetra?
Atif Aslam (AA): Sur Kshetra wasn't a competition, it was a war and we won. No one celebrated it unfortunately. I think this show is different because I wanted to appreciate the music scene and wanted to promote band culture. It's been more than a decade but you don't see as many bands.
Instep: Do you think it's a problem of visibility and awareness because we do have some really good bands in Pakistan.
AA: We do but they're unheard of; they're underground and they need to be heard. They should get shows and they need to be appreciated. We need to appreciate our music. It's a good contract as well.
Instep: Music itself has changed and the way we consume it.
AA: The bands playing right now, I think they are very relevant, some of them are contemporary. Yes, of course they're amateur but platforms like Pepsi Battle of the Bands will help them flourish. How did EP happen? It came together as a result of the 2002 edition and they were the next big thing so I think this kind of show will help. It'll be unfair if people compare this show to Coke Studio and the format is completely different.
Instep: How hopeful are you about BOTB. Will it survive where others have fizzled out?
AA: What other shows?
Instep: Nescafe Basement, Uth Records, Pakistan Idol, Pepsi Smash, Cornetto Music Icons –the format varies but shows emerge one year and disappear the next. How will Battle of the Bands make it?
AA: Nescafe Basement is about showcasing art; there's no competition. These bands are striving for a prize; I wouldn't call it a reality show because I don't see it as one. I see it as healthy competition where all of us are appreciating the contestants as opposed to bashing them. It's about positive criticism. That's how I look at it.
I know I've been appreciating a lot of bands. I've given a lot of juniors a chance. I made them perform with me. Examples include Nabeel Shaukat, Mulazim Hussain; I remember when Qayaas approached me for 'Charkha Nolakha', I did that too. I'm not taking the credit but I've always wanted to help juniors because I didn't get that from anybody.
Instep: Do you think it matters, who is junior and who is senior in this day and age?
AA: For me it does. You know why?
Instep: Why?
AA: It's because we don't have an industry; we have lobbies. People write specific things because they're friends with certain people or there is some sort of barter.
Certain artists work with certain media houses only. Others will only speak to certain journalists or certain magazines. That matters a lot. It creates lobbies. Paid content is another issue. There is incentive to write but it creates lobbies. Whether what is being endorsed is good or bad, that's not a concern. Ask yourself, how many big artists do we have and if this trend goes on, how will new names be made?
Instep: An album is a body of work and speaks to artistic growth. But, in Pakistan, major mainstream artists don't make albums.
AA: Why should they? There is a time for everything and you adjust accordingly. I have done singles, my kind of singles, because the trend has changed. 15 years ago, we had CDs and now it has changed. It is the age of singles so that's how you approach it. I don't mind putting out an album; I've been working on my stuff for some time now.