The Sketches and Faraz Anwar got together in Jamshoro and have begun work on the band's upcoming third album.
SoundBytes
The singer-songwriter talks about the upcoming third album from The Sketches and the purposeful, activist identity of his music.
Saif Samejo, front-man of the music group The Sketches and the driving force behind initiatives like Lahooti Melo, Lahooti Live Sessions and Lahooti Music Ashram, embodies the true spirit of Sufism. His music has a purpose, one that keeps him going in these particularly dark and devastating times. But Saif's greatest strength is how he inspires people. This became apparent (and not for the first or the last time) during the eighth edition of the Karachi Literature Festival that was held earlier this year at the Beach Luxury Hotel. In a panel discussion, titled Pakistani Music: From Raagas to Rock that featured the singer-songwriter alongside industry heavyweights, he emerged as the star of the session especially when the audience got a chance to have their say. One attendee told him how he had traveled from Lahore to see him while another thanked him for his "beautiful" views.
A similar result was achieved again when the mystic Saif, participated in a panel discussion at the British Council Library in Karachi earlier this summer on the occasion of the launch of the 'Creative Cities in Pakistan' report and joined Durriya Kazi, head of the Visual Studies Department at Karachi University, Wassema Talat, chairperson, Department of Fine Arts, SBK Women's University Balochistan, and Maryam Rab, director research and monitoring unit, British Council (moderator) for a riveting discussion. Saif spoke from a place of vision and honesty about the need for preserving Sindhi music and poetry, which remains a vital component of his music. He later took the stage with his band, The Sketches (featuring Faraz Anwar) and won over the attendees with a poignant performance.
Fortunately, not only is Saif the perfect spokesperson for the beautiful indigenous music landscape found in villages and rural spaces within this region but his own band's music is an equally enchanting blend of a variety of influences including rock, folk and Sufi poetry. Having released their second studio album, You (Tu) just last year to critical acclaim, the band has moved on to their third studio album, which like its predecessor will also be released online.
A small glimpse of this upcoming record can be heard in a new (live) music video that the band has put out digitally. Running over 4 minutes, the song is called 'Deen Te Eeman Chadya' and it features guitar hero Faraz Anwar and poetry from Bulleh Shah. If music is capable of providing solace, this song is the epitome of that thought. With multiple guitars, a minimal feel and a purely acoustic treatment, 'Deen Te Eeman Chadya' captures the Sketches on their best. Saif sings from a place of emotion and you can hear it or rather feel it.
Speaking to Instep from Jamshoro, he explained that the video featuring the live version of 'Deen Te Eeman Chadya' was an experiment that came into being while Anwar was in town and the group ended up jamming together. Though 'Deen Te Eeman Chadya' will also feature on the upcoming album but the treatment given to the album version will be much different. More to the point, a new album is being made.
"We've started working on our third album," began Saif. "Some of the songs on this album will feature Faraz Anwar and while he was with us in Jamshoro recently, we thought about recording a song live for the fans. So we took 'Deen Te Eeman Chadya' which features the poetry of Bulleh Shah and made an unplugged, acoustic version of it and just released it."
Revealing more about the album, Saif explained that the third record will be dissimilar than past releases including the last one, Tu, which drew influences from Mexican music, among other things, and contained 13 songs sung in a number of languages including Sindhi, Siraiki, Punjabi, Urdu, Hindi and Marwari.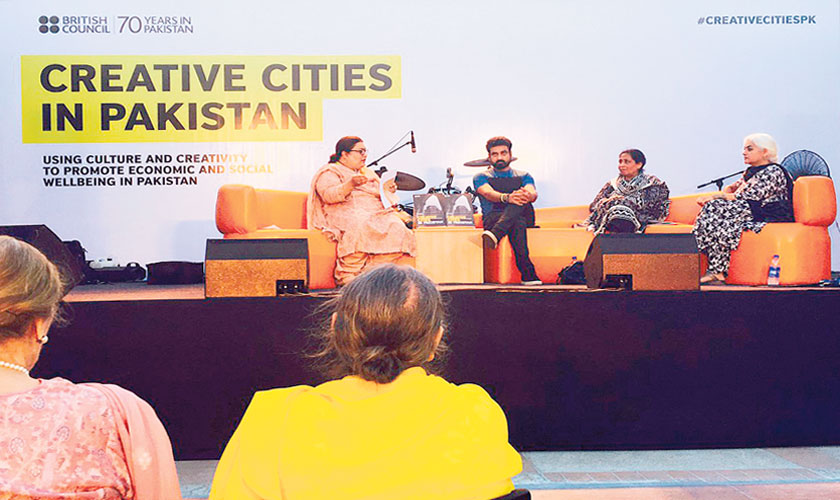 Saif Samejo, participated as a speaker during a panel discussion at the British Council Library in Karachi earlier this year on the occasion of the launch of the 'Creative Cities in Pakistan' report.
"The last album had as influences Mexican folk, country and bluegrass as well as Sindhi folk. It had ballads as well. In this upcoming album, we're going towards country and rock 'n' roll."
As Saif puts it, the band is conscious of what it produces and wants listeners to experience diversity, not just through the poetry but also the sonic texture. "We thought that we should do something that we haven't done in the past. The sound will be heavier, more metallic; we will, however, have one or two softer songs."
Though it will be rock 'n' roll, it will also retain certain eastern elements that lie at the root of the Sketches sound. "The interesting thing for us is figuring out how the eastern element will come in."
Another curious bit about this upcoming album is that, in addition to Sufi poetry, it will contain several songs that have been penned by Saif (and his band). As for the folk element, its constant presence in Sketches music is deliberate and purposeful.
"One reason for having an inclination towards Sufi poetry and folk is the message it imparts and how relevant it is in these times," observes Saif. "Another is that it provides a counter narrative to the Talibanisation that began decades ago. The poets back then screamed against it. They rightly observed that all this support will come back to haunt. And it has come back to haunt us all. Before the Taliban, it was the mullah against whom these very poets were screaming against. Our emphasis is on the message of those Sufi saints. It is, therefore, of utmost significance that the message of the likes of Shah Abdul Latif Bhitai, Bulleh Shah and Sachal Sarmast is highlighted and brought forward. It will help in realizing your real roots."
The Kafka-esque nightmare in which we are currently living, the suppression of dissent by the state (for example, the crackdown on social media activists and journalists) is not lost on Saif. "Nothing will be achieved by silence, you will have to speak up." Consequently the music he makes takes on a larger message that, in Saif's words, is about speaking truth to power but doing it musically.
Despite this grim reality, Saif is optimistic about the future as he tells me on a parting note. "You plant a seed, it will grow… with time."