lookingBack
Several successful films have been produced in Pakistan but the one film that survived the most turbulent period in the nation's history and successfully ran against the tide was called Aina. The Nadeem-Shabnam starrer, which recently completed 40 years of release, was produced by M.A. Shamsi and directed by Nazrul-Islam aka 'dada'. With melodies produced by the legendary Robin Ghosh, its music still has enough weight that it can give modern soundtracks a run for their money.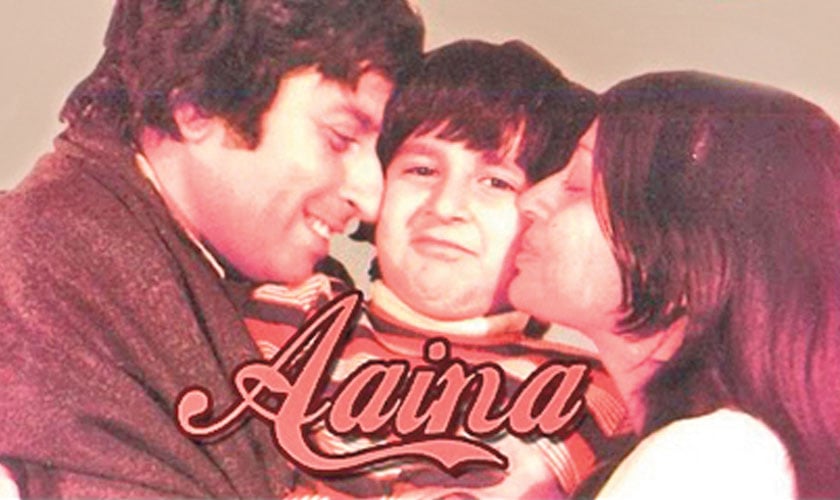 The most loved couple from our golden age of cinema, Nadeem and Shabnam starred together in over 50 movies. From Suroor Barabankvi's Tum Mere Ho in 1968, they worked together till the mid-nineties in Aulad ki Qasam and have several hits to their credit. Aina is considered the best of the lot and even has the record of running for more than 400 weeks in a single theatre in its illustrious history. Released on March 18 in 1977 at the famous and still intact Bambino cinema of Karachi, it had all ingredients of a superb film including terrific dialogues, incredible music and an important subject of class struggle. Add to that the themes of separation and family drama and you have a film that can and has endured the test of time.
The story begins when 'Najma', (Shabnam), daughter of a business tycoon, falls for a poor but confident 'Iqbal' (Nadeem). Iqbal works as a hotel receptionist. They both get married against Najma's family's wishes but the dream of 'living happily ever after' is shattered by Bahar Begum, and Rehan, Najma's parents. The newborn ends up in Iqbal's possession after the break-up and 'music' comes to the rescue in the end.
The timing of the film's release is also worth exploring. All was not well in South Asia when Aina was being screened. Pakistan People's Party had just won the general elections and Zulfikar Ali Bhutto was set to continue as the next Prime Minister. Pakistan National Alliance (PNA), a right-wing political alliance was up in arms against the suspected 'rigging' of the results. PNA leaders were jailed as big cities like Karachi, Lahore and Hyderabad were put under strict curfew. Similarly, India was to see the end of the 'most controversial of its period since independence', the 21-month State of Emergency by PM Indira Gandhi. People were so fed up with the Congress Party that they voted for the 'newly formed' Janata Party and picked the 80-year old Moraji Desai as their Prime Minister. On sporting front, Pakistan Cricket team was busy on its second ever Caribbean tour under Mushtaq Muhammad, with a star-studded side comprising Majid Khan, Asif Iqbal, Zaheer Abbas, Imran Khan, Wasim Raja, Wasim Bari and Javed Miandad.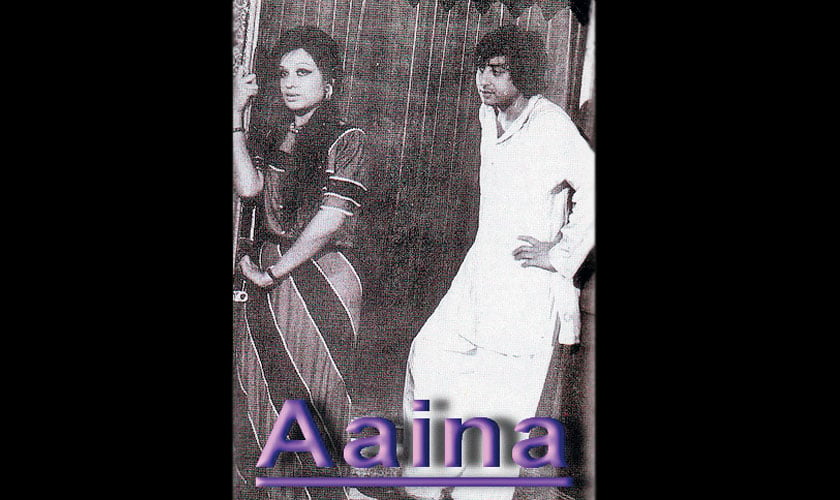 Despite several restrictions on movement, the craze of Aina grew day by day. People would throng to cinemas whenever they got time. There were reports of half-empty shows due to political agitation in the early days but as film industry itself came to a halt, Aina continued to get screen time. No major films were released in the next three months. During daytime, people were out on the streets to protest against the 'rigging' in the elections, but in evenings, the same bunch would rest in cinemas watching the only film available.
Although Aina rests somewhere between Manmohan Desai's Aa Gale Lag Jaa (1973) and Gulzar's Aandhi (1975), the story and dialogues by Bashir Niaz were too good to be true. Everyone could easily relate to the story. Aandhi was an 'Indira Gandhi' inspired story which ran into trouble with censors in India while AGLJ had a good story but was a badly edited film. On the other hand, Aina was everybody's story, superbly edited by Irshad Durrani. Aina later became one of the many films starring Nadeem to be copied across the border. Mithun Chakravarty-Padmini Kolhapuri starrer Pyar Jhukta nahi, released in 1985, mirrored too much of Aina.
The soundtrack of Aina is without a doubt, as good as AGLJ and Aandhi, if not less. It was a success even before the release. The songs, mostly written by Akhtar Yousuf and Suroor Barabankvi, became a sensation, owing to media. The 72-hour special transmission on PTV played the songs, whenever there was a gap needed for election results. Mehnaz and Alamgir featured in two duets; 'Waada Karo Saajna' and 'Mujhe Dil Se Na Bhulaana'. Mehdi Hasan and Nayyara Noor also lent their voices to different versions of this song, which got the Nigar award that year.
Nayyara Noor's 'Roothay Ho TumKo Kaisay Manao' is considered an all-time classic with lovers of all ages. Although Mehdi Hasan was used for a fast 'Kabhi main sochta hoon', he did complete justice to it with his kharajdaar voice. Akhlaq Ahmed also featured in a song when he joined Nayyara Noor for 'Pyar karti hai' which was penned by the great Qateel Shifai. Aina's cinematography is still considered the best in Pakistani films. The beauty of Karachi of those days was presented in a different way. The generation which grew up in '90s' should and must watch the film to understand the feel of what it used to be. Be it the Chowkandi tombs or the Arabian Sea, the use of landmarks to infuse emotions, the movement of camera and the sleek editing made each one of the songs evergreen.
Aina got 11 more Nigar awards in different categories including best film, best director, best actor, best actress, best supporting actor, best musician, best lyrics and best cinematography.
The team of Bashir Niaz-Irshad Durrani- Robin Ghosh-Nazrul Islam-M.A.Shamsi was behind another blockbuster called Bandish which released with the same lead pair three years later. The film was also successful with excellent story, superb performances and beautiful songs.
Coming back to Aina, despite the turmoil and changes in the region Aina continued its run. Veteran film star Shabnam's recent visit to Pakistan, on one hand, earned her laurels and also fetched her some acting assignments including one which will serve as the sequel of Aina and will be helmed by director Syed Noor. Noor has been behind some excellent Nadeem-Shabnam movies but as a writer since he was not directing movies back then. Even he has been out of 'Urdu' films for over a decade and planning a sequel of something as big and historical as Aina seems more of a far-fetched idea than a tribute.