Ali Sethi and Abida Parveen collaborate on a song called 'Aaqa' with Shuja Haider taking on the mantle of music director.
MUSICMIX
As music's biggest show returns, Instep lends an ear…
After months of speculation, rumours and whispers, the new season of Coke Studio is finally here. In its ninth year, the show, as reported earlier, is experimenting with the format as multiple producers take centerstage while Strings (Bilal Maqsood and Faisal Kapadia) provide a guiding light to all as executive producers after running the show in season seven and season eight.
As Zohaib Kazi, Coke Studio GM and Associate Producer explained in an earlier interview to Instep, "Coke Studio was a closed system. Now, for the first time, it has become an open-source platform. It is a leap for the music industry and the vision for the show has broadened as a result."
Our story begins with Noori brothers, Ali Noor and Ali Hamza, whose return with a new album after a decade has endeared them to fans across the board. Having won Best Album for Begum Gul Bakaoli Sarfarosh at the 15th edition of the Lux Style Awards last month, they
return to this music platform after sitting out several seasons deliberately. The upcoming season will see them play the role of featured artists as well as music directors and given their brilliant run on the show with songs like 'Aik Alif' and 'Saari Raat Jaga' in the past, expectations from this group are sky-high.
Moving on, besides Noori, others who will take on music direction duties include debutants Faakhir, Shiraz Uppal, Shani Arshad and Shuja Haider, all four of whom are entering the glorious world of Coke Studio for the first time.
The sixth producer is Jaffer Zaidi, who has, over the years, played an integral role in the house-band under Rohail Hyatt as well as Strings and who also fronts the underrated music unit, Kaavish.
Meanwhile the artist line-up is fairly extensive with several past performers returning for one more stint. Among them is Zeb Bangash, who will be sans Haniya Aslam for the first time and whose star is on the rise with multiple projects, ranging from world music group Sandaraa to Bollywood ditties, Pakistani film music and TV soundtracks.
Sanam Marvi, Saeen Zahoor, Ali Azmat and Haroon Shahid, having stolen hearts in previous years, are also gearing up to make a mark once more with season 9 while plenty of newcomers such as Ahmed Jahanzeb, Mehwish Hayat, Shehzad Nawaz, Mohsin Abbas make their debut appearance on the show.
Moving past the now predictable patriot act of Coke Studio, which culminated in the tribute track 'Aye Rah-e-Haq Ke Shaheedo', the first episode, featuring a combination of new names and old, definitely looks arresting and will feature at least four songs.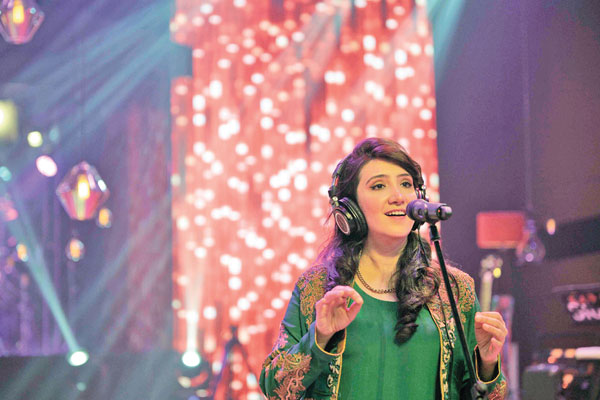 Zeb Bangash, a dynamic talent like no other, returns to the show with a song called 'Aaja Re Moray Saiyaan' which has been produced by Noori.
Ali Sethi, having made an appearance on the show with the tune 'Umran Langiyaan' last year returns in the first episode of the new season with a collaborative song with the legendary Abida Parveen called 'Aaqa'. The song is produced by one Shuja Haider and definitely has us interested given the diversity between Sethi and Parveen's vocals.
Zeb Bangash and Noori, no strangers to the Coke Studio platform, have joined hands for a tune called 'Aaja Re Moray Saiyaan' with Noori boys Ali Noor and Ali Hamza serving as music directors. Umair Jaswal, who moonlights as an actor and has been making news because of his made-up clash with Ali Azmat, also comes back this year and will be seen collaborating with Naseebo Lal on the song 'Sasu Mangey' which has been produced by Shiraz Uppal while Ali Khan will resurrect his career with the song 'Jane Na Tu' that has been produced by Jaffer Zaidi.
It's still fairly early to give a verdict but what's important to remember is that the success of this show lies in striking just the right balance between tradition and modernity. Some of the biggest hits from past years are the collaborations that no one could've predicted. With a healthy promise that this season will make room for original melodies and not just cover songs, this could be the year that cements the show's reputation in a manner that is positive and dispels the notion that the time has come for it to say goodbye.
With lack of interest in music despite scores of brilliant artists operating across the country and a serious issue of visibility, Coke Studio remains a sight for sore eyes because it brings the music industry, front and center, at least for a few weeks.
And though the show is only a glimpse into the kind of music that comes from this region and certainly doesn't define the industry, it is a music show that has resurrected many careers and has helped in giving lesser known acts a national platform, the importance of which cannot and should not be diminished.