Writer/director Ashir Azeem, Hassan Niazi, Behroze Sabzwari and Farhan Ally Agha at the Karachi premiere of Maalik.
InstepREPORT
The film premiered in Karachi's Atrium Cinema amidst a thunderous response from the audience present.
Karachi: After more than 20 years, the writer of PTV's 1994 thriller Dhuwan, Ashir Azeem, returns to the job with the film Maalik, which also marks his debut as film director, and simply nails it. The film that plays on themes of patriotism and taking ownership of one's country is slick and stylish in quality and impactful in content. The dialogues pack quite a punch, reminding one of Ismail Jillani's Chambaili, and a diverse cast adds to the viewers' cinematic experience.
Maalik premiered on Wednesday, April 6 amidst a star-studded affair. Apart from Azeem and his family members (all of whom have contributed to the film in one way or the other) and the cast, namely Farhan Ally Agha, Shakeel Hussain, Adnan Shah Tipu, Hassan Niazi, Erum Azam and Lubna Aslam, the premiere saw a host of other celebrities from the film fraternity come out to support the film. These included actor/producer Humayun Saeed, filmmakers Nabeel Qureshi and Shehzad Nawaz, and actors Nabeel (who starred with Ashir in Dhuwan), Maira Khan and Sania Saeed.
Thankfully, the grandiose did not limit itself to the red carpet and was also visible on screen in the locations used to shoot the film, across Pakistan; they were every bit picturesque and at par with international cinematography standards.
The film with its slick production and fast-paced narrative kept audiences engrossed right till the end. And when Azeem made his first appearance in the film, the audience roared with applause since many of them had been waiting for the moment for over two decades. The claps continued to pour in during the interval coming to a thunderous finish once the film ended thereby boosting the confidence of the cast and crew present at the event.
So, what exactly makes Maalik stand out from the recent crop of films produced in Pakistan? Unlike Jawaani Phir Nahi Ani, it's an out-and-out action film; unlike Waar, the dialogues are in Urdu, with subtitles only where necessary, and hence forth more impactful; unlike Moor and Karachi Se Lahore it's shot all over Pakistan and not just one or two provinces; unlike Wrong Number, the dialogues were witty and humorous without sounding vulgar; unlike Hulla Gulla, there isn't any unnecessary item number and unlike Ho Mann Jahaan, it doesn't feel dragged despite it running for a considerable length of time.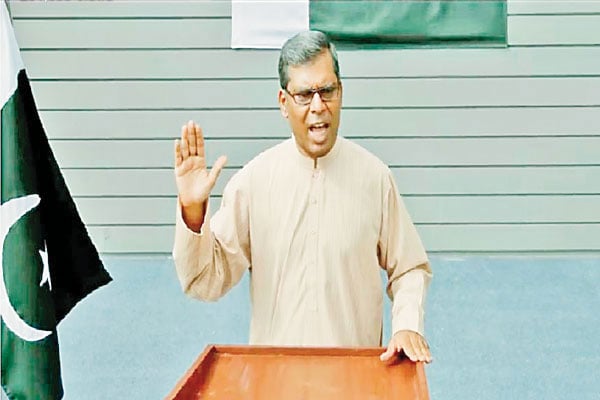 Ehteshamuddin wins over the audience with an impeccable performance.
Maalik stands out not just because of its well-choreographed action sequences but also because of the powerful dialogues, delivered mostly by Ehteshamuddin and Ashir, and some brilliant performances by the cast members. Hassan Niazi as the nefarious 'saeein' instantly makes you hate him and his cheesy lines match well with the personality of the character. Rashid Farooqi and Tipu do justice to their characters whereas Sajid Hassan, Farhan Ally Agha and Shakeel Hussain Khan portray army officials to the best of their abilities. It was good to see theatre actor Faizan Shaikh take on the big screen as a Law Enforcement Agent and one hopes to watch him more in roles that fully utilize his talent.
Maalik's soundtrack doesn't have as many songs to offer in its soundtrack but then again it doesn't really need any given its genre. It's purely an action film and whatever songs are present complement the plotline and are testament to Sahir Ali Bagga's musical talent. Masooma Anwar's 'Naina Roye' and Rahat Fateh Ali Khan's 'Mann Mora' were particularly exciting to hear.
Maalik is a film that has been produced for those who love Pakistan and want it to prosper. The film commands multiple viewing because for die-hard Lollywood fans, this 'Hollywood' treatment would be hard to digest. In short, Maalik leaves a lasting impression and is a must-watch.
- Omair Alavi is a freelance journalist and can be contacted at omair78@gmail.com