entertainment
The talent our television industry possesses never seizes to impress us. Every now and then there is an entire new league of actors appearing on our TV screens and making us swoon over their acting. It was just recently that Maya Ali, Naveen Waqar, Sohai Ali Abro, Urwa Hocane, Sajal Ali, Sonya Hussain and others were introduced and now they are in the seasoned band of actresses as there is a new wave of young and fresh actresses making their mark across TV channels. You! takes a look...
Aiman Khan
Remember the young twin sisters who used to appear as supporting characters in Pakistani TV dramas.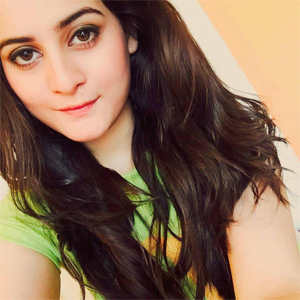 They had a shrieking and annoying voice yet they were beautiful. Well, it just took them a few years to become extremely attractive young artists. With time, we see Aiman Khan more on TV than her twin sister, Minal Khan, and it surprises us how this little girl who played a supporting role in 'Meri Beti' just a few years ago is now the leading lady of so many TV serials.
Take a look at currently on air 'Khaali Haath', 'Zindaan', 'Joru Ka Ghulam', 'Sun Yaara' and you will realize how stunning she has grown up to be. Also, while you watch her serials such as 'Beqasoor', 'Shazada Saleem', 'Khwab Saraye' and 'Khatoon Manzil', you will realize how well she is delivering herself as an actress. By swooning over her looks and acting, we can say that Khan is the next big thing of our TV industry.
Kubra Khan
Kubra Khan is the sister of former actress, Fatima Khan who is also the wife of actor/TV host Ahmed Ali Butt.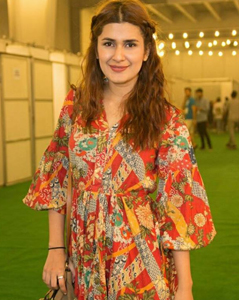 She is that girl from UK we all first saw in a recent flick 'Na Maloom Afraad'. She had small screen time in that movie and didn't really make a mark through it yet it opened doors for her on television.
Kubra Khan is extremely beautiful and carries herself with grace. Though she still needs to work on her accent and voice quality however in 'Sang-e-Mar Mar' she has proved her mettle. While she is appearing in 'Khuda aur Muhabbat', 'Muqabil' and 'Andaaz-e-Sitam' at the moment, it was her character as Shireen in 'Sang e Mar Mar' that turned heads and got our attention. She is promising and with the right directors, we are sure she can do wonders.
Rabab Hashim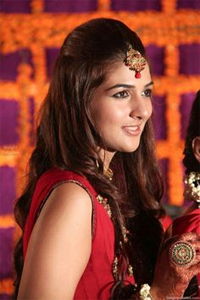 Though it's been a while that Rabab is doing TV, yet her plus point is her versatility. Some of her drama serials which gave her prominence are 'Anaya Tumhari Hui', 'Tumse Mil Kay', 'Mannat', 'Tumhare Hain', 'Manchali', 'Ishqaway' and 'Ek Thi Misaal'. She is one actress who has done different kinds of role and has emerged as a mature actress. We watched her as a sacrificing, innocent sister in 'Pia Mann Bhaye' and loved her for her simplicity and modesty. Her cute looks and girl-next-door kind of personality are surely what we love about Rubab Hashim. We must say that this starlet is going places with her diversified acting skills and fresh feel that she comes up with on screen.
Hania Aamir
Now this is one girl we want to mention... It was in the movie 'Janaan' last year when she first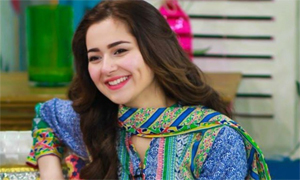 appeared and sizzled the entertainment space with her extremely cute and bubbly looks.
Making herself noticed on big screen, this young actress ventured into modelling and did a number of commercials including the latest Sunsilk ad. Currently, we can watch her in two TV projects; 'Phir Wohi Muhabbat' with Ahmad Ali and 'Titli' with Ali Abbas. With her bright smile, glowing face and remarkable acting, she is surely the girl to watch out for.
Ghana Ali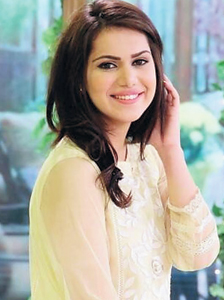 Another new face that can be seen on all our channels these days is Ghana Ali. We first saw her in Geo's 'Pia Mann Bhaye' in which she played a supporting role. She was featured in 'Besharam' and 'Saya-e-Deewar Bhi Nahi', and in both plays she displayed extremely diverse characters. Some of her other plays are 'Sunn Yaara', 'Sangdil', 'Aap Ke Liye', 'Ahsas', 'Jaan Nisar' etc. She also appeared in a number of commercials too. According to the buzz, she will be seen in much anticipated Pakistani movie 'Rangreza' along with Urwa Hocane, Bilal Ashraf and Gohar Rasheed. With so much going on in her life, seems like we will be seeing more of this fresh talent in the near future too.
Kiran Haq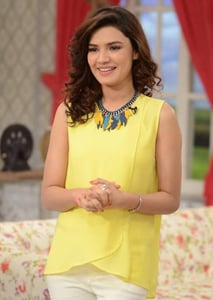 It was just a few serials ago, when we started noticing this pretty girl. She is not over-doing plays, she is not on every channel yet the limited work Kiran Haq is doing is notable. Starting off her career as a model, she is now making waves on TV. Some of her serials include 'Mi Raqsam', 'Sirat-e-Mustaqeem', 'Sangat', 'Mann', 'Sangdil', "Khaali Haath', etc.