woman @ work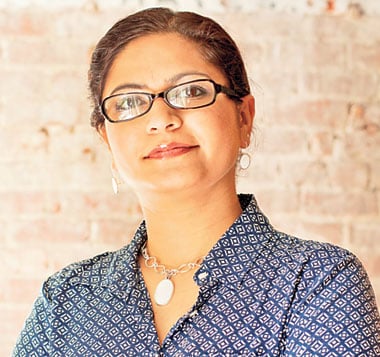 Amna Shah belongs to a well-off yet conservative family of Karachi. She migrated to USA in 2000 at a young age of 16 after completing her O-Levels from Dawood Public School. She then went ahead and acquired her Associates Degree in International Business. She got her Bachelor's Degree in Business Administration in 2005 where she graduated summa cum laude. Shah acquired her Master's Degree in Accounting and Financial Management in 2010. She spent years working at World Commerce Forwarding and other major companies. Shah also served as the youngest CFO @ SBS Worldwide from 2011-2013. She has recently launched i-card. Read on to find out more about this ambitious lady and her progressive programmes:
You! Why did you leave your country?
Amna Shah: I didn't see a future for myself aside from getting married and establishing a homely life, as I come from a conservative Karachi family. I knew I could not do that in Pakistan so I hustled my way out by applying for colleges in the USA and then eventually migrating once I got accepted as an international student.
You! Can you tell us briefly how did you manage to pay off your fee in USA without your family's support?
A.S: I worked full time in the morning at a warehouse lifting boxes in Chicago and managing the operations while going to school at night. I used to work 40 hours as well as went to school fulltime until I graduated. I paid all my tuition fee as I went through school yet I did not let my grades slip and was a 4.0 GPA student graduating with the highest distinction of Summa Cum Laude with my bachelor's and master's degrees.
You! When did you become US CFO @ SBS Worldwide?
A.S: I became the US CFO in April, 2011. But I was working as a Finance Manager at my previous company also. I am the youngest Pakistani Muslim Female CFO (chief finance officer) ever who managed to reach at the top, usually CFO's age ranges from 40 to 70 years old. However, I worked there only for 2 years and 6 months.
You! Did you face discrimination on the grounds of gender while working for different companies?
A.S: I gradually figured out that USA was not much different and no matter what I did, there was always going to be that 'glass ceiling'. A lot of instances worked against me such as my age, my ethnic background, not hanging out with the senior executive men at the bar. So it was extremely hard to break through the gender and race stereotypes.
You! What motivated you to settle in Chattanooga and leave SBS worldwide?
A.S: SBS Worldwide was relocating their headquarters from Chicago Illinois to Atlanta Georgia and moving all C-Level executives to its headquarters. They also asked me to relocate and since I knew the company was about to be sold to a larger freight forwarder I decided to move with another job opportunity rather than SBS Worldwide. I already had my home packed but I knew after the sale of the company it would be quite impossible for me to compete with the existing CFO and workforce of the company acquiring SBS so I had to lookout for my own family. I think it is also about being in the right place at the right time, as just as I was packing I got calls from this company in Chattanooga who had found me through my LinkedIn profile. They told me I was the perfect candidate for their Finance Controller position for their start-up Steam Logistics and that I should join them. I had never heard of Chattanooga before that but I reluctantly agreed to visit the city to take a look at it, as it was an all-expenses paid trip with my husband for a weekend. I visited Chattanooga and I immediately fell in love with the warm and hospitable people and the beautiful scenery.
You! When did you start your own firm and why?
A.S: We always had an active corporation and never dissolved it but AHS Consulting Inc. came about in January of 2014. I decided to go into business as freight forwarding, accounting and IT consultant. I had worked hard for bosses and owners that cherished me as a worker so I decided to work hard for myself.
You! Tell us something about your i-Card Mobile Virtual Business Card? Can people in Pakistan also use it?
A.S: Before the invention of i-Card, professionals used to pass out paper business cards and exchange them with business associates to share their designation and contact details. With the inception of i-Card (patent pending), anyone can sign up for the mobile application free of any charges. Once you sign up, the application makes a business card for you which also generates your own QR Code. The use of i-Card is the way to get rid of the paper business card, lowers cost, saves the environment and makes managing contacts a hassle free affair. i-Card Business Card App is available free of charge on Apple and Android (www.i-Card.me).
People in Pakistan can also use it, of course, especially if they have their phone lost or stolen - Once you have signed up for i-Card and saved your contacts there, you can login from anywhere in the world and access your contacts. Even if you switch mobile service providers or cell phone models; you can login from a computer or your new phone and have access to your contacts again, seamlessly.
You! What is your pay-it-forward programme?
A.S: Our pay-it-forward programme includes supporting the youth, especially Pakistani youth for now. The best way we think this could be done is by educating the masses and promoting their talent further. So what we want to do is to make an establishment where we can bring the little kids of Pakistan to schools. These are the kids that score the streets to bring home Rs.100 each day to their parents, so they can all eat. We want to pay their parents off and get these kids to come to our school for free or join a talent class in the school so they can fund their homes while also getting education so they can stand on their own feet with dignity. The second one is where we want to hold a Pakistan-wide competition and provide a platform to our youth, who have genuine ideas but no access to resources, and give them the opportunity to come forward and compete in our programme. The winners will get the support and grant to partner with us and incubate their idea from start to finish. We believe there is a lot of talent in Pakistan but some kids do not get the proper support or encouragement to get to the top of the food chain as there is always favouritism, nepotism or money involved in the Pakistani hierarchical system.
You! What is the most important advice you can give to women?
A.S: Sadly Pakistani women give up too easily. If you believe in something and want to be a 'change agent', walk the walk as change starts from you. If a helpless sixteen-year-old can, so can anyone else.
You! How do you unwind?
A.S: I unwind with 'hugs' from my kids. They make my world go round. And by travelling with my family, on non-business trips.
You! What's your biggest accomplishment to-date?
A.S: I think, leading my professional life in a manner I wanted to, yet balancing my home life at the same time has been my biggest accomplishment and it has not been easy.
You! What are the positive points of being economically independent?
A.S: You get to call the shots.
You! Do you think a professional can be a good wife and mother?
A.S: I surely believe a professional woman can be a good wife and mother. It is not at all easy and you can certainly hire help but my husband and I don't have any caretakers at home and do our chores ourselves. We also spend quality time with our kids. I know I'm a good mother when my kids, Hamzah and Hafsah, aged 7 and 3, get teary eyed each time I pack my bags to go on a business trip.
You! Do you see yourself settling in Pakistan in near future? Do you visit often?
A.S: We visited Pakistan in July 2016 this year and will come again in December 2016 for a small project. The idea is to get our kids stand up on their feet and then migrate back to Pakistan. Only time will tell!