you&me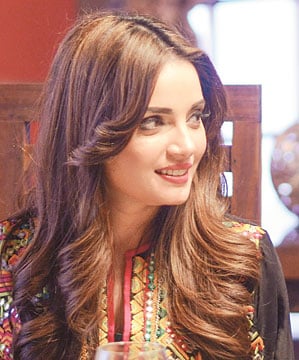 Armeena Rana Khan is a Pakistani-Canadian film and television actress and an international commercial model. After completing her initial schooling in Canada, Khan graduated with an Honours degree in Business from university in England. Thereafter she began a brief career in modelling and featured in print and television campaigns for various clothing and consumer brands including Nishat Linen, Faysal Bank and Sprite. Khan made her film debut with the British drama 'Writhe' (2013) and then did 'Stranger Within Me'. These were selected for the 2013 and 2014 Cannes film festivals respectively. She rose to fame in the acclaimed television series 'Muhabbat Ab Nahi Hugi' (2014). Khan received critical acclaim for the 2015 Pakistani film 'Bin Roye'. And now with her current movie 'Janaan' Khan has established herself as a fine actor. She is currently working on 'Achilles Protocol', which is a British film. It will be released at all the major film festivals around the world next year. "I am also in talks for various films in Pakistan. It is about finding the right script," reveals Armeena. Let's see what are the likes and dislikes of this gorgeous artist...
What are your memorable drama serials?
I loved working in 'Mohabbat Ab Nahi hogi' and 'Bin Roye.' The first was shot in Islamabad. The second one turned out to be a huge learning opportunity for me. I worked with industry giants like Zeba Bakhtiar, Javed Sheikh and Humayun Saeed etc which allowed me to grow as an actor.
Is acting/modelling your passion, time pass or way of making money?
I come from a very comfortable background so money is not really a motivator for me. I also run my own property investment company in the United Kingdom (where I reside). Acting is a passion for me, I enjoy being in front of the camera, so it is more a labour of love than anything else.
How was the 'Janaan' experience?
'Janaan' gave me the opportunity to explore the scope of my abilities as an actor. I learnt a lot through this film. I came to understand the complex, difficult elements that go into making a feature film. I also learnt that an effective team/script is the winning formula for a film in the Pakistan Industry. Team-work is the key.
What are your favourite international labels?
My taste is too eclectic. There are simply too many to count.
What do you wear in daily life?
I like to dress up warm and comfortable as the UK has changeable weather. I like to layer up, as then I can shed if it gets too warm. An umbrella is quintessential out here, as any Brit will tell you.
One cosmetic product you can't live without?
My sunscreen, I cannot live without it.
When stepping out, do you wear make-up all the time?
Absolutely NOT! The more you allow your skin to breathe, the better it looks. There is a time and place for everything in life, a balance is required. I would urge all girls to go makeup free as often as possible, believe me you are beautiful without it and your skin will thank you for it later in life. On most days, I have nothing on except sunscreen. I only ever wear it to events or in front of the camera.
Romance for me does not lie in grand gestures. To me, it means practicality. A measure of a person's love is when they take your problems off you. Would they stand up for you and with you in the face of adversity? Would they stay up with you in illness and look after you? Those are just some simple examples. Love is not something you 'fall' into, it is developed through understanding.
Things I like about myself:
I am extremely loyal and honest - be it work, friendships or relationships.
I am always on time which never works in Pakistan. It is irritating for others.
Don't like people who are:
Dishonest, liars and cheats. People who pretend to be nice but are not in reality.
As long as there is the sun, flowers and my family I am happy.
'Amelie'
Are you a shopaholic?
I hate shopping with a passion. The less possessions we have the freer we are. I shop by necessity.
Negative people bore the daylights out of me.
When feeling low I prefer:
I'll curl up with a cup of coffee and my favourite book.
Amongst my friends, I am known as:
Smiley.
Are you a social person or a loner?
I used to be an introvert but all that changed with my job. I love being around people and making new friends.
I spend my Sundays organising for the week. Then I normally catch up with friends or my favourite TV shows.
Exercise forms a big part of my life since my job requires me to look a certain way. My personal trainer makes me go through rigorous weight training, cardio and on some days I like to relax with a session of Yoga.
Bilal Ashraf
The biggest misconception about you...
In this day and age, people read too much into appearances. Generally, I look as if I am not approachable, which really frustrates me because I am a friendly person.
How do you deal with fans?
My fans make me who I am. I love interacting with them through various online platforms. I think that by being involved with my fans, I get a true picture of what's working and what is not. And it is always rewarding to get positive feedback.
Advice for someone starting acting:
I would suggest understanding the business first. This involves looking at agents, showreels, headshots and actors training. There is a lot of information available online these days right down to acting courses. But be prepared for a lot of hard work, it does not come easy.
What would you be doing if you weren't doing what you are doing today?
I would be a medical doctor.