August 14, 2016 marks the 69th Independence Day of Pakistan. It is that time of the year again when we as a nation celebrate our independence and all that this country has given us. This week You! highlights a few patriotic Pakistanis who are working diligently to give back to the country and making it a better place...
I like to see a man proud of the place in which he lives. I like to see a man live so that his place will be proud of him.
-Abraham Lincoln
Most of us are always grumbling about various things in Pakistan - from garbage heaps to load shedding; to rise in crime and corruption to lack of basic facilities. Then there are some who want to leave the country, out of frustration, at the first opportunity they get. They are willing to live like 3rd class citizens doing menial jobs at minimal wages but refuse to do anything in their own country. Shrugging their responsibility to make it a great country, these people wait for others to do all the work while they remain idle. Young generation may not understand the value of living in a free country since they were born free and they have not seen the struggle and bloodshed that led to the creation of Pakistan. These are hard core facts but at the same time there are individuals who are willing to do their best in a bid to bring some positive change and improvement in our society.
Luckily, there are hundreds and thousands of people who have not wasted their time whining about incompetent government. Instead they have actually made a contribution to the society and are making lives better. These patriotic people are doing their utmost without any help or patronage from the government. There have been hurdles but nothing has stopped them. Many of these great contributors started off at a small scale and over the years built a whole structure that would benefit a large number of people. This week You! pays tribute to those who are playing a role to change the social standards and norms of Pakistan.
Saving a million lives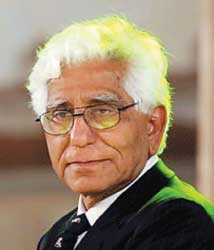 Dr Adeeb Rizvi
Dr Adeeb Rizvi is a pioneer in treating kidney related diseases in Pakistan. He started off very humbly by just a ward in the Civil Hospital Karachi where he treated kidney patients. This 8 bedded ward was established in 1971 and today it has grown into a full-fledged institution called SIUT (Sindh Institute of Urology and Transplantation). SIUT is now a 450 bedded facility and the largest health organization in Pakistan, which provides free and comprehensive services in urology, nephrology, transplantation and liver related diseases.
Dr Adeeb Rizvi has devoted his very existence in saving millions of lives through the establishment of SIUT. The recipient of many awards, locally and internationally, he worked day and night in developing his institute as a leading urology and transplantation facility in this region. He and his team have worked with dedication to provide complete medical care from treatment to medicine, surgery and post-treatment care complete free of cost. He prefers to be humanitarian because he considers that religion is all about humanitarianism. Such is the dedication of this amazing Pakistani that despite all odds, he has been able to provide best medical care to the poor and deserving.
Lighting a million lives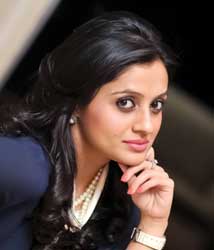 Fiza Farhan
Fiza Farhan is a young entrepreneur who has achieved a lot in her short professional tenure. The 29-year-old is one of the youngest CEOs within the field of social entrepreneurship in Pakistan. She is the co-founder and CEO of the Buksh Foundation and also serves as the Director of Buksh Energy. For her ventures, she was named and listed on the prestigious FORBES 30under30 list of social entrepreneurs for 2015, and was the only Pakistani to make the list.
The Buksh Foundation seeks to improve the quality of life of Pakistan's rural population by bringing clean energy to poor villages of Pakistan. Buksh Foundation, established in 2009, is a microfinance institution. It emphasizes on access to women, growth in rural markets and technological innovations through holistic financial services and development projects based on triple bottom line impact for the communities.
Under Fiza Farhan's leadership, the organisation has brought energy to places where there is no electivity through solar energy. Almost 7,000 homes have been provided solar-powered lights. Moreover, the foundation has extended business and clean energy loans to 12,000 entrepreneurs. Fiza's further distinctions include being appointed as 'Future Energy Leader' at the World Energy Council, receiving the 11th annual Environmental Excellence Award for the 'Best Performance in Renewable Energy' and being appointed co-chairperson of the Italian Development Committee, Lahore chapter.
Championing the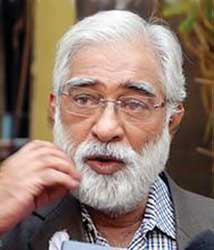 cause of labourers
Karamat Ali
An eminent labour and development activist for the last four decades, Karamat Ali is one of the founding members and the Executive Director of Pakistan Institute of Labour Education & Research (PILER). When he came to Karachi in 1963 he started working in a factory and that is how he came to know about workers unions. He has been working with the labour unions since the 1970s. We all know that PILER is a non-government organization dedicated to promote a democratic and effective labour movement for the overall advancement of social justice. The organization initiates and strengthens mobilization and organizations of workers (male/female) and communities around issues of labour rights - broadly defined to include public services such as education, health and shelter. Karamat Ali is also the founding member of various local and regional networks like Pakistan Peace Coalition, Pakistan-India People's Forum for Peace and Democracy and South Asia Labour Forum. He has been a part of labour and peace movements in Pakistan and has played a key role in linking up these movements with regional and global counterparts. He is also the recipient of South Asia Peace and Justice Award in India. He is one man who is surely trying to bring about a change in the society.
Empowering women through IT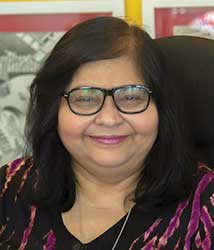 Jehan Ara
She is one of the most successful entrepreneurs of Pakistan. She is currently serving as the president of Pakistan Software Houses Association ([email protected]), which holds a notable position among the top IT companies of the world. The company's major objective is the development and protection of software industry in Pakistan. It also collaborates with companies beyond the borders to provide its clients with the best of software products and services.
Aside from being a business woman, she is also an enthusiastic social activist. She is passionate about product and service development, new ideas and empowering youth and women in Pakistan. She has helped kick start several initiatives including the 'Pakistan branch of Women on the Web', 'Take Back the Tech', and 'Women's Virtual Network', all of which aim to have some impact on improving women's social situations and supporting their entrepreneurial skills. The ambitious project 'Women's Virtual Network' is designed to connect educated women with potential employers, mentors and peers remotely, thus bringing more women into the economic fold and creating a community that will evolve into a support network for professional women.
Cyber Crime, Privacy and Data Protection legislation are some of the things she is advocating for. She also collaborated with 'Take Back the Tech' an initiative meant to create awareness on how technology can be harnessed to end Violence against Women and Girls.
According to Ara, "We must work proactively to ensure that smaller cities are also given the same opportunities that the larger ones enjoy. Only then will a true community finally emerge."
Standing up for human rights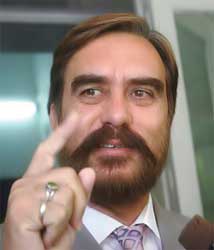 Ansar Burney
Ansar Burney is a leading Pakistani human rights and civil rights activist. In 1980, Ansar Burney began the 'Ansar Burney Welfare Trust', 'Prisoners Aid Society', and 'Bureau of Missing and Kidnapped Persons' in Karachi. Ansar Burney is known to be the first man to introduce the concept of human rights in Pakistan nearly 30 years ago. With a mission to work as a non-political, non-governmental and non-profitable organization, the trust started its fight against all forms of torture, cruel inhuman or degrading treatment, and child abuse, cruelty to women and other more subtle forms of violent repression or human and civil rights violations. Their work is to raise awareness, provide free legal advice and services and humanitarian assistance where needed. Ansar Burney's Trust has been offering free legal advice and services to all those who need it. As a result of his continued and selfless efforts for the past so many years, Mr Ansar Burney has so far been able to secure release of more than 900,000 (Nine hundred thousand) innocent prisoners who were illegally imprisoned in Pakistan and abroad; some released after as much as 50 to 55 years of illegal confinement. Due to his outstanding achievements in the field of human and civil rights, Ansar Burney was the first man to receive the Pakistani National Civil Award Sitara-i-Imtiaz in the field of human rights on 23 March 2002.
Reviving classical music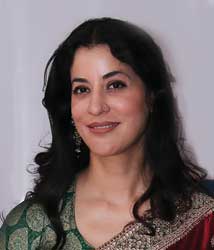 Malahat Awan
The daughter of renowned poet Shabnam Shakeel, Malahat Awan's interest in the arts and letters was sparked at an early age. She has gone on to institute the Tehzeeb Foundation with her husband Sharif Awan; together, they seek to revive eastern classical music in Pakistan. Tehzeeb Foundation works for advancement and promotion of music, literature and fine arts in Pakistan. It is also carrying out preservation and archiving of classical music of the sub-continent. The Tehzeeb Foundation also records the musicians, which has immense archival worth as well as great marketing value abroad. The world is unaware of the potential of Pakistani musicians and music producers, which makes the export of their work all the more important. The work of Tehzeeb Foundation is unparalleled, given that the duo have brought back the livelihood of Pakistan's literally starving artistes, who were forced to give up their instruments and engage in labour work. Not only has her organisation helped to restore Pakistan's dying breed of musicians to their proper place, but their annual festivals have also become the talk of the town.
A knock-out champion of women's rights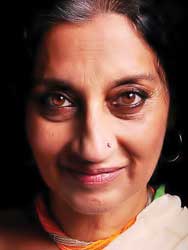 Sheema Kermani
She is a classical dancer. She is an actress. She is a choreographer. She is a social activist. And, she is smart to have chosen a medium that best connects with the people to convey important yet serious messages - dance. She formed Tehreek-e-Niswaan to spread awareness among the masses of low status and position of women and the social, political, economic and cultural discrimination against them.
This cultural action group has been performing dance and theatre with a social message for over 30 years now. Kermani's concern with issues of justice, peace, and women's rights persuaded her to set up the Tehrik-e-Niswan in 1979. Tehreek-e-Niswaan is a women's movement active to create awareness about the subordinate status of women in society and the anti-women laws. They working towards uplifting the self-esteem of women through performing various dance forms every year. Sheema Kermani's efforts to revive dance in a conservative society have created a cultural revolution in Pakistan. Her dauntless efforts to integrate and mobilize classical dance, theatre, television, and drama as forms of alternative communication have been liberating, particularly for women. Using dance, drama, and music, Tehrik-e-Niswan and Kermani took up relevant social issues to create public awareness and to bring to light the anti-women nature of society. Her activities forced the state to introduce an amendment to the Performing Act Ordinance by which all dance performances by women were banned.