Domestic workers live in adverse conditions. An ILO project focuses on their skill development, certification and integration in the society as respected individuals. You! takes a look...
In the corner of a well-lit room a young girl is busy ironing clothes painstakingly. As a safety measure, she is wearing shoes with rubber soles that can save one from electrocution as well as slipping on a wet floor. The girl is full of energy and it seems as if her work gives her immense pleasure and satisfaction. Her focus is on the task at hand and she avoids talking to anyone or looking here and there while ironing clothes. She has adopted these precautionary measures to avoid any mishaps at her workplace as well as an obligation under the training for domestic workers that she is benefitting from at the moment.
Once she is finished, she puts the iron on one side, disconnects the power supply and pushes the ironing stand towards the place designated for it. "I want to be a housekeeper like the one I have seen in a TV drama. She not only performs domestic chores but also manages the affairs of the house," says 20-year-old Iqra Manzoor, who is getting specialised training for Domestic Workers (DWs).
"This training has helped me a lot in managing my time effectively and I have learnt to do more work in less time. Also, I have learnt so many skills like baking, personal hygiene, safety at work place, presentation and mannerism. I am sure I will be able to earn more than my mother and get a good job even before the end of my training," she adds.
Iqra is one of the beneficiaries of the training programme for domestic workers, organized by the International Labour Organisation (ILO) and the All Pakistan Women's Association (APWA) in collaboration with The Women Development Department, Punjab. The programme launched on February 19, 2014 is called 'Decent Work for Domestic Workers' (DW4DW). It is a part of the ILO project 'Promoting Gender Equality for Decent Employment' (GE4DE), funded by Global Affairs, Canada.
Background
Domestic work is a critical source of employment for millions of women who have little or no education and skills. But this work is not respected enough and is not rewarded properly. Though it is increasing in many economies worldwide but it remains a virtually invisible form of employment in many countries.
It is also generally seen as unskilled work and a natural extension of women's work in their own homes. Thus, many domestic workers endure very poor working conditions; many are underpaid; they have no social security coverage; have long working hours; and most of them work in difficult and unsafe conditions. Some are vulnerable to trafficking, sexual, physical and psychological abuse.
A report issued by ILO recently explains domestic work and the problems they face. For example, it states:
Due to its characteristics, the domestic work sector is considered a 'difficult-to-cover' group. Work is performed in a private household and frequently for more than one employer. The occupation is characterized by high job turnover, frequent in-kind payment, irregular wages and labour relations that are not usually established through a formal work contract.
The largest gaps in social security coverage for the domestic work sector are concentrated in developing countries, where few nations provide legal coverage for this sector. Moreover, developing regions have the largest share of domestic workers worldwide; Asia and Latin America regroup 68 per cent of domestic workers worldwide.
Social security coverage deficits for domestic workers also exist in industrialized countries. For example, in Italy approximately 60 per cent of domestic workers are not registered with or contributing to social security systems. In Spain and France, 30 per cent of domestic workers are excluded from social security coverage.
Women comprise the majority of domestic workers, accounting for 80 per cent of all workers in the sector globally; which means that approximately 55 million women participate in this activity. Given that it is predominantly a female workforce, subject to conditions of discrimination and social and economic vulnerability, policies to extend social protection for domestic workers are a key component of efforts to fight poverty and promote gender equality.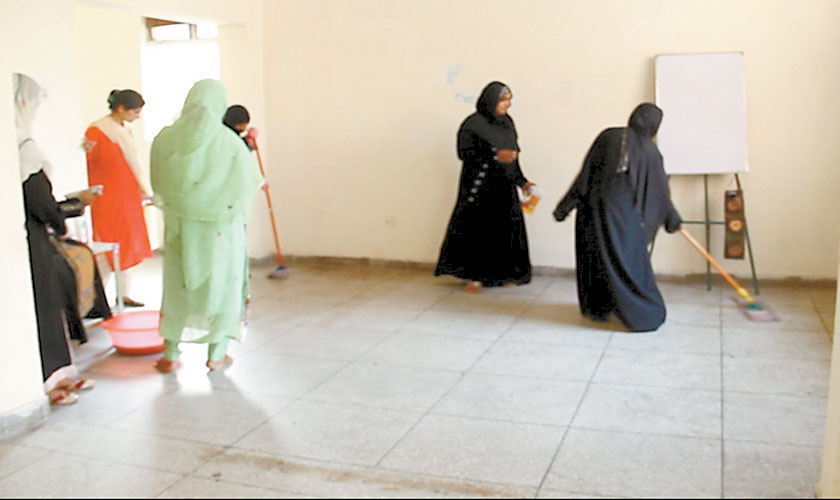 Situation in Pakistan
There is a lack of reliable data of domestic workers in Pakistan. However, it is estimated that there are approximately 8.5 million domestic workers in Pakistan, and most of them are women. They also include a large number of boys and girls. Domestic workers were a significant portion of the informal economy. These workers remain unregulated, and are not covered by labour laws. They are also vulnerable to all kinds of exploitation. So, the questions that arose were: What steps should be taken to make the domestic work a better job? How to create a stature in domestic worker's life? How to help domestic workers attain more respect among employers and how to get certified as skilled workers? What skills shall be given to domestic workers to increase their employability and mobility? Is it possible that domestic workers can climb up the ladder and ultimately find jobs in the formal sector?
Decent Work for Domestic Workers (DW4DW)
To answer such questions ILO and Women Development Department, Punjab launched Decent Work for Domestic Workers (DW4DW). The pilot programme aimed at training 1,000 women in competency based domestic work in Lahore. In addition to technical skills in cooking; house-keeping and basics of child and elderly care, the programme also encompassed elements of soft skills including communication, occupational safety and health, personal hygiene and grooming; planning, organising and managing their work. The pilot programme has successfully completed training 1,000 women before scaling up to cover a larger number of domestic workers.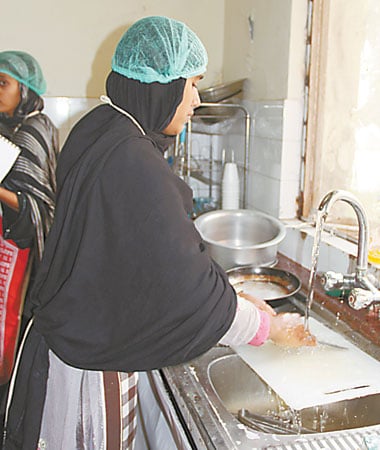 Girls being trained in various household chores
This initiative has proven to be a success. It also proved to be an entry point for professionalising and organising domestic workers and it presents a career path within domestic work. Trainees have officially been registered and placed in homes after the completion of their training. The project has also enabled trainees to obtain official recognition of their skills through a certificate, at the end of training. Under the same initiative, with joint efforts, DW4DW has also initiated a legislative framework for domestic workers and advocates for the ratification of the ILO convention on domestic workers.
According to Job Placement Officer with APWA, Sadia Saeed Rana, "We had a target of having 1000 women trained and their placement was also a goal. Till date we have more than 650 women placed through our linkages with the employers. And obviously we have followed our strategy to have their rights secured through a mutually agreed service contract. It is a very healthy ratio although we have encountered a number of challenges in this regard. And the major setback was not having the most basic document to go in any contract i.e. the CNIC. The sad part is that these domestic workers don't even have the concept of birth certificate."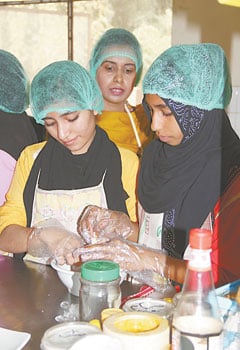 Munawar Sultana, Head of the ILO's project, GE4DE, explains, "APWA's team has been instrumental in mobilising the trainees; delivering high quality training and placing the graduates in decent working conditions. The trained women were educated on the worker's right; advantages of collective bargaining and trade union. Among the best outcomes of the initiative is that it has facilitated organizing the unorganized workers into a union, namely Domestic Workers' Union, and the membership of which has exceeded to 1,350."
"All trained women have become the members of this union and they feel confident and empowered enough to bargain for better working conditions with their employers. They have realized the strength of being united as now the employers can no longer exploit them to work on exploitative conditions," she shares.
Witnessing the promising results of the training, the Minister, Women Development Department, Punjab, has announced that the government has allocated funds in the next five-year plan to train 10,000 women in domestic work. "This indicates the sustainability and effectiveness of the programme," concludes Munawar Sultana.