FOCUS
Prime Minister Nawaz Sharif last week launched 'Green Pakistan' initiative to combat negative impact of climate changes on the country.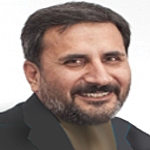 Under the initiative, over 250 million trees would be planted all over the country.
The governments of Khyber Pakhtunkhwa and Azad Kashmir as well as Islamabad administration have already announced their plans to make this initiative a success.
The federal government would contribute 3.5 billion rupees to the initiative, while a matching grant would be raised jointly by the four provinces as well as Gilgit-Baltistan and Azad Kashmir governments.
The Green Pakistan movement is in fact the extension of the Green Growth 'tsunami' of Imran Khan under which he had announced to plant one billion trees across Khyber Pakhtunkhwa.
Interestingly, the Pakistan Muslim League-Nawaz (PML-N) leaders had made fun of Imran's initiative but now their own government is launching a similar drive.
But, politics apart, such initiatives should be supported and masses should be mobilised to take part in these drives to create awareness about the importance of keeping their environment clean and healthy.
Fast melting of glaciers, ruthless cutting of trees for the sake of infrastructure development, rapid urbanisation as well as industrialisation are posing major challenges to our environment, and if timely action was not taken, then we would be leaving an unhealthy environment to our future generations.
While no one can deny the importance of development of state-of-the-art infrastructure for the economic progress of a country, this should not be done at the expense of environmental degradation.
Pakistan's contribution to global warming is minimum – just 0.8 percent of the global emissions – yet it is now ranked quiet high in the list of countries most affected by the climate-related disasters.
Our country is now exposed to extreme weather events which have resulted in major disasters like massive floods over the past decade.
The gravity of the situation could be gauged from the fact that the country is estimated to have suffered over 15 billion dollar losses due to the massive monsoon flood between 2010 and 2012.
The fog and smog phenomena which have started gripping the country frequently over the past few years, are now a major climate-related challenge for our authorities to deal with.
Green Pakistan is a good initiative, but if one looks at the overall policies of the government, then one concludes that climate-related issues do not figure high in the priority list of the rulers, and sometimes it appears that the government is following haphazard policies replete with contradictions and fallacies.
Let's take the example of fog and smog which have become a regular phenomenon in Pakistan over the past few years.
A thick blanket of fog envelops Lahore and many parts of Punjab in December and January, heavily disrupting daily life activities in these areas.
The climate experts attribute this phenomenon to pollution caused by vehicular and industrial emissions. These emissions get mixed up with air particles and hang in the air because of the absence of moisture.
These thick particulars stay in the air in the form of fog until washed away by rains.
According to climate experts, coal-based power plants on the Indian side of the border are also to be largely blamed for fog. There has been heavy fog in Delhi during this period as well.
It is strange that on the one hand, we blame coal-based power generation in India for air pollution, but on the other hand, we ourselves are encouraging the use of coal for power generation.
A couple of weeks back, the prime minister and Punjab chief minister Shahbaz Sharif attended a ceremony to mark the start of a special freight train for delivery of imported coal for Sahiwal power plant.
Ironically, the coal power plants are being established with the help of China which itself is abandoning this technology because of environmental problems caused by the use of this fossil.
China's National Energy Administration last month announced cancellation of 103 coal-based power generation projects, depriving it of 120 gigawatt of electricity. Most of these projects were based in China's coal-rich north and west and construction of many of these plants had already begun.
China's coal-powered plants are now running on almost half of their capacity, and are now being replaced by renewable energy sources like wind, solar, and nuclear generation.
Though there are a number of power projects under the China-Pakistan Economic Corridor (CPEC) which are based on renewable energy sources, the setting up of coal-based projects in the areas already facing pollution related issues would exacerbate the problems.
The government needs to tackle environment related issues with more urgency and avoid risky projects for short-term political gains.
The climate-related issues are becoming serious with each passing day and need to be handled in an effective and serious manner.
Pakistan is known to have 7.253 known glaciers, making it a country which has more glacial ice, outside the polar region, than anywhere in the world.
But these glaciers are receding, especially those on lower elevations, on a faster pace because of rising temperatures.
The average temperatures in Pakistan's northern regions, where these glaciers are located, have increased 1.2 degrees Celsius over the past six decades.
Successive governments have given very scant attention to the climate-related issues.
The present government has set up a fully fledged climate change ministry to deal with environment related issues, but its performance so far has been unimpressive.
The ministry was first headed by PML-N firebrand spokesman Mushahidullah Khan, who did not have experience of dealing with environmental issues, and after his removal it is now headed by its legal wizard Zahid Hamid.
Hamid, a lawyer by profession, is mostly occupied with the legal issues of the government and could not spare time for the climate change ministry.
The prime minister should appoint a dedicated minister who should be well conversant with the environment related issues so that he could run this ministry in a professional manner.
But perhaps, at a time when government has its hands full with more pressing political issues like the PanamaLeaks, one should not expect it to divert attention to 'politically' less significant issues like environment.
The writer is a senior journalist based in Islamabad