TVTalk
Director Anjum Shahzad reflects on his upcoming drama serial, Khaani that goes on air on Nov 6.
Starring Feroze Khan and Sana Javed in lead roles, Anjum Shahzad's upcoming directorial venture - Khaani - has been making headlines since it was first announced. While initially it appeared to be a love tale with the star couple coming together for the first time, the recently released posters and teasers hint at a more meaningful narrative that is relevant in a social context.
"The play is based on a very common social practice that exists in our society," Anjum Shahzad shared in an exclusive interview with Instep. "It talks about the powerful and the lesser powerful; it also shines a light on how family values differ significantly in both cases and how this influences the next generation."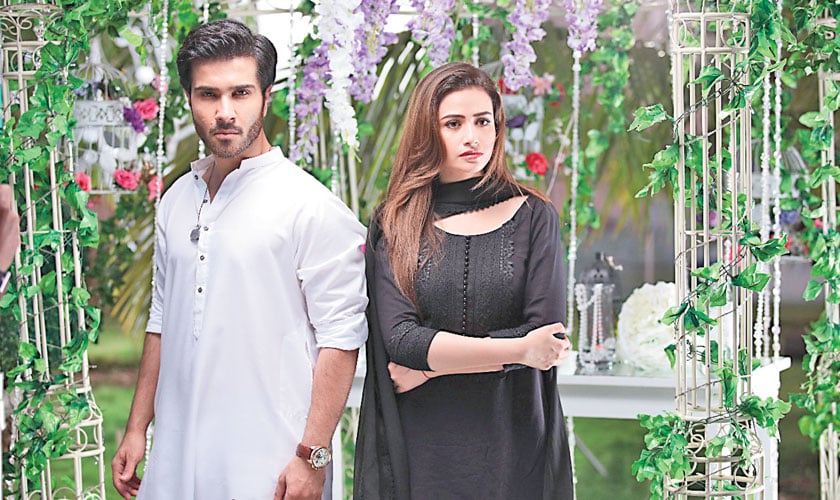 Feroze Khan and Sana Javed star as Hadi and Khaani.
Shahzad also informed us that Khaani is about women empowerment and giving them a voice. "If a woman considers herself weak, she stays weak. But if she rises above her circumstances and takes a stand for herself, she is able to fight despite all odds."
Responding to what made him attach a social angle to the plot, Shahzad stated, "There is no specific reason behind it. It's not like we're running a campaign. We thought it is a beautiful and powerful script and we should present it to viewers as such. It was Asma Nabeel's idea and she has written the script of the play."
The TV play follows the story of Feroze Khan, who represents the powerful kin and Sana Javed, who comes from a less privileged background. Khan essays the role of Hadi, the only son of a politician (essayed by Mehmood Aslam), who uses money and power to his advantages while Javed plays the titular character of Khaani, a brave and courageous girl who fights against injustices.

Feroze Khan as Hadi and Mehmood Aslam as his father, who is a politician, in a still from Khaani.
When asked what made him cast the two actors together, the director noted, "It's not about coming up with the idea of casting them together for a specific reason; the decision is based on the nature of characters they are supposed to portray."
He added, "When we read the script, we analyse which actors will suit the roles and then we cast them according to the characters. We had to show Feroze as a brat coming from a feudal background so we needed a powerful actor who fits in the role physically as well. Similarly, we needed a pretty girl from a humble background so we took Sana on board."
Though the two actors have been cast purely on the basis of the characters, the fact that they are sharing the screen together for the first time has earned the play positive feedback and has created some serious buzz for it. Speaking on the subject, Shahzad stated, "Yes, it has worked in the play's favour. We're hopeful that the play is going to do well. We have done our job and are satisfied with what we are offering. Now it depends on viewers' feedback and whether they like it or not. So far, the response is overwhelming ever since the posters and teasers have come out."
Aside from Khan and Javed, Khaani also features Mehmood Aslam, Saman Ansari, Qavi Khan, Salma Hasan, Rashid Farooqui, Muhammad Ali, Seemi Pasha, Shehzad Malik, Shanzel and Rimha. Co-produced by Abdullah Qadwani and Asad Qureshi, the play is all set to air on Geo TV on Monday, November 6.
caption
Feroze Khan as Hadi and Mehmood Aslam as his father, who is a politician, in a still from Khaani.
caption
Feroze Khan and Sana Javed star as Hadi and Khaani.