Shamaeel Ansari celebrated three decades of her journey in fashion by turning her home into a museum of art and design for her Blue Tulip collection. This was the designer's solo outing ahead of Fashion Pakistan Week that officially started on the 12th. It also made her the only designer to have a separate show from the main area allocated for other brands.
On the flight to Karachi, we overheard some models wonder about why one designer gets a separate day and a subsequent halt in rehearsals. But when one thinks about the designer's decades of experience and the shows she's put together in the past, it's a no brainer. Long ago, one recalls similar lone outings by Shamaeel; a collection at Hindu Gymkhana and the famed Orient Express show at Karachi City Railway station. Shamaeel knows how to put on a show but it never feels contrived because her unique signature, weaving through history and craft is solely her own. She embodies it in how she dresses, what she believes and how she lives.
Shamaeel opening up her home to family, friends and journalists alike made for a very personal experience and gave us insight into her design process. The place of her creation although exaggerated a little for the show, already had a lot of Turkish inspired tapestry and accents from that part of the world. Her home paid tribute to every aspect of the designer's persona and one realized how organic a design process that one lives and breathes can be.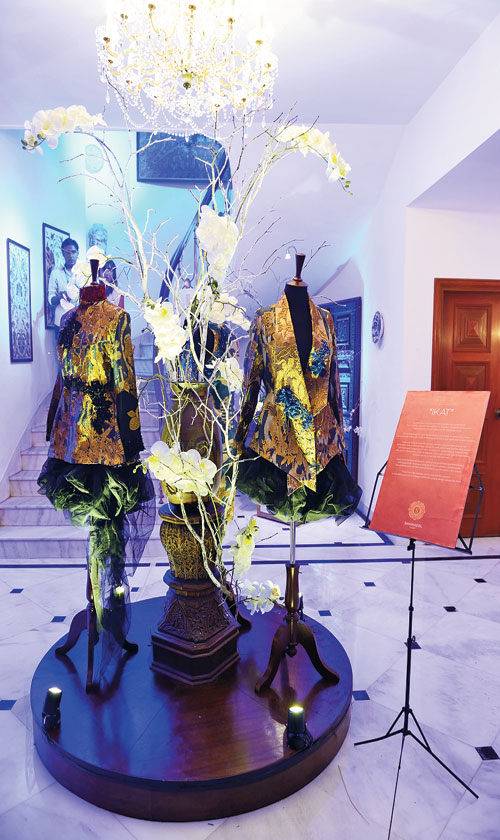 "I have an affinity with what I create in every aspect and whatever I depict is part of my persona. I never borrow and I'm proud to say at the age of 50 I've always been original."
Like true royalty, she naturally commands respect and has an aura of regality and poise. A walk through her home proves why – walls adorned with portraits of accomplished ancestors serve as a reminder of her culturally rich history. On the day, there were also large paintings of Ottomon Sultans and Turkish music playing in the background with each element seamlessly blending in with her installations.
Different corners of her home had four curated collections as part of these installations. She presented them as "a stream of consciousness", showcasing how an idea materializes into an ensemble accompanied by write-ups explaining the process. They featured vibrant colours, diverse textures, velvet embossing, two toned jacquards and embroidery. Like Shamaeel's inspirations, the clothing on display was layered and one could spend a while admiring it like art. The runway collection, The Blue Tulip, featured belted jackets and pants, layered front open jackets, shirts, corset belts – all the while staying in her usual palette of regal, strong colours. The jewelry customized for the showcase by Kiran Fine Jewelry and hair and makeup by Nabila's team also complemented the clothes.
"I've been inspired by many cultures of the past, heritage, tradition but ancient Turkey really grips me not just because of the regality of the costumes and richness but I'm also into Sufism and the rustic element of the Suzanis, the Ikat and there's so much variety," she told Instep after the showcase. One can tell how taken up by it she is by the way she talks, "I feel my collections are enigmatic and I'm original in my design approach so I thought I'd tie this collection to my heart and bring forth what I love in terms of culture, history and research and that to me, really was somewhere in Istanbul."
We asked why she chose to show at her home instead of the unusual locations she has in the past. "I think I'm the only designer who's done a maximum number of solo shows in Pakistan and I have momentous ones to my name. This one was in fact easier than anything else I've done before because this is something I enjoy," she said.
Photography: Faisal Farooqui @ Dragonfly