The singer on sharing the stage with Atif Aslam at the Lux Style Awards, singing for films and upcoming projects.
Aima Baig is one of the most promising singers to emerge from the music scene in recent months. She is inspired by powerful vocalists like Lady Gaga, Rihanna and Abida Parveen and had a tremendous run in 2016. It also looks like her plate in 2017 is just as full. Despite a packed schedule, Baig spoke to Instep about her journey, the rise to fame and what the future holds…
Formative years
Raised in Oman, where she spent her formative years with her father, Baig says she has been passionate about music since the age of seven. Having set her mind towards pursuing a career as a professional singer, she collaborated with uncle, Mubashir Lucman in her late teens on a public-service single that created awareness about cancer. "My mother died of cancer and I wasn't able to do anything at that time, so it was my way of giving back," Baig explained.
However, she wasn't always open about her desire for music; in fact, Baig says she was initially discouraged by her family from stepping into the industry. "I've always been very private. A loner of sorts I'd say. I never sang in front of my family and when I decided to pursue my career as a singer, it wasn't always all rainbows and butterflies," she shared. "My family had their share of concerns, they knew survival in this industry is no piece of cake, but gradually they understood."
Breakthrough era
Though the singer has been a part of the industry for a while now, it wasn't until last year when she broke through. She was the singing voice for Saba Qamar for Wajahat Rauf's Lahore Se Aagey and sang popular songs 'Kalabaaz Dil', 'Befikiryan' and 'Ehle Dil'. Consequently, Baig picked up an Lux Style Award for 'Best Singer (Female) – Film' trophy at the Lux Style Awards earlier this year.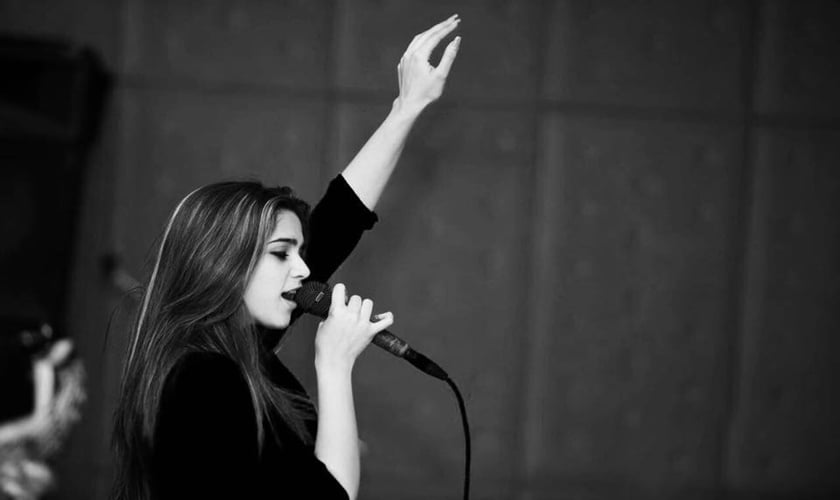 "Shiraz Uppal (composer) is a very dear friend. I've known him for quite a while now," she told Instep. "So when Wajahat wanted a singer who could pull off a song like Kalaabaz, Shiraz approached me and it was undoubtedly the most difficult song I've sung yet. That's not my genre and that wasn't my voice either. I had made it up, because of the bazaari feel Shiraz wanted the song to have. Being nominated for the song itself was a huge honor for me, but winning the award was something I had not expected at all. I fall short of words describing what I had felt."
While 'Kalabaaz Dil' is undoubtedly Baig claim-to-fame, she was also heavily criticized for sounding like seasoned Bollywood singer, Rekha Bharadwaj, which surprisingly Baig agrees to. "Shiraz gave me a scenario, a background of the scene in the film where the song comes. He gave me Rekha's reference and I didn't imitate, but did try to adapt the tone since I've never tried something like that before. I think Rekha Bharadwaj is a living legend, so I feel honored with comparisons between her and me. I take it as a compliment."
Speaking of the LSAs, Baig shares that she had a great time working with Atif Aslam including sharing the stage with him. "Not only is Atif extremely talented, but he is a gem of a person. Working with him has been one of my best experiences to date," Baig noted. "He always carries his guitar and he was very accommodating and helpful. I feel I've learnt so much from him. Not many of us know this but Atif has a great sense of humour. I absolutely adore being with him and we're planning on some collaborations that may take place very soon."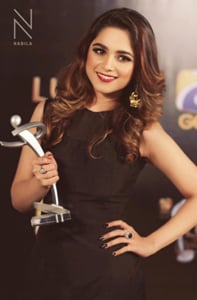 While Baig does come across as forthcoming, fame can take a toll. Aware of how fleeting success can be, Baig says she tries to remain grounded and true to her own self. "As a person, I'm still the same. I feel nobody can change who I am. People often tell me to pretend for the camera; I simply cannot."
A fan of hip-hop and contemporary music, Baig is collaborating with Asim Azhar on a single composed by Shiraz Uppal, while she has also recorded songs for a number of local film soundtracks. The rising star will lend her voice to the Fahad Mustafa and Urwa Hocane starrer Na Maloom Afraad 2, Shaan Shahid's Arth 2, the Pakistani Air Force's co-production Parvaaz Hay Junoon featuring Hania Aamir and Hamza Ali Abbasi along with Humayun Saeed's highly anticipated sequel of Jawani Phir Nahi Ani. She says she is also looking into OSTs for drama serials.
Following the conventional path, Baig reveals that not only is she looking inwards, but has also recorded a track for a Bollywood film in Dubai, which is slated to release later summer. "I'm not a keeper. I am indeed working on a song from a Bollywood production which is a duet with my favorite singer. It was actually a dream come true. I remember being absolutely star-struck when I met the makers and the film's male lead in Dubai."
While Baig does condemn terrorism, she feels art truly goes beyond borders. "I think it's pretty stupid, a political war between two countries doesn't have anything to do with art," she says of the ban placed on Pakistani talent from working in Bollywood. "Saba Qamar and Mahira Khan, even Fawad Khan, I feel have done brilliant work in India and they're so capable of achieving much more. I hope it gets resolved soon. I feel great when I see how filmmakers from across the border are still reaching out to Pakistani artists. They're not backing out and I commend them for it."
Reaching for the stars, Baig says on a parting note that writing is a "hidden talent" of hers; however, it won't be for much long. "I have always been a writer. In fact, I wrote my first script almost two years ago."