Director Angeline Malik on the sets of her upcoming play Mujhe Jeene Dou which will tackle the issue of child marriage.
TVTalk
Directed by Angeline Malik, the upcoming drama aims to create public awareness about how to deal with the issue.
Taking up social issues as subject matter for drama serials has become a new (and perhaps needed) trend for television nowadays (Udaari, Khuda Mera Bhi Hai, Mera Kya Qasoor Tha). The good part, however, is that people have started talking about issues that were once considered taboo and were brushed under the carpet. Though it will take some time to realize that there are a lot of equally important subjects that need to be dealt with, it is a great sign that such attempts are being made frequently.
Adding to the list of such TV plays is Angeline Malik's upcoming play, tentatively titled Mujhe Jeene Dou, that will tackle the issue of child marriage. Though the subject isn't a new one to be explored on local television, we haven't seen any recent play talking about the intricacies surrounding the issue and how it should be dealt with.
"The basic theme of the play is child abuse while I have also talked about women empowerment," the director, Angeline Malik, told Instep. "Though there are laws against child marriage, nobody abides by them or reports on it. There are several unreported cases that have never been brought to the forefront. This play will serve as a source of entertainment as well as education for the masses since it aims to make them aware on where to go for help in such a situation. We even plan to dub the play in several regional languages so that it can reach places where such crimes are common."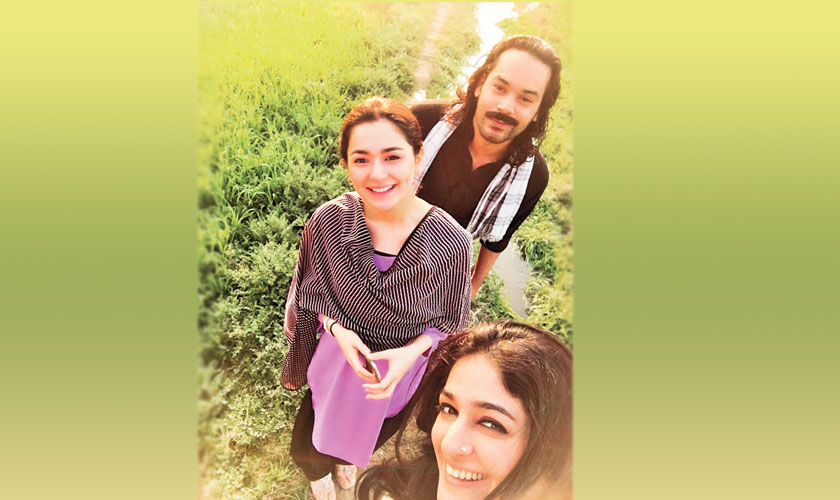 Hania Amir and Gohar Rasheed will be playing the lead pair; Nadia Jamil will be returning to the small screen to play the role of a health worker.
Starring Hania Amir (who made her film debut with Janaan last year) and Gohar Rasheed as the lead pair, Mujhe Jeene Dou also has a romantic aspect attached to it. According to the director, a play becomes too dark for the audience to digest if it only aims to provide information and carries too many messages.
"Set against a Punjabi backdrop, there's also a little bit of drama and romance in the play to engage the audience," Malik revealed.
Written by Shahid Nizami, the play tells the story of a girl (played by Hania Amir), who's the victim of child marriage and is married to a man (played by Gohar Rasheed). Initially she follows tradition and does what her family demands of her but later speaks up for herself and takes a stand. Other female characters in the play are also empowered and have the courage to stand up for themselves.
Speaking about the need of showing empowered women on the small screen, Malik explained, "People want to see strong women on the screen. They're tired of watching weeping willows and women depending on men to rescue them. In the play, you'll see women standing on their own and raising their voices against evils of the society."
Mujhe Jeene Dou also marks the comeback of one of television's most loved actors, Nadia Jamil, who will play a pivotal role in the serial. Essaying the role of a health worker, Jamil is sort of a support system for the victim of child marriage in the play and serves as an important source of knowledge to viewers. Aside from Amir, Rasheed and Jamil, the play will also feature actor-director Sarmad Sultan Khoosat, who received multiple accolades for his performance in Manto.
Speaking about poor character development in our drama serials, the director said that our characters aren't realistic. She noted, "Most of our dramas portray characters as either black or white, there's no grey in between which isn't true. Mujhe Jeene Dou takes into account the behavioral changes that characters go through. I've tried to show that it's not necessary to kill the villain at the end to resolve matters. We can even talk about changes in their behaviour over the passage of time."
The first spell of the play has already been shot and will go on air sometime in late summer. What we know about the play so far is enough to make us look forward to it. Let's wait and see what it holds in store for us.