breakingstereotypes
While most people are under the impression that this is Kami Sid's on screen debut, let us clear out that it's not. Kami has been part of two superb documentaries – How Gay is Pakistan and Chuppan Chuppai – long before the phenomenal photo shoot that brought her fame was publicized a couple of months ago. We caught up with the bubbly and outspoken Kami to hear more about the short film that she is working on these days.
"Documentaries are very different from films I realize," she said. "Documentaries are easy since you don't have to act; all you have to do is be yourself."
It was due to Kami's very happening social circle that she managed to get an audition for Rani, a short film by award winning director Hammad Rizvi. Kami's friends at GrayScale production house suggested she audition and voila! Kami bagged the role. She told us that dancing is one of her favourite hobbies, and though she never got the chance to learn professionally, she has performed at many local and international platforms. Kami loves performing and taking the stage, as she has been doing since her school days she told us, and was excited to get the part.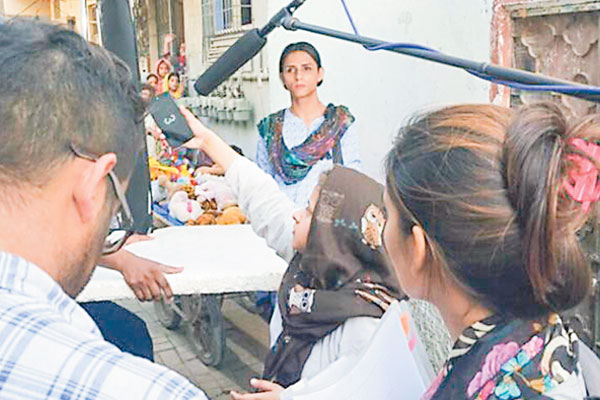 "People would crowd around us to watch," Kami shared her filming experience.
"I was mainly excited because the story line is great, and especially because it shows a transgender as a normal person with normal feelings. Not singing and dancing like we are normally portrayed. I was a little nervous because I have never acted in a film before; I played myself in the documentaries. Plus I'm a very modernized transgender and the character in the film is totally the opposite."
With the great direction of Hammad Rizvi, who despite not knowing Urdu well according to Kami, was a great source of help and guidance. Kami tells us she is very proud of her part in the film and is sure that it's going to have a good impact, similar to her fashion photo shoot.
Naturally our conversation steered towards today's most talked about TV show Khuda Mera Bhi Hai and Kami, who has always questioned and advocated the role transgenders play in our society, questioned why a transgender could not be cast in it.
"People today don't do their homework," she critiqued. "Yes it's showing the transgender community but there are flaws in the storyline. That's the thing about our film, it's positive and has no fazool ka tamasha!"
Kami had also told us earlier that Asma Nabeel, the writer of Khuda Mera Bhi Hai called her up with some queries about the trans community when she was writing the script.
"I could tell that she herself is not clear about the whole concept. I asked her to meet me so we could discuss things in detail and clarity but she was not interested." Hence the medical errors in the storyline perhaps…
Back to Rani, Kami's upcoming film revolves around the life of a hardworking transgender, who finds an abandoned baby and is compelled to raise it as her own. The movie is planned to release in March and is in America for post-production at the moment. Most importantly, to Kami's delight, the film also features another transgender, Hina Pathani, who is also a leader of the trans community.
Kami once predicted that her fame is likely to be short-lived and just a "weekend happiness" but we are ecstatic that she is back with more. Definitely looking forward to seeing the film, we're taking Kami's word that "It will definitely be better than Khuda Mera Bhi Hai!"
—Featured image by Nadia Narejo
Courtesy: SomethingHaute