Shehzad Rafique's new film celebrates the life of the 15-year-old
who saved thousands of lives from his selfless act of bravery.
The self-imposed ban on Bollywood films is definitely hurting Pakistan's film industry but it doesn't mean that every home-made film releasing during this period is substandard. Shehzad Rafique's Salute is one such film that has the capacity to bring people back into cinema halls because it makes an effort to make you understand sacrifices the average Pakistanis have made for their country and against terrorists who have no religion and nationality. So here are five reasons why this film shouldn't be missed at any cost.
The acting is top-notch
Many if not most new-gen directors currently operating in the film scene believe that actors belonging to the preceding era are long gone and past their prime but Saima Noor and Ajab Gul prove them wrong with this effort, especially Saima. The veteran actress excels in the role of Aitzaz Hasan's mother who cares deeply about her son; she fights with other mothers whose progeny refer to her son as "fat" and somehow has intuition that tells her that her son might not comeback when he leaves their home at the climax. She plays the role of a Pakhtoon well and her expressions deliver far more than words ever could. You can see why directors have continued to cast her over the years. Ajab Gul also does well as the hard working father of the martyred Aitzaz and should concentrate on films in Karachi as we need good actors like him in this part of the country.
An emotional saga
Speaking of emotions, the film features the whole spectrum. Although there are many scenes that could have been edited and minimized, they were not as prevalent as scenes drenched in emotion that hit you hard. Be it the speech given to the wannabe suicide bombers or the cleric in the interrogation room, the dialogues between Aitzaz's parents and/or the scenes featuring Ali Mohtashim as the Hungu martyr – they all provide the audience with an emotional rollercoaster ride.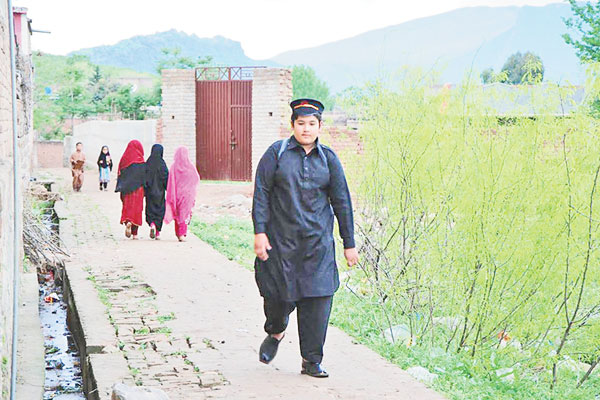 The 'framing' of the film
For those who don't know Shehzad Rafique, he is among a rare breed of individuals who have ventured into direction after first trying their hand on production. Rafique has a successful record having produced successful films like Ghoonghat and Nikaah in the '90s. He turned to direction with Rukhsati and later went behind the camera for Salakhein and Mohabbatan Sachiyan, both of which won critical acclaim.
His last film, Ishq Khuda, didn't perform as well as his other films but Rafique is someone who never stops learning. Beginning his career as an assistant director in the late '80s, he has been a part of the film industry for almost three decades. If anyone could give a perfect frame, it would be him. And that's true in the case of Salute which looks like a film, visually speaking and hence has the power to grab attention. Yes, the film has some technical issues but cinematography isn't one of them.
Return of the maestros
Nearly two decades back, music maestros Robin Ghosh and Amir Munawwar (with Nusrat Fateh Ali Khan) joined forces to give the soundtrack of Jo Darr Gaya Wo Marr Gaya, which is now considered a classic.
And now two decades later, this dream-team has returned with Salute. Shehzad Rafique gives credit to the recently departed Robin Ghosh whose song 'Tu Hai Mera' featured in the classic film, Nahin Abhi Nahin, released in 1980. Sung initially by Mehnaz Begum, Ghosh's frequent collaborator, it was appropriately recreated by Shabnam Majeed who debuted in Jo Darr Gaya Wo Marr Gaya, under Robin Ghosh's tutelage.
It is perhaps the most appropriate manner in which Rafique could've paid tribute to the late genius who carried the torch in the '80s before leaving the industry for good.
The background score by Amir Munawwar is equally well executed and doesn't deviate from the mood of the movie, and keeps the audience engrossed till the very end.
Timing is everything
Salute has been released in the month of December, a couple of weeks before the anniversary of the horrific APS terror attack that took away the lives of many children. This film shows that had Aitzaz not nabbed the suicide bomber, there could have been another incident days before that mirrored the APS attack. The last 10 minutes or so of the movie will tug at your heart and bring tears to your eyes beause the incident is close to everyone's heart – everyone who has a heart, that is.
– Omair Alavi is a freelance broadcast journalist who can be contacted at omair78@gmail.com