Actor-In-Law tackles social issues intelligently.
Backed by brilliant performances and engaging subject matter, Actor-In-Law is a triumph for the new age of Pakistani cinema.
Filmmakers in Pakistan don't always address social issues via the influential medium of cinema. But the writing duo of Nabeel Qureshi and Fizza Ali Meerza remain an exception.
Their latest effort, Actor In Law, takes up social issues in a fashion that is both intelligent and entertaining.
Upon seeing the film, it is clear that it is the best amongst the current crop of Pakistani films releasing this Eid season.
The film traces the story of a struggling actor, Shan Mirza (Fahad Mustafa), whose father, Rafaqat Mirza (Om Puri), is a lawyer by profession and wants his son to do well in life.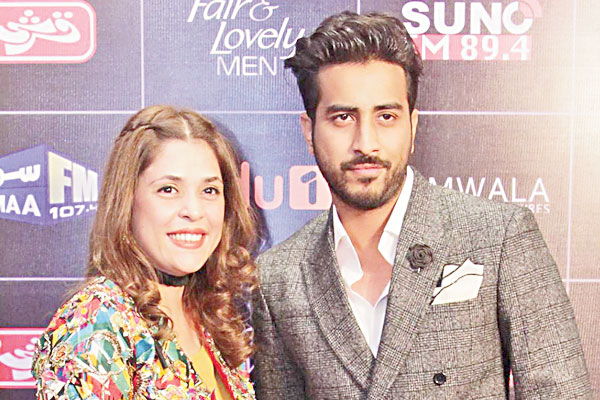 Fizza Ali Meerza and Nabeel Qureshi.
Things don't always go Shan's way and there comes a period when he becomes 'Actor In Law'. To know what happens next or how it happens, you should go to the cinema and find out because this is one film that has both wit and substance, all rolled into one.
The film's biggest highlight is the acting prowess displayed by its cast members. Fahad Mustafa is outstanding as the young man who wants to change the world by winning hearts. He always had the potential to become a super star and with this film, he has taken one step closer to that mantle.
Om Puri didn't disappoint either. Nobody other than Puri could have played the role of a failed lawyer who detests lying with such command.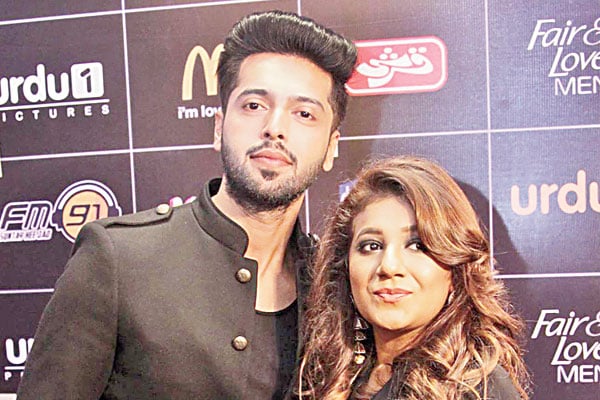 In Actor-In-Law, Fahad Mustafa has delivered a solid, memorable performance.
Mehwish Hayat is also impressive as she showcased her ability to play a character that is different from her usual roles.
Saleem Meraj, who had a memorable cameo in Na Maloom Afraad as Qadeer bhai, plays an important role as does Alyy Khan, who is the second international name to star in the film. His portrayal of Pakistan's 'number one anchor' just might remind the audience of a real life anchor without offending any one's sensibilities and that's the beauty of the film, it doesn't attack individuals directly.
Last but not the least, actresses Saboor Ali and Lubna Aslam, who play younger sister and mother to Mustafa's character, do well with the material provided to them.
Shani Arshad has done a wonderful job with the film's original soundtrack. Be it Rahat Fateh Ali Khan, Atif Aslam, Asrar or Shani himself, the songs don't dissatisfy and gel with the situation in the film. There is no song on Mehwish Hayat akin to 'Billi' but that's because there was no need for such a song. Even the background score has been done in accordance with the mood of the film, which is an added bonus.
The film is loaded with cameos and although the appearance of Mahira Khan and Humayun Saeed became public prior to the film's release, there are several other cameos including one from a renowned producer that will come as a delightful surprise.
Like Na Maloom Afraad, this film is also Karachi-centric and the way it captures the city by the sea is remarkable. All credit rests on the shoulders of D.O.P Rana Kamran (who has also shot Janaan) whose visual style has elevated the film to another level.
Some moments in the film seem inspired from Bollywood films like Phata Poster Nikla Hero, Jolly LLB and Oh My God but they are just inspirations.
The main issues highlighted in the film are ones that needed to be tackled and Actor-In-Law does it in style. The characters make you laugh, the situations make you wonder and the suspense quotient will keep you engrossed until the final scene.
Actor-In-Law's script, penned by Nabeel and Fizza, is first rate and a clear winner here. The decision to consult Nadeem Asad for the script is something others should follow.
Actor-In-Law refrains from clichéd portrayals; the 'Men in Black' are shown in a positive light, dismissing the notion that lawyers are inherently bad people.
In the end, Actor-In-Law is a good film and one that deserves support from the audience. Recommended.
– Omair Alavi is a freelance broadcast journalist who can be contacted at [email protected]