Folk legend Mai Dhai performed on Day 1 of Lahore Music Meet and managed to steals hearts.
InstepREVIEW
The two-day festival, still in its infancy, provided creative space but wasn't without its fair share of teething problems.
Lahore: A week after the heinous attack in Lahore, with the security situation still uncertain and a general sense of malaise hanging over the city, the city was roused out of its depressing stupor by the 2016 edition of Lahore Music Meet. The two day festival was held at Alhamra Arts Council and featured talks by prominent musicians and members of the industry, as well as outdoor performances by underground bands and upcoming artists, with evenings being headlined by two of the country's most acclaimed folk singers; Mai Dhai and Attaullah Essa Khelvi.
Commencing on Saturday, the two day fete was dedicated to celebrating, nurturing and critiquing music. With Pakistan's music industry boom now a distant memory, the idea behind LMM is not only to kick-start a revival but also provide a platform for dialogue through panel discussions and moderated sessions. Given the current state of affairs, music serves as the perfect antithesis to the rising fanaticism and hysteria the country is experiencing. It has the ability to heal, unite, be dauntless and return a much needed sense of normalcy to routine life.
Walking towards the venue you were greeted by grim guards and countless security checks, however stepping inside Alhamra changed the entire vibe. There was live music blaring from speakers, teenagers and young adults milling about the art council's spacious lawns, sweating and swaying to the beat. Sights and sounds of an ordinary life, activities that would be normal in any other part of the world on the weekend are turning into symbols of defiance in increasingly hostile times for our country. The atmosphere was fantastic, with chatter and laughter being drowned out by powerful vocals and a booming base. The creativity radiating was almost palpable in the air.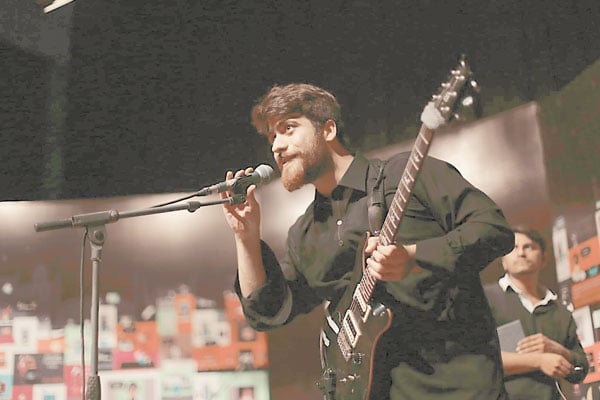 Zain Ali from Red Blood Cat shines on stage. The indie band, hailing from Islamabad, captivated the audience with their command of instruments and distinctive sound.
The sessions themselves were a hit or miss. The panel topics seemed engaging and the panelists merited but it didn't all work out. Day One witnessed an awkward gaffe when Meekal Hassan was the only member of his band to show up for a talk on band dynamics and the entire discussion had to be cancelled. Another stellar session that audiences were looking forward to was on Day Two with Ali Zafar, moderated by Zoe Viccaji and Ali Sethi, and it failed to deliver in terms of solid critique or dialogue. They spoke about the power of music and how atmosphere affects an artist but there was no peg to their discussion and it seemed more like drawing room dialogue than what you'd expect at a music meet positioned to impart knowledge.
In terms of outdoor performances, percussionist band Quadrum stole the show on the second day. Their tribal beats and thumping bass had even the most recalcitrant audience members tapping their feet to the music. Without any lyrics or synthesized music, the percussionists created a unique sound that left a lasting impression. With the powerful vocals of Mai Dhai set to take the stage on Day One as the headlining performance at night, everyone expected her to over-shadow the less heard of band, Red Blood Cat but they turned out to be the revelation of the night. A jazz blues band, not particularly well known and hailing from Islamabad, they captivated the audience with their command of instruments and distinctive sound.
If there is one lasting critique of LMM it is that the organizers squandered better weather. With temperatures already soaring in Lahore and humidity making its prickly presence felt, it was impossible to enjoy the outdoor performances during the day or pay attention in sessions when the air-conditioning stopped working in a hall. But beyond the heat inconvenience and some minor hiccups (expected considering this is only the second year of the festival and given the state of security and general affairs) the event must be lauded for its efforts, aims and what it accomplished. For two days, Alhamra was alive with music and laughter; it was a happy space, where creatives and artists rubbed shoulders and exchanged ideas. We need more weekends that look and sound like this, not only for the music but for our own sanity.
- Photography by Iman & Nadir