women
The lives of Pakistani women have changed during the past 30 years and they are more empowered and emancipated than they were ever before. More and more women are entering the workforce today and in order to achieve sustainable empowerment, they are working hard for a better present and a bright future. A few days ago we celebrated International Women's Day (IWD) and many events were held to highlight the achievements of our women who are creating waves in their respective fields. Keeping the spirit of IWD in mind two events were held in Karachi. Read on...
Let the women lead
This International Women's Day marked its arrival with 'Let the Women Lead Celebrating Women in Power'. It was organised at Pakistan American Cultural Centre (PACC) on 8th of March, 2017. Several speakers including artist and filmmaker, Zeba Bakhtiar; Director Indus School of Art & Architecture, Rasheed Noorani; Consultant Dermatologist, Dr. Zarqa Taimur; Chief Editor Travelogue, Rahila Zohair; Ischel Newton of Pansari; Member American Academy of Aesthetic Medicine and TV anchor, Dr. Tania Shaikh; Arshad Nadeem, Executive Director PACC and artist Hina Khawaja Bayat graced the occasion with their presence. The event was hosted by Eram Masood who is an Advisor- Media Asia Commonwealth Businesswomen's Network.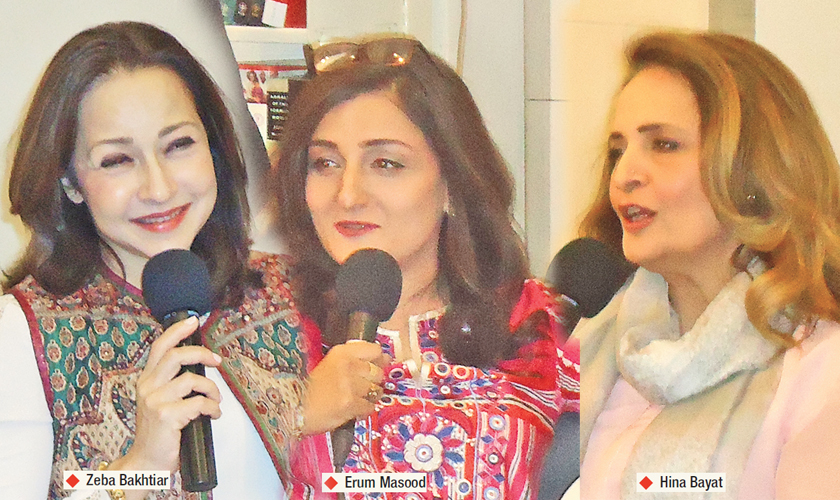 During the event, all the speakers spoke about women empowerment and had an interactive conversation with the audience present there. They also gave tips on how to stay strong and independent while working under all odds. Zeba Bakhtiar shared her experiences and said that women shouldn't lose patience even when the times are tough, as God has made them superior and they should never forget that.
Later on, Hina Khawaja Bayat expressed how she recollected herself after five miscarriages and diverted her mind towards a prosperous career that she has today. "I was all dejected... almost suicidal as I couldn't conform to the society's image of a woman. I couldn't be a mother which is supposed to be the ultimate goal of a woman's life. I strongly believe that no other creature can replace a mother or perform any role in nurturing her child and family, but if you can't have what others consider as the sole reason to be happy, you should think there is more to life and God has blessed you with a lot of other things to carry on with," said Bayat.
Following the same vein, other speakers also discussed how women can express their emotions and feelings, and how they should communicate their weaknesses to find a way forward for achieving success. In short, the most powerful motive of the meet and greet session was to educate women on how to break stereotypes. Kudos to the entire team and Eram Masood for pulling off such an inspiring event!
Honouring women
Another occasion that was held in celebration of International Women's Day was the 9th anniversary of the LadiesFund Women's Awards for Pakistan which was commenced at Governor House, Karachi, on 11th of March, 2017. The event was organized by Dawood Global Foundation (DGF) and featured some of the most eminent women in Pakistan. We all know that LadiesFund was established in 2007 as an initiative to provide financial security to women and to promote and train women entrepreneurs. It aims to integrate the entrepreneurial needs based on the economic and social aspects. The event was attended by a number of people among whom Governor Sindh, Mr. Mohammad Zubair and Governor State Bank of Pakistan, Mr.Ashraf Wathra, were the chief guests who gave their whole hearted support to the women achievers. They also celebrated their empowerment and acknowledged the great economic contribution of Pakistani women. "There is an urgent need to create awareness about the biased behaviour against women in our society so as to protect them and utilize their capabilities in more effective manner," said Governor Sindh. "Women problems such as provision of their due rights, education, poverty alleviation and creation of employment opportunities need special focus since the role being played by women in collective economic development of any country is of immense importance," he added.
While lauding globally recognized 'Educate a Girl' initiative by DGF, Governor Sindh enthused, "That it is the need of the hour to educate and encourage our female population to enter and stay in the workforce. Tolerance is the key to progress of any nation. If our women are in power, they can nurture a tolerant society, while being economically strong."
By the end, the chief guests paid recognition and rewarded women from various fields. Also, Educate a Girl vocational scholarships celebrated their completion of the education of 1000 deserving girls in Karachi. They announced the incubation of the programme by Facebook's charity and its free basic programme as well.