home decor
Are you thinking to bring the outdoors into your home? Try adding greenery to your abode by decorating it with potted plants like succulents and cacti. These are easy to grow, and they can add beauty to your space too. These indoor plants come in flowering and non-flowering varieties. Read on...
Stylish ways to display
Front door decor:
Your front door decor says lot about you and your taste. So, display a single pot of your favourite cacti on single solid wood stand. Alternatively, create a miniature living landscape with opuntia plants at the entrance. Crown of thorn is also a sculptural plant that grows well in bright light.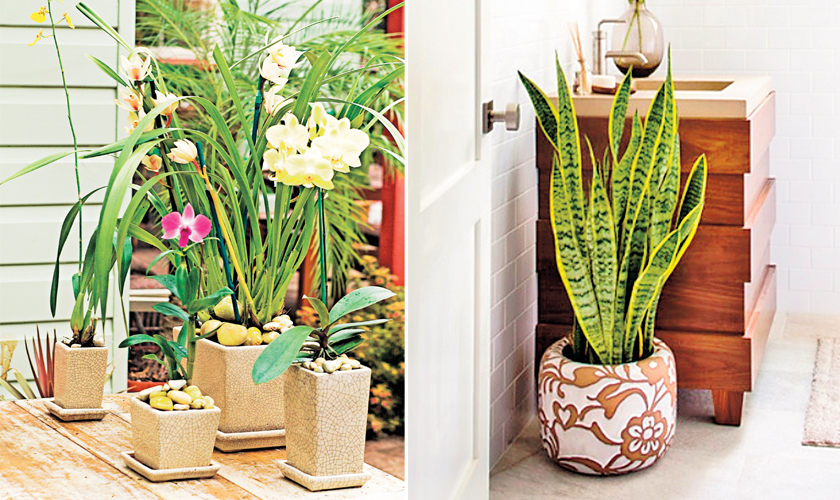 You can make interesting arrangements with succulents as well. Beautiful combinations of succulents with different colours, shapes, and styles in one large container or pot will give a beautiful effect to your doorstep.
You can also adorn the entrance area with pots of crown of thorn plants on three or two tier plants stand or table. Another idea is to hang a vertical planter front door wall to give a trendy, feel to your doorstep.
On windowsill:
Display succulents to liven up sunny windowsills. These plants can be grown on windowsills where there is sunlight for a few hours or even bright daylight. You can go for plain white, black or marble pots and line them up in a row. A small, round plant pot made of ceramic material with a glossy white finish will also look great.
Choose unusual geometric wooden/concrete pots to enhance your display. Place a line of small potted succulents at the centre of an outdoor windowsill as a living montage. Cacti and succulents do not require pots that are proportionately too large for the plant size. Large size planters are not visually appealing; the pot diameter should be 1 to 2 inch more than the plant diameter.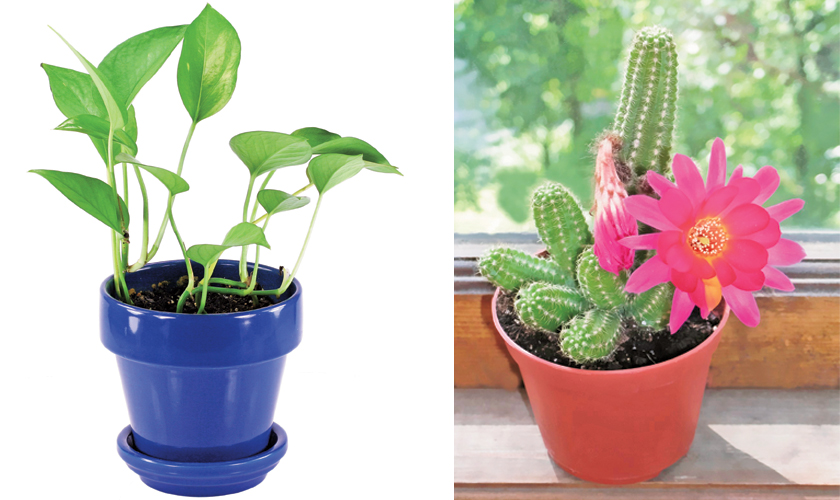 Make terrarium:
Add freshness to your living room area with small or medium size terrarium. You just need a glass jar, soil, pebbles or stones, charcoal and a succulent plant. To make terrarium for your study table select a clear glass. Choose the type of stones or pebbles such as white rocks. Next, add a layer of charcoal. It helps filter the water. You also need to add soil to the terrarium. Add it on top of the charcoal and press it down with your hand so it is firm and compressed. Add a little bit of water to let the soil drain down through the other layers. Now place the succulent or cacti on it. Once you have got your planting done, gently add in a bit more sand to cover up.
In the bathroom: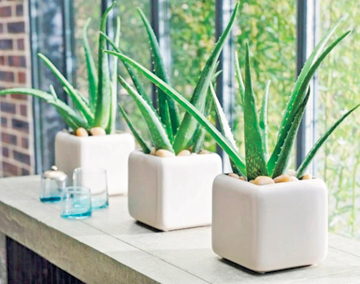 Succulents have the unique ability to filter out common dangerous organic compounds. Placing a mother-in-law tongue plant in or near the bathroom will help filter out a multitude of air pollutants and toxins.
Caring tips for cacti and succulents:
These plants need at least four hours of direct sunlight. They could also be grown indoors by a process of weekly rotation between indoor and outdoor. They require water only when the soil is dried out.
To grow a healthy plant soil type plays a vital role. An ideal soil mix contains 30% stone chips, 20% organic manure, and sweet sand 50%. Cacti also thrive well in non-organic soil, which contains coconut peat and pumice stones and artificial commercial feeding easily available at nurseries. Indoor succulents need less amount of fertilizers.
Make sure to avoid direct sunlight immediately after the repotting of the plant to protect it from sunburn. A repotted plant should be placed in semi-shaded location for about two weeks and then gradually move it out into the sun.
Keep an eye on the pests. Mealy bug, scale, fungus and red spider mites can destroy these plants in a matter of days.