woman
There are various organizations who are constantly striving to make the lives of girls better. And Ladiesfund(r) by Dawood Global Foundation (DGF) is one such initiative that provides financial security to women and also train women entrepreneurs. They also provide a platform for networking and career development with highly qualified professionals.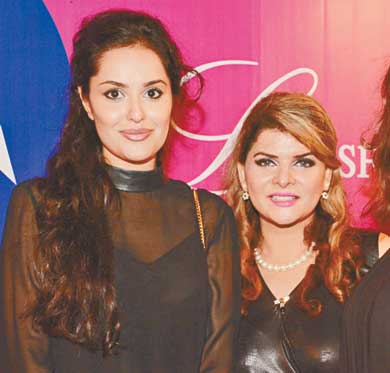 Ayesha Chundrigar & Tara Uzra
Recently, Ladiesfund held an evening seminar for 100 women professional and entrepreneurs, representing sectors of pharmaceutical, medical, financial, multinational, art, fashion and beauty industries.
This women empowerment and educational event was created to bring career women together with opportunities for mutual respect, glamour and to create a community of pride for working women in Pakistan. A special performance by gifted dancers Joshindar Chaggar and Sunil Shankar was created for this evening.
'Janaan' stars Ali Rehman Khan and Bilal Ashraf spoke on the important topic of women working effectively side by side men, and Umar Chaudhary gave tips on staying fit on a career path. There was great business development from the event with women professionals placing orders from entrepreneurs, mentorships formed, and many professional friendships made.
The women highlighted this year included Rubina Kausar from Zed Mars, Habiba Akhtar from HeaLiv, Naeema Soomro for her own clothing label and Afsheen Sultan from Bisera Jewels, all coordinated by Varah Musavvir and Crafter's Guild. A fundraiser for Educate a Girl, proceeds went toward the award-winning charitable initiative and one of Pakistan's most exciting disruptive ed-techs with a vision to educate 1000 girls in 1000 cities (a Million girl pledge). The initiative has already educated 1000 deserving girls in Karachi, 20 of whom were invited to join the 100 dynamic women present.
All in all the event was a success and we hope that more of such initiatives are taken in the future.
caption
Team 'Janaan' & Umar Chaudhary along with Tara Uzra and other guests...
caption
Ayesha Chundrigar & Tara Uzra