culture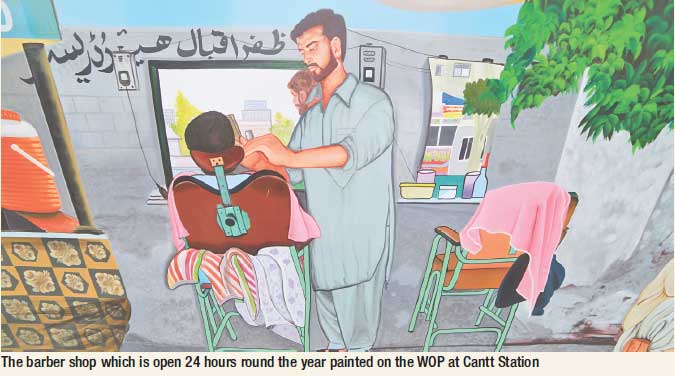 This summer, Karachi is seeing a heartening continuation of the city wide public art movement, as citizens and artists unite to reclaim walls that are covered with distasteful slogans and images in the Cantonment Railway Station area, a symbol of the proud history this city is steeped in. Within a month and a half, artists and citizens alike have risen to the occasion and reclaimed 16, 8X10 walls in the Cantonment Area alone, epitomizing the sense of pride and responsibility this movement represents.
Last year, I Am Karachi reclaimed over 1600 walls successfully, creating an accessible, open-air gallery that stands as a testament to the willingness of the inhabitants of the city to come together and take ownership.
I Am Karachi - Walls of Peace - is a public art movement, aimed at reclaiming the streets of Karachi by removing negative graffiti from the walls and converting them into unique displays of art with messages of hope, pride and diversity.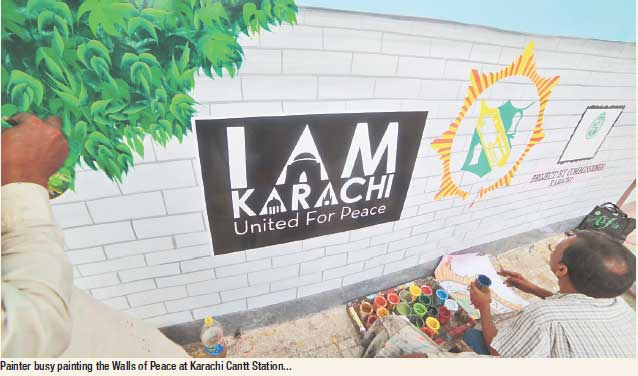 I Am Karachi is an idea that was given shape in 2014. Concerned citizens and civil society organizations felt the need of a common platform for the citizens of Karachi to come together and collectively rebuild the socio cultural fabric of the city, through peace building vehicles of arts, culture, sports and dialogue. The idea was mainly coined by individuals and organizations that are now part of I Am Karachi's consortium. The idea behind this initiative was to replace sectarian, religious, and political slogans with hand painted images that depicted positivity and a sense of pride and ownership in Karachittes. The movement succeeded in bringing citizens and artists together again, in collaboration with celebrated author and illustrator of children's books Rumana Husain.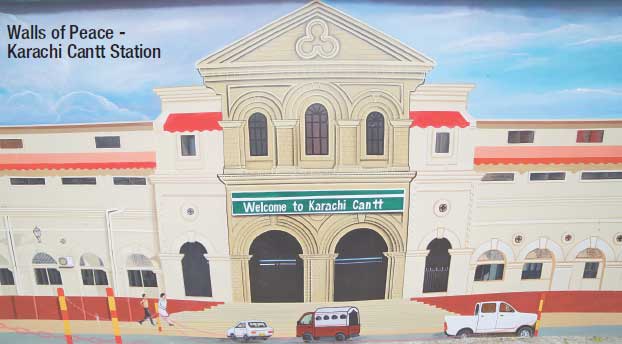 I Am Karachi is a city-wide campaign for the people and civil society of Karachi to collectively rebuild the diverse, social and cultural fabric of the city, that has deteriorated over time through extreme narratives of intolerance. "Our aim is to re-build the socio cultural fabric, through strategic interventions to make Karachi an inspiration globally. We believe that when philanthropy and business align strategically much greater sustainable impact can be made for the underserved. The magnitude, urgency and complexity of the challenges we face require an unprecedented unity between the private sector, civil society, philanthropists and governments," explains one of the senior members of the IAK's team.
While talking about the mandate, the spokesperson of IAK says, "Our main focus is to inculcate hope, pride and ownership in the citizens in Karachi. Our mandate is to reclaim public spaces, physical and intellectual, bring civil society together and create awareness and advocacy on the importance of arts, culture and dialogue to rebuilding a city's deteriorating socio cultural fabric. 'Walls of Peace' is one of our flagship programs and coupled with other core initiatives such as IAK dialogues, IAK talks, IAK sports festival, IAK music festival and IAK awards etc. We intend to provide the citizens of Karachi with multiple avenues to rebuild and repair the city's social and cultural fabric."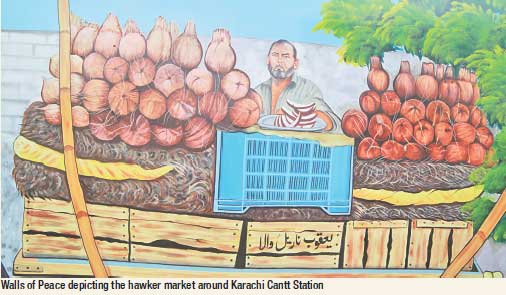 "At the end of the day we want to instill a sense of ownership and pride in the people of Karachi. To give people something to smile about; to be proud of their own city. A wall that has been sprayed with negative graffiti can be adorned again with positive images, just like the city itself given that the main instigators behind it have to be the people of Karachi," he adds.
It is interesting to note that Walls of Peace are being painted in collaboration with the Vasl Artists Collective and supported by Indus Valley School of Art & Architecture. "We have partnered with VASL but have an open call for citizens to participate and send their designs. Money for our mission is raised through donations, sponsorships and in-kind partnerships. The government also supports us on several projects by granting approvals and NOC's to operate in restricted areas and coordinating ground efforts with us," informs the IAK team.
IAK's work is not limited to Defence and Clifton, they have worked in many areas across the city including Lyari, Korangi, North Nazimabad, Sultanabad and many others.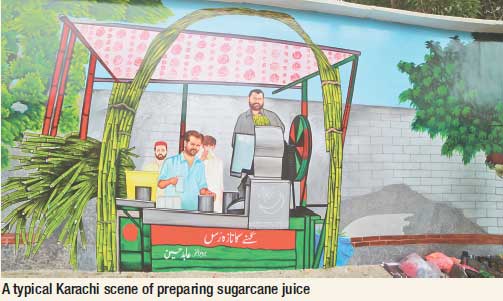 I Am Karachi's next step is to pull off a successful 14th August celebration at the Mazar-e-Quaid, a whole day event for families especially children.
The core team of IAK wants to carry this movement into the future but for that they need the support of all citizens of Karachi. If we make up our mind to make Karachi the best city in the world, we can do it. But each one of us has to play a part!
Citizens wishing to become volunteers can register themselves using the website, or by contacting IAK: [email protected]; website www.iamkarachi.org