The expected low inflationary days world across under the lead of depressed crude oil, strengthening US dollar, and likely rise in the States' interest rate would keep demand dull for gold in 2016 as well, experts said.
They said the precious yellow metal may breach through six-year low below $1,000/ounce (31.10 grams). "Technically speaking, gold may touch $950-960/ounce on downside in first six-eight months of 2016 if it breaches through first resistance level of $1,040/ounce and then $1,010/ounce," said Kamal Ahmed, technical analyst, KASB Securities.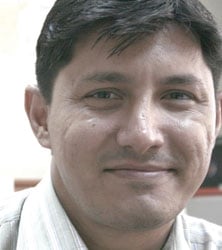 Adnan Agar, head of trading desk at Arif Habib Commodities, added, "Gold may go as low as $925-950/ounce this year…it has been making records on downside almost every year for the last four years. It touched five-year low at $1,046/ounce in December 2015."
The All Sindh Saraf and Jewellers Association reported that gold stood at $1,062/ounce at world markets, including New York, London and Hong Kong, on December 31, 2015. "It lost 10.30 percent, or $122/ounce, in the calendar year," said Haji Haroon Chand Rasheed, president of the association.
In local markets, the bullion declined by mere 5.34 percent, or Rs2,500/tola (11.66 grams) during the year to Rs44,300/tola on December 31.
"Lower decline in local markets in comparison with the world markets is seen due to changing dollar-rupee parity and uptick in demand in local markets when it touched historic lows in the second half (July-December) of 2015," he said.
The KASB technical analyst Ahmed said the US central bank, Fed, has hinted to increase its interest rate by another 0.25 percentage points in March 2016. In December 2015, it revised up the rate after nine years by 25 percentage points to 0.25-0.50 percent for different States. "Increase in the rate in December has caused fresh losses and dragged the gold down to 2015 low (at $1046/ounce)...another increase in the rate would possibly cause further losses in the yellow metal," he said.
The increase in the rate, however, helped the dollar strengthened which hit over a decade high against euro and other major currencies in 2015. Usually, gold and dollar move in opposite directions to each other in world markets. People mostly buy gold and/or dollar to avoid depreciation in their respective currencies, depending upon their local economic policies and world economic scenario. The strengthened dollar has weakened gold in 2015 for the fourth consecutive year.
Agar added consistent improvement in the US economy and decline in its unemployment rate support the Fed to keep tightening its monetary policy this year.
"Federal Open Market Committee of the Fed is expected to increase interest rate by up to one percent in the next six-eight months from current maximum 0.5 percent in different the States," he said.
Reports suggested the Fed may increase the interest rate, maximum by around 100 percentage points to 1.25-1.5 percent in the full-year of 2016.
Agar further said the foreseen downward trend in crude oil for 2016 would also not allow the gold to recover in the year. "Technical analysts in world markets have forecasted that crude oil may touch $22-25/barrel on downside," he said.
Crude oil touched over a decade low around $35-36/barrel in 2015 and helped keep inflation low world across, including Pakistan. Besides, downward trend in world commodities, including wheat, rice, sugar, cotton, and cooking oil, would keep inflation low across the globe. "People invest in gold in inflationary days which is not the likely case this year...scenario for further fall in crude oil price will lead to keeping inflation on the lower side," he said.
Ahmed said the gold may spike for a brief period if Fed delays further increase in its interest rate expected in March 2016. However, "strong is the change for increase in the rate on the given timeline, as Fed would not want to lose its credibility due to lose of its commitment (for rate hike)," he said.
He said the gold may spike to $1,150/ounce, the initial supportive level on upward side, in case the dollar partially loses historic gains. "Geopolitical situation to be led by wars in various countries, including Lebanon and Syria, may cause dollar to decline and gold to gain...an increase in US defence spending to fight wars against terrorism in the world may depreciate the dollar," he said.
Also, the gold may go up if world economies, including the weakening ones, opt to increase their gold reserves. "China (one of the world major economies in trouble) always prefers to increase its reserves in gold. Besides, there are other counties where consumption of gold may improve on public demand, including US, UAE, and India," he said.
Agar said the gold may rebound if crude oil makes a speedy recovery for some reasons, and rate of unemployment in US reverses to higher side. "$1,300/ounce is a strong resistance level on upward side," he said.
"The pop up of financial crises in European countries, including Greece and Portugal, may provide short term support to gold on higher side...the resurface of the crises may help gold to recover by up to $100/ounce in short intervals," he said.
In 2015, the gold hit the year's high at $1,307/ounce in January and low at $1,046 in December in world markets. The emergence of crises in European countries and geopolitical situation had convinced investors to invest in gold on different days in 2015 in the global markets.
In Pakistan, the bullion hit 2015 high at Rs49,500/tola in January and low at Rs43,600/tola (the then five-year low) in July, reported the All Sindh Saraf and Jewellers Association.
Silver lost Rs40/tola in 2015 to Rs660/tola on December 31 in Pakistan, while it declined by $3/ounce in the year to $13/ounce on last day of the year in the world markets, it added.
Rasheed said the country witnessed uptick in gold demand when it lost to the five-year low in July. Investors, however, have slowed down buying these days, waiting for an expected further decline.
"Investors, in 2011 bought gold in large quantities when it hit record high at Rs62,500/tola in September that year...they bought up to 60,000 tola/day in bullish days on expectations that it would maintain upward trend and test Rs75,000/told on upside," he said.
He estimated, "People are buying gold at 10,000-15,000 tola in a day these days in different shapes (in pure-form or jewellery) in the country. However, the current demand is yet lower than at 20,000-40,000 tola in booming days of the economy in 2006."
In dollar denomination, the bullion has decreased by $860/ounce, or 44.75 percent, at $1,062/ounce on December 31, 2015 from the all time high of $1,922/ounce recorded in 2011.
The writer is a staff member