Agriculture sector, which accounts for roughly 23.8 percent of Pakistan's gross domestic product, is facing multiple crises. The central bank's last report on the statement of economy reveled that the poor cotton crop this season is a major threat to the GDP growth this year. Based on poor crop situation, the bank has cut its growth forecast to four-to-five percent from 5.5 percent original set target for the current fiscal year of 2015/16.
The central bank's report was followed by two other eye-opening findings. The federal textile ministry's Cotton Crop Assessment Committee says the country could not produce more than 10.8 million bales of cotton (170 kilogram each bale) this year. It was for the third time that the committee had revised down its production estimate for the year. In it last report the committee has expected the crop size will fall 30 percent from the initial target of 15.4 million bales set in February 2015.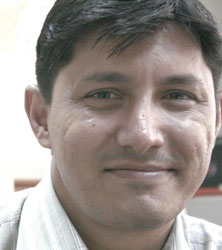 However, the Pakistan Cotton Ginners Association expects has reported earlier this month the country has produced only 7.72 million bales so far in the current fiscal year to date which is 32 percent lower than 12.06 million bales in the same period last year.
But the bug doesn't stop here. Some ginners and traders are of the firm opinions that the country would produce much lesser cotton than the government's revised estimate of 10.8 million bales. They say it would produce somewhere between 9.5 million bales to 10 million bales. "No cotton will be available at the local market after January 2016," says Asif Inam, vice chairman, All Pakistan Textile Mills Association. Several cotton brokers at the Karachi Cotton Exchange agree with him. In the previous years, the white commodity remains available throughout the years (July-June).
The government blames climate change for the bad crop this season. The early monsoon rains in May and June caused havoc. "May and June are usually those months when crops mature," says Dr. Mohmmad Ali Talpur, director marketing and economic research at Pakistan Central Cotton Committee.
Rains during those months also diminished the impact of pesticides' spray on cotton flowers to counter the pest attack and attack of pink bollworm and whitefly.
Inam, however, is not agreed that the climate change has affected cotton crops. "The use of poor quality and uncertified seeds and use of substandard pesticides were the reason for bad crop," he said.
He said poor quality seeds had attracted insects and viruses while use of substandard pesticides actually helped pink bollworm and whitefly to damage the crop. "Farmers can now only get rid of insects and viruses if they put the remaining crop on fire."
Punjab produces 80 percent of the cotton. This season, however, the production is down by 43 percent to 4.92 million bales (of 170kg) so far from 8.61 million bales in the same period last year.
Shahzad Ali Khan, chairman, Pakistan Cotton Ginners Association, also blamed substandard seeds for bad crop this season. The government has issued licenses to around 900 companies and only 10-20 of them are genuine sellers," Khan said. "There are pre-defined conditions to issue seed selling license to a firm which includes in-house test of seeds at farms and laboratories. But, most of the firms do not meet the conditions."
Cotton farmers said they would book heavy losses this season and many of them will finish the season with zero return, while some would spend extra amount to get clean their lands from insects and viruses.
Gahour Ijaz, former chairman of All Pakistan Textile Mills Association, has estimated that the poor crop could translate into an economic loss of $6 billion this season. Farmer will take a hit of at least $2 billion this year while another value-added textile industry will face $4 billion.
Analysts said the country may also aggressively import seed cotton's by-products, including edible oil and cotton-cake.
Industry officials say the country would import at least 2.5 million bales this year against an estimated shortfall of some five million bales. The total need of the textile industry for cotton stands at 15.5 million bales in the current year.
The country would spend at least one billion additional dollars to overcome part of the cotton deficit in the country. Industry officials, however, say the country would be needed additional $2.5 billion to import the deficit cotton, cotton-yarn, and synthetics.
According to Pakistan Bureau of Statistics, Pakistan spent $342.81 million to import 1.08 million bales in the previous fiscal year ended June 30, 2015. In the first four months (July-October) of current fiscal year, industry and traders have imported around 232,361 bales at the cost of $70.22 million.
The writer is staffe reporter