INSTEPINTERVIEW
The award winning director has no qualms talking about how much money is spent on his films and how much profit is made in return.
The weeks before a film's release, the behavior of the director reveals a lot about what's in store for the audience. A director will be apologetic if he knows he's made an average film, arrogant if he's made a terrible film, and calm when he knows that he's done a good job. Merely a few weeks prior to the release of Na Maloom Afraad 2, Nabeel Qureshi appears very calm.
At a blogger's meet, which are usually very crowded and chaotic, Qureshi walked around the venue as if he was simply passing through. He was joking around with his cast and crew, casually attending to one journalist after the other, never looking impatient or checking the time when we sat down with him, one on one, to talk about his upcoming film.
"I don't believe in film schools," he shared when asked where he learnt filmmaking from. "I've learned everything by watching a lot of movies, like parallel films, world cinema, even the brainless films. From those films you learn what not to do. I watch everything but horror movies. Why would I pay money to scare myself?" he joked.
But on a more serious note, Qureshi claims that he has learnt everything on the job. "I went to NAPA to study theatre arts but I got kicked out after two years. There were some issues with discipline but the bigger problem was that they only did classical theatre, like Shakespeare and I wanted to do something more contemporary."
After getting kicked out from NAPA, Qureshi dabbled with a lot of different things. He made short films, The President and Pandora as well as directed the satire news show, Banana News Network (BNN).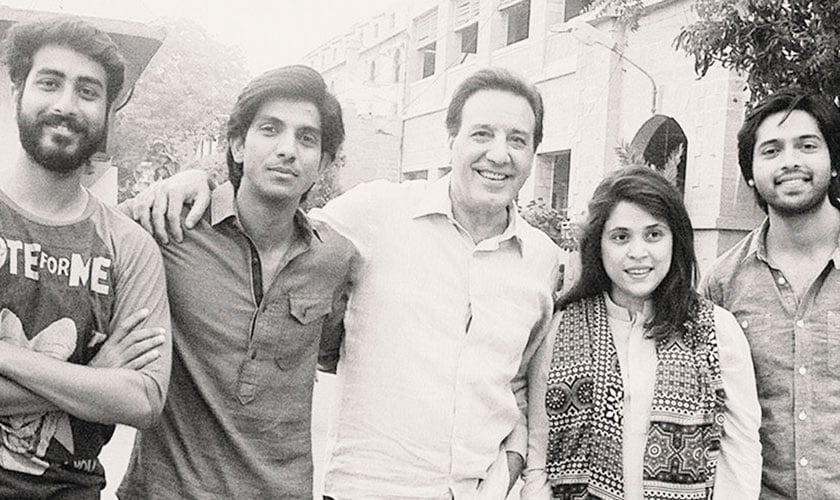 Nabeel Qureshi with his Na Maloom Afraad gang: Mohsin Abbas Haider, Jawed Sheikh, Fizza Ali Meerza and Fahad Mustafa
This made us wonder why he took the risk of making his first feature length film, Na Maloom Afraad, at a time when films weren't exactly being made for money. "I think we were crazy," joked Qureshi in his quintessentially comic style. "Every director aims to make a film, I think we were lucky that we got a chance to do it so early in our careers," he responded modestly.
Qureshi also shares that around the time he made his first film, filmmaking was becoming a relatively simple process, thanks to the digital age. "It was a difficult process, shooting film on 35 mm. We didn't have proper labs for the negatives; it used to be more costly. I convinced Fizza (Meerza) that I'll make an inexpensive film, within 10 million rupees. But we ended up spending almost 60, 70 million instead. Thankfully we recovered all of it, which was also a big deal back then."
How did Qureshi generate the funds for it? "Fizza sold a plot of hers," he answered honestly, and at first, we thought Qureshi was joking around as usual. Eventually, the director confirmed the claim, adding that he also contributed a modest amount as well. "We funded the first film all by ourselves."
Not that Qureshi had too many options. Sponsors were a little reluctant to invest heavily in films. "The film's name was 'Na Maloom Afraad'. That would also scare everyone off."
But Qureshi didn't make NMA for the sake of making money, and he maintains the same position even today. "We make films because we are passionate about them. This film's budget is also a lot bigger than the market but we are trying to make big films, to keep increasing the benchmark. If the market is small, does that mean that we'll stop our growth as well? You have to evolve with time." So how much was the budget for NMA2 exactly? "We spent close to 150 million this time." Thankfully, Qureshi was also able to find sponsors easily this time round. "We've developed credibility so we got more sponsors for NMA2."
That's a believable figure because while people can debate over the plot or whether the jokes are funny or crude, one thing nobody can deny is that the treatment of the film looks very grand. NMA2 can easily compete with an international film in terms of technicality. The best part is that the film has been shot, produced, edited and colour-graded by Pakistanis where only the sound engineering has been done in India.
Qureshi appears calm and because of him, we are hopeful that his film will be worth the wait.