What makes 'Ya Maula' truly unique is the fact that Natasha Baig has sung it in her native language Burushaski which is widely spoken in Gilgit-Baltistan.
MusicMix
The budding singer joins hands with the veteran designer to create a unique, musical experience for her new single, 'Ya Maula'.
One of the newest and grandest additions to Pakistan's music scene is singer-songwriter Natasha Baig, who has by now found her niche: Sufi music. Baig has strong vocals and a personal love for everything Sufi, which comes across in her performances and her songs.
Currently, the singer has joined hands with fashion designer Yousuf Bashir Qureshi for a unique collaboration. As the Ismaili Community celebrated the Aga Khan's Diamond Jubilee, Baig released a new single, 'Ya Maula' in honour of the occasion and got YBQ to narrate a few verses in the song.
Baig first revealed this news on her Instagram account when she shared a video clip of herself with the designer, working on the song at the Commune Artist Colony.
"The surprise element of the song 'Ya Maula'. Collaboration with the most influential, Mr. Yousuf Bashir Qureshi. Can't thank you enough for lending your voice to my song and making it even more beautiful," she wrote.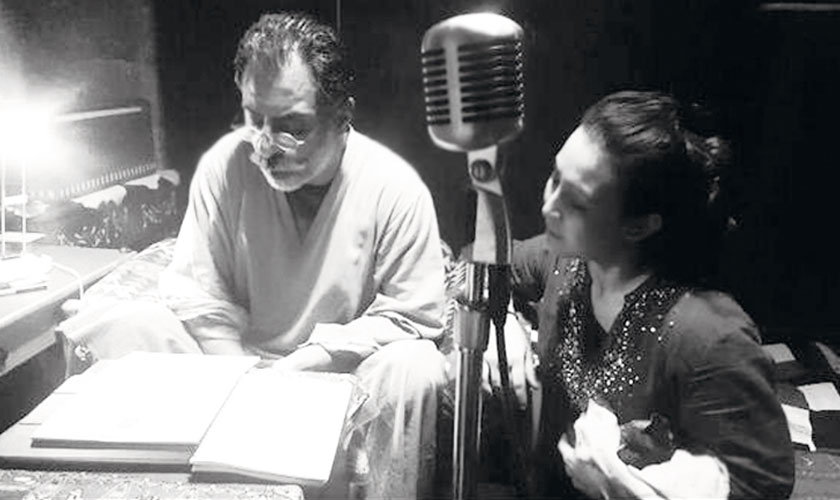 Veteran designer YBQ, seen her with Natasha Baig, has narrated certain verses on 'Ya Maula'.
Instep spoke to Baig about 'Ya Maula' to talk about this collaboration. "I met YBQ earlier this year and we stayed in touch after our first meeting. You know how you click with some people? That's how it was for us, so much so that YBQ even designed my outfit for the Lux Style Awards this year and was later inspired to come up with a fashion line based on my LSA look."
"For my song, I had a verse in the beginning that I wanted to get narrated by someone else. I thought of YBQ instantly because his voice is so powerful. He's also very fond of Hunza so when I told him that I was making a song in my language, he himself asked me to include him in it. I was like 'Sir, I was going to ask you myself to narrate this part!'"
What makes the song truly unique is the fact that Baig has sung it in her native language Burushaski which is widely spoken in Gilgit-Baltistan. It's heartening to see Pakistan's diverse languages coming to the forefront thanks to musical outfits like Baig, and Zohaib Kazi's Fanoos (presented in partnership with Patari) that introduced us to the Wakhi/Pamirian language, with 'The Gulmit Anthem'.
Baig explained that it wasn't an easy feat for her to write and sing in her native language. "As you know, spoken language is very different from written word. I speak in Burushaski all the time but to write in it was something else. I took help from a famous figure in Hunzai literature to write this song. Naseeruddin Shah Hunzai is a well-known spiritual writer from Hunza who helped in perfecting the Burushaski language. So the verses being narrated by YBQ have been taken from Shah's earlier writings," she elaborated.
Though Baig was born and raised in Karachi, her heart and mind still belong to Hunza. "I used to visit Hunza a lot in my childhood and my family home is in Karimabad. We've grown up with our culture. Our eating habits are very Hunzai. For instance, we put salt in our tea and that's a cultural nuance which many people aren't familiar with."
The song is now available on the singer's Facebook page. Written and composed by Baig herself, 'Ya Maula' has been produced by her brother, Sameer Baig and mixed and mastered by Masood Alam. Currently, only the audio is available but Baig has promised to release a music video for this single by August. "I have a concert planned in Hunza in August so I'll be shooting my music video simultaneously."