Javed Sheikh, Sana Javed, director Yasir Nawaz, co-producer Nida Yasir, Ayeza Khan and Danish
Taimoor strike a pose at the premiere of Mehrunisa V Lub U in Karachi.
CINESCOPE
The film's premiere was held in Karachi last week where it was endorsed by celebrities and the media in attendance.
Yasir Nawaz's much anticipated romantic drama, Mehrunisa V Lub U that stars Sana Javed and Danish Taimoor in lead roles, is all set to entertain viewers this Eid-ul-Fitr. The film's premiere, held in Karachi last weekend, was attended by several celebrities as well as members of the press.
Apart from the cast and crew of the film, actors like Yasir Hussain, Ali Safina and wife Hira Tareen, Hania Amir, Ahad Raza Mir, Sonya Hussain and Kubra Khan also attended the premiere in just the right spirit.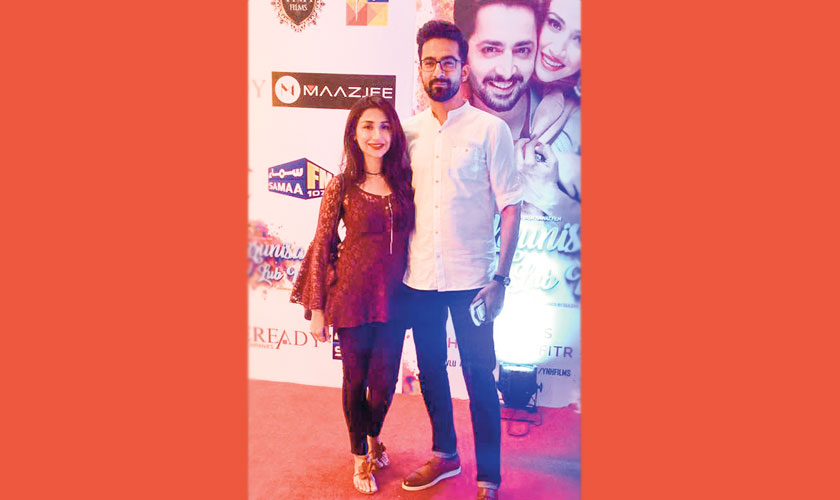 Ali Safina and wife Hira Tareen also attended the film's premiere.
Instep got in touch with some of these artists for their verdict on the film and most of them maintain that the film is an entertaining ride that created plenty of laugh out loud moments. While the artists appreciated director Yasir Nawaz for his storytelling technique, reviews relating to Sana Javed were limited to her looks and the charm she brought to the screen.
"I really liked the film," actor-script writer Yasir Hussain told Instep. "I think it was a bigger production compared to Wrong No. Yasir Nawaz hasn't made any mistakes unlike some of the other films that have released recently. The storytelling was great. Sana Javed looks beautiful in the film. She played the titular character (Mehrunisa) well. Danish Taimoor is a good actor but bad dancer. Like a typical commercial film, every character has its own shade and Taimoor's character has the 'hero shade'. Danish Nawaz and Nayyar Ejaz were great in their roles. Though Nayyar sahab's role was a clichéd one, he was great as always."
The film tells the story of a married couple, Ali (Danish Taimoor) and Mehru (played by Sana Javed), based in Karachi, and shines a light on society's attitude towards a couple not able to bear a child. It does carry a strong message.
"The story is nice with a serious message at the end," Ali Safina shared with Instep. "It's going to be a good experience for cinemagoers particularly the youth. I won't call it one of the best films to come out of Pakistani cinema but Yasir Nawaz has done a good job. After Wrong No., Yasir knows what kind of films the public likes so he kept the audience in mind while making Mehrunisa V Lub U.
The dialogues and characterization are on similar lines as his previous film. The actors have also done a good job; Sana Javed looks really pretty while I believe the film will turn out to be great for Danish Taimoor. It's a perfect film to be released on Eid. Fans of Salman Khan films will like this one too. However, it is Karachi centric so I am not sure if viewers in Lahore and Islamabad would appreciate the jokes and storyline."
Sammi actor Ahad Raza Mir, who also turned up to the premiere, said that he thoroughly enjoyed the film. He told Instep, "It was directed well and the performances were good. The story was engaging and crisp, it was constantly moving forward. I wasn't bored."
The music of the film features artists like Gulzar (lyrics) and Sukhwinder Singh (vocals). While Ahad Raza Mir found the songs to be "really good", Yasir Hussain feels the songs could have been utilized better. "Music was good but I feel the songs weren't utilized well," he observed. "The one featuring Amna Ilyas has a catchy beat so it should have been used to promote the film. The song had the potential to leave a lasting impression."
The storyline, characterization, dialogues and the performances have been appreciated by many. We hope the film, releasing on Eid-ul-Fitr alongside Hassan Waqas Rana's war saga Yalghaar, attracts viewers and does well on the box office.