After a decade, Javed Sheikh, seen here with actor Danish Taimoor, is returning to direction
with a film called Wujood that has been shot in Karachi and Turkey.
InstepInterview
Javed Sheikh talks to Instep about his upcoming directorial love saga, Wujood, and nurturing the next generation of artists.
Actor and director Javed Sheikh's contribution to the film industry is vast but, beyond the performances, it's his relentless support for the reemergence of the film industry that's truly impressive.
From Bin Roye, Main Hoon Shahid Afridi, Na Maloom Afraad to the upcoming Mehrunnisa We Lub You, Sheikh has lent his formidable skills as an actor to these new-age films, which speaks volumes about his hope for the future of the industry. Fixated on improving local standards, his decision to return to direction after a hiatus of a decade, is therefore not without merit.
The film that marks his directorial comeback is called Wujood and has been shot partially in Karachi with the second spell having taken place in Turkey. As the film prepares to head into post-production phase, Instep got a hold of Sheikh while he was at the Islamabad airport and spoke to him before he boarded a flight to shoot for his next project.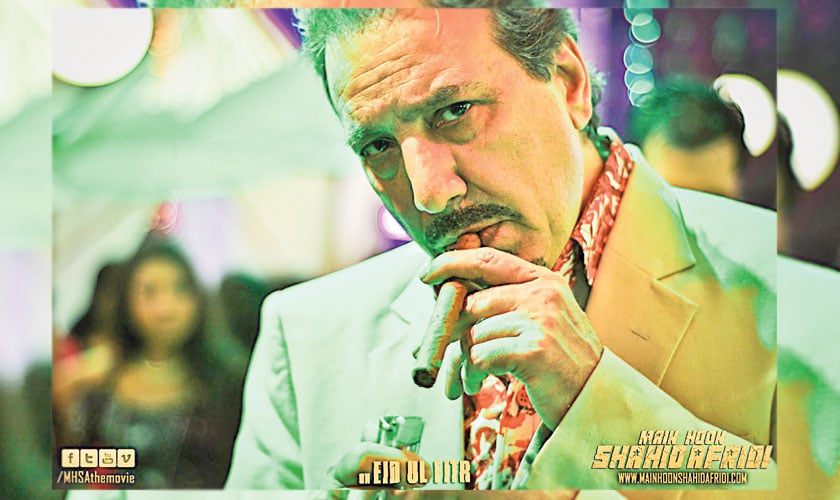 Javed Sheikh in a scene from Main Hoon Shahid Afridi
While Sheikh was reticent about sharing details about the plot, he told Instep that it's a film that the country can be proud of. "Wujood is a film that the whole of Pakistan will be proud of once it releases," he began. "I've tried something new and I feel it'll be applauded for that, not only in Pakistan, but worldwide."
Aware of the reality on the ground and the dull character that has enveloped film releases this year, Sheikh noted that he hoped to add flavor to proceedings. "The much-needed cinematic touch from recent local releases has been missing and I've tried to fill that gap. The film offers great music, an intriguing storyline, a great cast and will make for a decent watch."
Elaborating why he is returning to direction after a prolonged intermission, Sheikh explained that the idea had been with him for some time. "I had actually been planning to direct a film for quite some time," he confessed. "My last film released exactly a decade ago and I was missing the whole experience. It's a very grueling and demanding job, but it also feels wonderful. I thoroughly enjoy the journey. I've extensively worked on every aspect of this film, so there's a lot that we have in store."
Among the cast is Wrong No-famed actor, Danish Taimoor, model-turned-actor Saeeda Imtiaz and promising Indian actor, Aditi Singh. Singh's scenes were shot entirely in Turkey but she did visit Pakistan earlier in the year for the film's press conference.
Though Sheikh denies any visa or security-related issues that could have emerged for casting an Indian female lead, he shared that some of the pressure has to do with working alongside debutant actors.
"One has to work a lot harder. You must take them under your wings, not be too harsh, but be clear about what you want and expect," said Sheikh. . "In fact, I've always been a keen supporter of introducing new talent. I've been doing that for long now. I directed Meera, Veena Malik and Resham just when they began their careers and I feel as a director, there is a lot of raw talent out there that needs to be explored and utilized. I feel we're really lacking there and I personally feel the responsibility to guide and mentor the new blood, which I absolutely love doing. It makes me really happy to see them flourish."
Apart from principal roles, Wujood has an ensemble cast that comprises Frieha Altaf, Ali Saleem, Nadeem Baig and Shahid Hameed while Sheikh's own progeny, Momal Sheikh and Shehzad Sheikh, are playing producers to the film. Often accused of nepotism because his children are actors themselves, the senior Sheikh maintains that there's no truth to such accusations. When questioned about their involvement in the film, Sheikh commented: "I know that both of them have worked very hard on the film. From the first day till the last, they've been there on-set with me, working on the wardrobe and other production matters. At the end of the day, what I want to convey is a good film for the audience of Pakistan."
He added: "Back in 2002, when Yeh Dil Aapka Hua released, a lot of criticism came my way but the film ended up breaking all records. Whether it is envy or other reasons, I know for a fact that a lot of people are not fond of me but as long as I know that my film and faith are strong, I don't indulge in such baseless controversies."
Scheduled to release, tentatively on Eid-ul-Azha, Wujood will face competition from Punjab Nahi Jaungi and Sheikh's own acting assignment, Na Maloom Afraad 2 aka NMA 2 for which the actor recently flew out to Cape Town for shooting purposes.
While the verdict on Wujood can only make itself known once the film releases, Sheikh has his dance card full. In addition to NMA 2, he will also begin shooting for Ahsan Rahim's Teefa in Trouble, starring Ali Zafar and Maya Khan, in Warsaw (Poland) later this month. This will be followed by travels to Scotland in August where Sheikh is scheduled to shoot another cinematic project alongside Danish Taimoor.
"I absolutely love traveling," said Sheikh, "I feel it is great fun to be a part of this industry and there's everything involved. There's hard-work, there's pain and so it can get extremely tough at times, but then there's great reward as well. I feel being an actor is a constant process, but I enjoy it and I can't imagine myself doing anything else."