cinemascope
Industry bigwigs talk about steps and measures that need to be taken in order to ensure an eventually viable film industry in Pakistan.
Deny it though we may, the ban on screening Indian films in Pakistan has become a serious dilemma for the local film industry that had just about started to find its feet. Cinepax Cinemas are shutting 10 screens while Nueplex has already closed two screens and this deterioration will continue if the situation remains unchanged. There has been a major decrease in cinema business (about 30-35%) and the overall footfall, despite several shows dedicated to Hollywood films, has been ostensibly low.
Given the current scenario, exhibitors and distributors are of the view that that the industry needs the support of Indian films till it manages to survive on its own. There has been no formal crackdown from the government but unsaid policies have regarded the screening of Indian films as unpatriotic behavior; that's a path no cinema owner wants to walk down as long as border tensions persist. A possible thaw in the relationship between Pakistan and India, however, will also open doors to Indian cinema.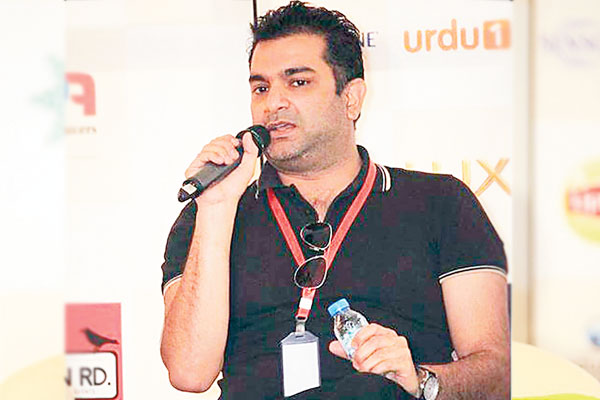 Sarmad Sultan Khoosat
What to do until that happens?
"We should take this opportunity to stand on our own feet," Atiqa Odho commented at a press conference introducing FocusPK. And a subsequent panel session, with veteran actor Salman Shahid, actor-director Syed Noor, Sarmad Sultan Khoosat, Maria Wasti, Nadeem Mandviwala, Jerjees Seja and Kamran Yar Khan, Director Media and Programming, Nueplex ended up discussing all possible ways of keeping cinemas afloat. The panel of experts and industry insiders shared their views on what the industry needs to work on to make better films that may have the potential to draw masses to the cinema. Here's what they thought would make a difference…
Star power
The major attraction to any film, among other factors, is its star power and we need to invest in creating and nurturing stars that the audience looks up to. One of the speakers pointed out that our industry is not creating films stars in fact is repackaging TV stars, who do not have the same impact. The era of Lollywood – which may come under the hammer for mediocrity – still gave people the one Shaan. It's not that our TV artists do not have the potential, they do. But most of them are already over exposed and there is no charm in seeing them on the big screen. And perhaps, this is one of the reasons that many of our films appear as dramas on the big screen. Films need to be larger than life for actors to follow suit. Case in point: Fawad Khan and the way he was taken to another level in India.
Strong storyline
A good storyline is a must for the success of any film and to be honest, several new Pakistani cinemas have suffered because of weak story lines and screenplays. Besides, there's a need to diversify and explore various subjects apart from just focusing on social issues which has become an 'overrated idea'. It was also mentioned that it is important to invest in our stories and give enough time to its execution before we present it to viewers. A common belief that came to life at the session was that we should keep experimenting and make all sorts of films. There's an audience for all genres.
Artistic independence
Another important concern raised as a dangerous impediment to the growth of cinema was unnecessary interference from producers and sponsors/financiers. While independent filmmakers (who are financing their own films) have the advantage to tell stories of their choice, others don't always have this level of independence. It's the producers who often interfere in the creative process and manipulate it on the basis of what sells. This hinders an artist's creativity and also affects the film's content and quality since a lot of elements are compromised to make the producers happy.