Zohaib Kazi's Karma Kolective presented a set consisting of six songs in total. It included reinterpretation of three iconic
pop/rock songs, sung by Rachel Viccaji and three eastern gems, sung by the inimitable Zeb Bangash.
Zohaib Kazi's Karma Kolective feat. Rachel Viccaji and Zeb Bangash take centerstage at FocusPK; a conference that also featured the Sachal Jazz Ensemble & Uzair Jaswal.
The inaugural edition of FocusPK, a two-day conference meant to promote dialogue, debate and start a conversation on the business of entertainment, held in Karachi this past weekend, managed to give the oft-neglected music scene a sizable portion to showcase its diversity. This included panel discussions which featured a combination of artists discussing a variety of issues and three fairly fantastic music performances featuring the likes of Sachal Jazz Ensemble, Uzair Jaswal and Zohaib Kazi's Karma Kolective, the last being one of the focal points of this story.
At least 48 hours prior to the opening of this performance and the conference, the Beach Luxury Hotel in Karachi, surrounded by the calming sea, was bustling with activity and positive energy. FPCCI-SCPE (the Federation of Pakistan Chambers of Commerce and Industry-Standing Committee Production & Entertainment) Chairperson Atiqa Odho could be seen dealing with various individuals from a wide spectrum in a bid to make sure that the event went off effortlessly. Her energy was palpable and impressive.
One bumped into Sarmad Sultan Khoosat, who was chatting with Zeb Bangash, singer-songwriter par excellence, who would be performing with Zohaib Kazi for the first time. While the Sachal Jazz Ensemble had opened the conference with a melodic performance on the morning of Day One, Uzair Jaswal had serenaded his fans during the closing of the same day. The closing ceremony promised to feature a completely different sound profile.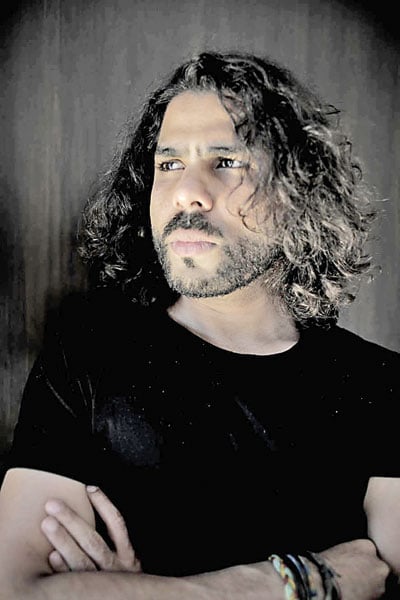 Also sitting at the same table was Rachel Viccaji, who was enjoying the cool breeze, before going up on stage for soundcheck/rehearsal process as well. All these artists represent the new age of entertainment, a driving force constantly looking to push the envelope and not just reinforce preconceived notions of what constitutes art.
Zohaib Kazi, founder of the experimental music outfit Karma Kolective and the force behind the landmark book-album Ismail Ka Urdu Sheher, could be seen at the venue. Conversing with his team of technicians as well as his fellow collaborators, addressing their concerns, technical and otherwise, he ensured that the performance, scheduled to take place in two days time went off without sonic pain. Joined onstage by a crew of eclectic musicians including guitar god Omran Shafique and bass guitar hero Kamran Mannu Zafar, one could see the stress of designing such a show. It's a challenge to take studio sounds out in the open to allow people a chance to experience live the same subliminal magic they feel when they listen to songs produced at minimally-equipped studios. But they managed to pull it off.
Of course, designing a show from scratch is much more difficult than it actually sounds and it was palpable as the group of players talked about getting the sound "right" in their "mixes" and other details that have the power to make or break a performance.
Despite the daunting task ahead, ultimately though, Kazi's outfit did get its timing right on the actual day of the performance. A set consisting of six songs in total, it included reinterpretation of three iconic pop/rock songs ('Mitti' by Junoon, 'Ajnabi' by Vital Signs and 'Anjane' by Strings) sung by Rachel Viccaji, who has, overtime, learned to do dynamic things with her voice and three eastern gems ('Gulon Mein Rang' by Mehdi Hasan, 'Kheriyan de Naal' by Tufail Niazi and 'Tu Mera Dil' by Nusrat Fateh Ali Khan) sung by the inimitable Zeb Bangash. Wrapped in a kind of strange, unpredictable layering that included blending multiple genres together with a layer of electronic verve, it was exactly the kind of new-age performance that such a conference should end on.
Speaking to Instep a few days later, Zohaib Kazi - reiterating our earlier conversation - noted that this particular outfit is not "a fixed idea". While the line-up will probably evolve, the idea behind it remains the same. "It is time to take the studio experience live," and we couldn't agree more.
Footnote: Watch this spacefor more on the
music panels from
FocusPK, tomorrow.