ObituaRy
A look back at the illustrious career of the acclaimed singer who passed away in Lahore recently.
Not many people have inspired me as much as legendary singer Arthur Nayyar, popularly known as A. Nayyar - who passed away in Lahore this past Friday.
For a person growing up in the '80s and '90s, Nayyar was a formidable name since he was always appearing on TV while his songs were aired on TV shows and films featuring him as a playback singer were screened thrice a week. Even holidays were special as movies like Deewane Do, Faisla and special programs like Jhankaar and Eid shows showcased his hit numbers.
Months before his death, I got a chance to speak to the inspiring artist but sadly it was about the death of Robin Ghosh, another legendary music director who had passed away. For most part of our conversation, Nayyar sahib was crying as he noted, "Robin bhai mera bhai hi nahi, mera baap tha" (Robin was not just my brother; he was my father).
Eventually, he found his stride as he spoke to me about the songs he sang for Ghosh. The best part was his hospitable open invitation to visit him in Lahore whenever I was there next; a trip that never materialized.
What made Arthur Nayyar – a Christian from Ransonabad village of Sahiwal district – special was his ability to adapt and learn.
In the '70s when he began his career as a youngster, Ahmed Rushdi was at the top of his game. The happy-go-lucky numbers automatically went to Rushdi while the sad ones were reserved for Mehdi Hassan.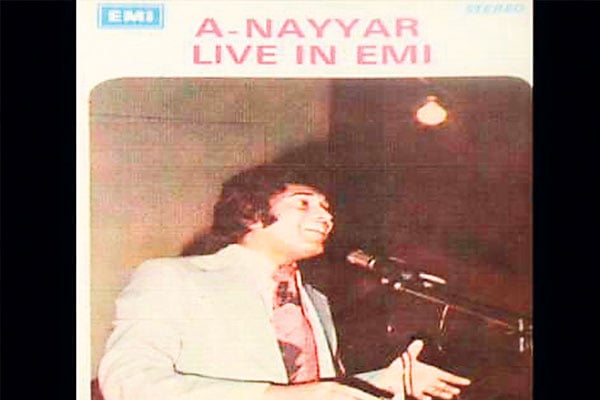 Ghulam Abbas, Akhlaq Ahmed and Rajab Ali were also making their presence felt with their songs and it was very difficult for Nayyar to make an impression. However, he had a voice that was noticeably different from his peers and he made sure that the tag 'sounds like Kishore Kumar' was a weapon in his arsenal, an asset rather than a liability. Most of all, he managed to learn from his predecessors and while Ahmed Rushdi refused to change his style for 'modern' music, Nayyar conformed to the need of the hour and eventually took over as Rushdi's career approached its end.
Even in the '80s and mid '90s, Nayyar was in demand and not just because he was the senior most vocalist after Akhlaq Ahmed's retirement (due to cancer) but also because he understood keenly the demands of the cinematic world.
And though he had just a few songs to his credit in the revival of the '90s, he came back with two chartbusters in Inteha, both of whom were filmed on popular actor Humayun Saeed. Even a die-hard fan of Nayyar like myself found it difficult to decipher and recognize his voice in those songs because it seemed as if the playback voice belonged to a young singer. Upon realising the fact that it was Nayyar's vocals all along, the only reaction of his fans such as myself was that of joy.
Even my MP3 collection of Pakistani songs features Nayyar prominently. How can one not have 'Milay Do Saathi' from Amber, 'Karta Rahunga' from Naqsh-e-Qadam, 'O Hum Dum O Saathi' from Saathi, 'Ik Pal Ka Hoon Musafir' from Barood Ki Chaoon Main and 'Rutt Mastani' and 'Teri Nazar Pe' from Inteha in a comprehensive collection of Pakistani songs?
The advent of FM Radio in the country also helped his career as most film songs aired during those days were from the Nayyar era (1975-1990) when he was the go-to-man for every music director.
Nayyar's career started from a film called Bahisht (1974) that was directed by Riaz Shahid while his career came full circle with Sangeeta's Dil To Pagal Hai (1999) where he sang his last hit number 'Aisa Bhi To Hota Hai' for Shaan Shahid, the well-known filmmaker's son.
In between, he sang more than 4000 film songs (mostly Urdu) that were picturised on industry heavyweights including Nadeem, Waheed Murad, Shahid, Javed Sheikh, Ghulam Mohiuddin, Faisal and Humayun Saeed.
In Javed Sheikh's brief return to TV in the '90s – Khoobsurat Jahan – most of the songs in the romantic-musical drama were sung by Nayyar and his usual collaborators: Mehnaz and Naheed Akhtar.
Nayyar was most comfortable with fast paced songs and that remained his specialty mostly. But his sad songs also had an edge and hardly disappointed.
In Ehtijaj, he sang 'Tum Se Mil Kar' which showed his prowess over classical renditions while 'Yaad Rakhne Ko Kuch Na Raha' from Baraat, 'Main To Jala' from Aag and 'Janay Kyon Log' from Pyari proved his credentials as one who could carry any form of sorrow.
Just a few months back I was discussing 'Hum Mastanay Deewane' number from Direct Hawaldar with veteran actor Firdous Jamal who performed on the song and was in awe of Nayyar (who was still alive at the time).
Though Nayyar's death, at the age of just 61, will remain a significant loss, he will continue to live on through his music, his precious songs that will always remind us of his enormous genius. May he rest in peace.
Instep presents ten famous A.Nayyar songs
Song: 'Jee Rahay Hain Hum Tanha'
Music director: Karim Shahabuddin
Film: Sharmili
Song: 'Milay Do Saatho'
Music director: Robin Ghosh
Film: Amber
Song: 'Karta Rahunga Yaad Tujhe Main'
Music director: Amjad Bobby
Film: Naqsh-e-Qadam
Song: 'Ik Baat Kahun Dildara'
Music director: Tafu
Film: Khuda Aur Mohabbat
Song: 'Main To Jala Aisa Jeewan Bhar'
Music director: M. Ashraf
Film: Aag
Song: 'O Hum Dum O Saathi'
Music director: M. Ashraf
Film: Saathi
Song: 'Dekh Idhar Ik Nazar'
Music director: Nazir Ali
Film: Bada Aadmi
Song: 'Hum Mastanay Deewane'
Music director: Wajahat Attre
Film: Direct Hawaldar
Song: 'Ik Pal Ka Hoon Musafir'
Music director: Amjad Bobby
Film: Barood Ki Chaaon Main
Song: 'Teri Nazar Pe Meri Nazar Hai'
Music director: Amjad Bobby
Film: Inteha