ENERGY
The Pakistan Muslim League-Nawaz (PLM-N) government's plan to end electricity load-shedding before June 2018 has apparently been jeopardised already, keeping in view the current scenario, and it seems unlikely to bridge the projected supply-demand gap during the remaining 22 months of its tenure. Absence of effective planning, inadequacy of an economically and financially viable strategy, poor governance, and, above all, lack of political will have resulted in deepening the prevalent energy crisis. Taking cognizance of the status, Prime Minister Nawaz Sharif has reviewed, on August 2, the progress on various on-going and future energy projects, reiterating to end electricity load-shedding by the end of PML-N's present tenure.
Earlier, on July 29, The PM had directed to accelerate the pace of work, and to complete all the development projects by the given timeline, having decided to oversee personally these projects with review on a monthly basis. The same day Finance Minister Ishaq Dar also evaluated financial aspects of various coal-fired power projects currently under implementation.
Likewise, Punjab Chief Minister Shehbaz Sharif has checked on August 3, the progress of Sahiwal Coal-fired Project scheduled for commissioning in December 2017, and various RLNG-based power projects being set up in the province.
It is recalled that PML-N in its Election Manifesto 2013 titled 'National Agenda for Real Change' had focused on resolving the energy crisis, outlining a number of short-term and medium-term measures as enumerated in chapter 2, 'Energy Security: Continuous Availability and Affordability' of the document. The party had committed "… not just plan to fill the gap of 6,000MW that exists today, but plan for the increased demand that our growing population and growing economy will generate…", and therefore "… to generate (add) 10,000MW of electricity in the next 5 years…". On having taken over, a number of initiatives were taken by the government to reduce power shortages. In fact, the National Power Policy 2013 had the target to eliminate power deficit by 2017.
Various power projects of cumulative capacity of around 10,000MW scheduled to be completed during the period 2015-2017 were identified in the National Power Policy 2013. The list included, besides addition of 1,700MW as a result of retirement of circular debt, the 1,447MW rehabilitation and expansion of GENCO's Guddu, Jamshoro, and Muzaffargarh thermal power plants, 969MW (Neelum-Jhelum hydropower), 1,510MW (Tarbela 4th and 5th extension), 635MW (other hydropower projects including Gulpur and Patrind in private sector), 2,726MW wind power IPPs, 341MW solar projects, and 670MW other renewable energy and small hydropower projects. The plan however received major setback from the beginning as the projects were not implemented or completed within the given timeframe, resulting in insignificant addition of power to the national grid. Currently, the supply-demand gap is 5,000-7,000MW, with no respite in the near future.
Having failed to achieve targets set in the 2013 policy, the government announced a revised 'Power Generation Policy 2015' in April 2015 without any targets, though a number of new projects using various energy resources were launched. Performance of most of the projects has been lacklustre however, and the desired results could not be achieved.
Neelum-Jhelum hydropower project of 969MW, scheduled for completion in October 2016, is still under-construction and not likely to meet the revised target for the commercial operations (COD) as currently five months delay is anticipated. Contract for the construction of Tarbela Fourth Extension project was awarded in September 2013, and the project was scheduled for completion by February 2018.
However, initial pace of construction work was slow due to some snags, and the project remained behind the schedule. Lately, Water and Power Development Authority (Wapda) has given a variation/additional order to contractor to fast-track the project under accelerated implementation programme, and it is now rescheduled for commissioning by June 30, 2017.
Nonetheless, the project is likely to be delayed, given the present conditions of high water flows in Indus River at Tarbela Dam, and contractor having abandoned the acceleration plan. Similarly, the 106MW Golen Gol hydropower project was scheduled for commissioning in October 2017, but pace of work at site remains very slow and there is no possibility for its coming online as per schedule.
The mega 6,600MW Pakistan Power Park at Gadani, which was approved by the PM on July 26, 2013, was shelved after a lot of fanfare, publicity, and heavy expenditure incurred on the master plan, land acquisition, site development, infrastructure and deep sea jetty plans, and technical feasibility studies for the power generation projects and proposed transmission network. The Pakistan Power Park, a fast-track project, scheduled for completion in 2017, had envisaged construction of 2x660MW in public sector and 8x660MW in private sector, based on imported coal. It was primarily being set up with technical and economic assistance of China. However, the whole project was abandoned in November 2014.
Power generating projects of cumulative capacity of 6,000MW in the Punjab, using imported coal have met a similar fate. Power projects of 2x660MW were to be established at Qadirabad (Sahiwal), Bhikki (Sheikhupura), Haveli Bahadur Shah (Jhang), Balloki (Kasur), Trinda Saway (Rahim Yar Khan) and Mouza Saddanwali (Muzaffargarh). Only the Qadirabad project is under construction, whereas all other projects using imported coal were folded, apparently because of coal transportation constraints.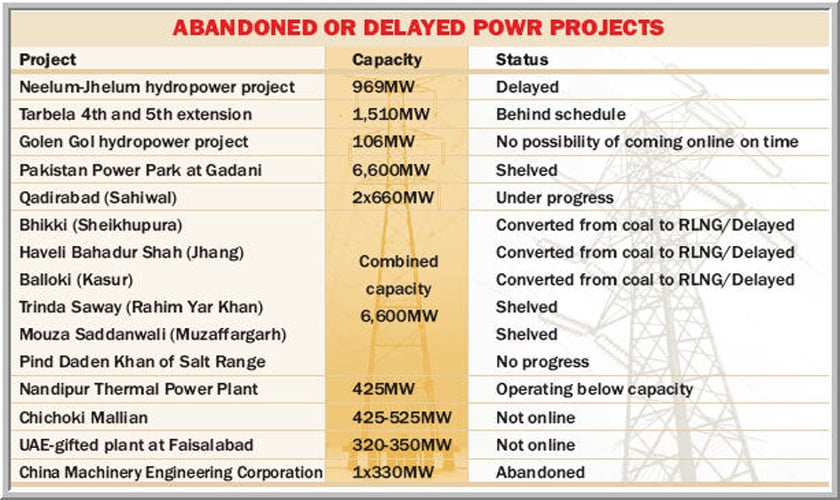 Instead, it is now planned to establish RLNG-based power plants on the identified sites of Bhikki, Haveli Bahadur Shah and Balloki, resulting in inadvertent delays in the two projects take-off, while others have been shelved. In a recent development, the government has imposed ban on construction of new power plants based on imported coal.
Likewise, there has been no progress on development of power plants based on indigenous coal at Salt Range and Makerwal. China Machinery Engineering Corporation (CMEC) has abandoned in May 2015 the 1x330MW power plant based on indigenous coal due to tariff issues. The coal power generation-cum-mining project at Pind Daden Khan of Salt Range was scheduled for commissioning by the end of 2017.
Sadly, for almost a year, Nandipur Thermal Power Plant of 425MW capacity is operating only intermittently, and at much lower installed capacity, not to mention its high generation cost and cumulative losses the plant has incurred so far. Now, it is planned to use RLNG as fuel. Two mature thermal combined cycle power projects—425-525MW Chichoki Mallian and 320-350MW UAE-gifted plant at Faisalabad—could not come on stream.
On the other hand, progress on strengthening, modernising and widening of electricity transmission network for dispersal of incremental power from the on-going projects remains dismal, and therefore the obsolete, under-developed and poorly managed transmission system would continue to cause increased forced outages in future. Also, much-talked about reforms in the power sector were not implemented by the government.
The writer is ex-chairman of State Engineering Corporation