Model wearing Keffiyeh.
fashionfocus
Using someone else's cultural symbols to satisfy a personal need for self-expression or worse, a capitalistic need to make money, is an exercise in privilege. And foreign brands continue to do it.
While I am wearing a suit with roots in Edwardian England, sipping coffee which originated in Ethiopia or doing Indian yoga to unwind, I come to think of the fact that in this modern day and age hardly anything a cosmopolitan Pakistani does is individualistically our own. Our lifestyles are a complex amalgamation of various cultures and lifestyles. Call it effects of globalization, good or bad.
So what's the harm if foreign fashion designers borrow some aesthetic elements that are indigenous to our culture? Shouldn't we feel proud and appreciated; why should there always be an alarm of concern?
This is cultural appropriation and it is a problem because borrowing in most of these instances is exploitative. It's a problem because 'westerners' (majority group) pick elements and fail to give credit to the original artisans (minority group) and mostly because consumers of those products are not being educated on the cultural backgrounds of the styles borrowed.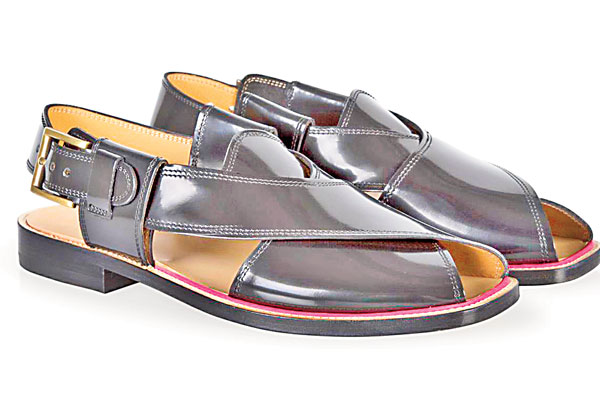 Paul Smith's Robert sandal (ideally juxtaposed with photo of tradtional peshawari chapal).
Naysayers may say, 'what's the problem since we use their silhouettes, their automated machines and even their language?' We should realise that the Western culture invites and, at times, demands assimilation because in this context the minority groups adopt elements of the majority group's culture in order to survive conditions that make life more of a struggle.
Also, cultural appropriation in fashion reinforces negative stereotypes as minority groups wearing dreadlocks or heavily embroidered costumes are considered 'ethnic' but when westerners do it as a fashion trend they are considered cool and edgy. Jarune Uwujaren rightly points out that "ethnic" clothes and hairstyles are still stigmatized as unprofessional, "cultural" foods are treated as exotic past times, and the vernacular of people of colour is ridiculed and demeaned.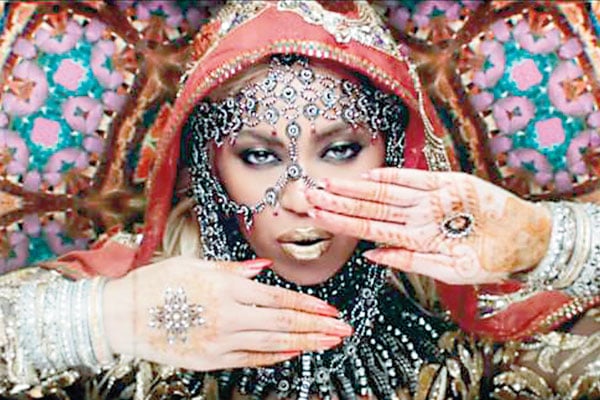 Beyonce wearing Abu Jani Sandeep Khosla in Coldplay 'Hymn For The Weekend'.
While ajrak (a form of hand-printed organic fabric that is indigenous to rural Pakistan, especially Sindh) has been an inspiration for many designers, it has most recently been picked up by French luxury brand Louis Vuitton in their resort 2016 collection. It is equally offensive when Forever 21 (in 2015) makes a dress out of the ajrak print and misappropriates it as a 'Baroque' print. It was unacceptably sacrilegious to see Urban Outfitters making swimsuits of ajrak in 2014, deemed as a 'Moroccan' print no less. It's a print that is so scared to the native Sindhis that they wrap the holy book and even their deceased to honour them in it. Where's the respect in misappropriation and discrediting it?
More recently there were parades of models on the Moschino menswear 2017 runway, where pieces had mirror work embellishments from the Sindh/Gujrat desert regions. Indigenous Kutchhi women wear clothes adorned with such mirror work embellished clothes but the fashion label failed to mention artisans from Rajasthani tribes anywhere in the press release; to Jeremy Scott it was psychedelic influences from the 'Hare Rama Hare Krishna' moment.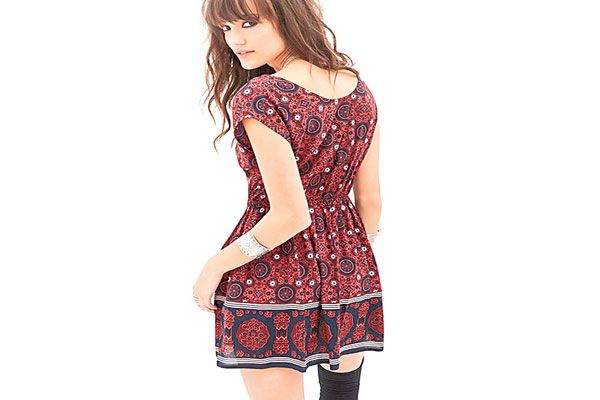 Baroque Print dress by Forever 21.
We've also seen the upsurge of the Arabic scarf called Keffiyeh; everyone from Kanye West to David Beckham has been seen wearing one and even Givenchy showed a collection with blatant elements of it. Bearing in mind that Arabs and Muslim communities wear the Keffiyeh as a show of solidarity to the Palestinian resistance, it is a politically charged symbol akin to a prison tattoo so most who wear it are viewed as inherently violent and berated as "terrorist sympathisers". When fashion folks picked it up to look "hipster and edgy," most didn't even know what it meant and easily discarded it the next season. Nerdeen Kiswani, a community member living in the US, finds this cultural appropriation especially angering because "it was our solidarity staple and it was donned around the necks of people as a fashion thingy by people who did not even acknowledge the Palestinian struggle. They just pick-and-choose the elements of culture they find aesthetically pleasing without understanding the enormous impact that those small pieces of cloth may have on our cultural community"
This cannot be deemed as cultural appreciation and exchange because using someone else's cultural symbols to satisfy a personal need for self-expression is an exercise in privilege.
Cultural appropriation has largely to do with historical power dynamics of cultures. But there is hope as we saw people across Pakistan stand up for a humble Peshwari chappal that Paul Smith tried to sell as one misappropriated and fragrantly priced Robert sandal. The internet outcry did end up changing the description on the official website acknowledging the heritage of our region's cultural artefact.
While it may be difficult for us South Asians to grasp why the Native Americans were upset over model Karlie Kloss wearing a Red Indian head dress at the Victoria's Secret Runway Show, or when Valentino's designers presented an African tribal theme collection on an array of white models with cornrowed hair, it has to be said that correct cultural representation is important and credit should be given where it is due.