Having performed in theatre for seven years, Shah Fahad recently made his television debut as Nawab Shujaat Jehan in Sarmad Khoosat's period drama Mor Mahal. A passionate performer, Fahad's transition from theatre to television is noteworthy.
Catchingup
The actor talks to Instep about his love for theatre, his television debut and upcoming productions.
Actor, director and writer Shah Fahad, who has been an active participant in theatre for several years, has finally made his leap to television as Nawab Shujaat Jehan in the ongoing fantasy epic drama, Mor Mahal. A passionate performer, Fahad battled stage fright before transforming his passion into a vocation. Instep caught up with the multifaceted actor to find out more about his origin story and what lies ahead…
Instep: How long have you been associated with theatre and comedy?
Shah Fahad (SF): It's been almost seven years since I acted in my first play. I have always been a tremendous fan of stand up and improv comedy. Through various open mics, comedy events and troupes, I have had the fortune of exploring the realm of comedy and have been an active performer since 2011.
In 2013, I founded my media company by the name of Dramaducation, now DramaED, under which I have produced 20 full-length theatre plays. Last year, we also formed our improv comedy troupe, Pakistan Tehreek-e-Comedy, which has held two dozen shows in Lahore till now.
Instep: What paved the way for your television debut? How did you land the role of Nawab Shujaat Jehan in Mor Mahal?
SF: A great opportunity appeared last year through an online audition call. The name of Mr. Sarmad Khoosat was attached to the project, which made it an unmissable audition. Fortunately, the audition eventually led to my selection for the character of Nawab Shujaat Jehan, a significant one in the multiple story arcs of the well-scripted and intelligently designed play. The period, the language and other dynamics of the show, along with the character's persona made it an educational, exciting and memorable experience for me as an actor.
Instep: Was it challenging to get into the character of Nawab Shujaat Jehan? It holds little resemblance to traditional characters we usually see in our dramas.
SF: The real challenge for me was acting in front of the camera, the acting technique, the process of unlearning some things I had adopted previously for stage and trying to make the portrayal as naturally convincing as possible. The discipline that the medium of theatre had given me helped a lot in this process and I tried my very best to adapt to the new medium. On the other hand, I have always enjoyed playing antagonists and Nawab Shujaat's debaucheries and erratic behaviour in the script allowed me a lot of freedom which was helpful. Sarmad Sir's constant trust was another source of motivation.
Instep: Why do you think our audience is not receptive and fully accepting of plays like Mor Mahal?
SF: I feel there isn't any concept or genre of entertainment that audiences don't find appealing if the production fulfills expected creative standards. Although Mor Mahal differs from our usual TV serials for several reasons, the script of MM offers substance and spectacle. The performances will surely engage the audience more as the story progresses.
Instep: Tell us about transitioning from theatre to television. What difference do you see between the two mediums?
SF: The transition is still in progress. Shaam Dhalay, my second serial (presently airing on Geo TV) was another great experience. With every take, I try to learn more about the craft of screen acting. Theatre will always remain special to me because of the energy, the freedom of performance, and the live connection with the crowd. But screen acting is a challenge and I want to get better at it as I move forward in what I like to think is a character actor's journey.
Instep: What do you make of the theatre scene in Pakistan?
SF: There has been a dearth of contemporary playwrights and theatre directors in our country, but slowly it's getting better. At the helm of the new theatre companies are young and talented artists trying out different plots and fresh visual concepts, catering to mostly young audiences. Although commercial success is something that is still reserved for specific types of productions, the steady creative growth of theatre artists is promising.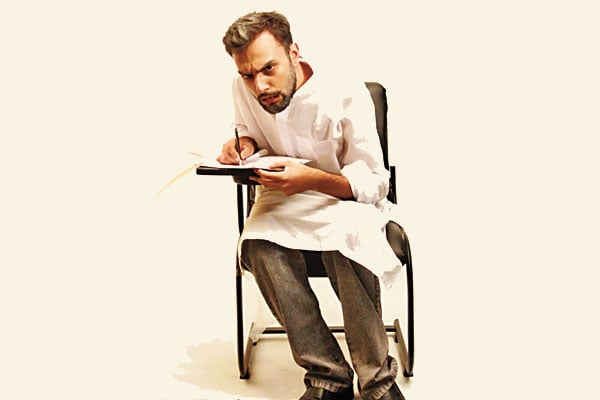 Instep: Do you think theater is an important medium? What kind of future do you see for it in the coming days ahead?
SF: Theatre is always a viable platform for contemporary aesthetic sensibilities. Along with the literary and entertainment aspects associated with it, it has also served as a means of socio-political awareness since its very beginning.
Hopefully, with the possible financial support from the government, educational and corporate sectors, the prospects and quality of our productions will improve, and will help in the establishment of a self-sustaining theatre industry in the future.
Instep: What is that one thing you're passionate about: theatre, music or television?
SF: My ultimate desire has always been to express myself, perform, and consequently entertain the masses. I try to follow my instincts and traverse unfamiliar artistic territories for education, experience and a kind of fervour that comes with it. I plan to follow this scheme and take one thing at a time and try new things and the accompanying challenges. That said, stage will always be a kind of home for me and a mainstay that I intend to work for, regularly and most passionately.
Instep: Tell us about your upcoming projects?
SF: At the moment I'm planning to produce Rahu, a contemporary Punjabi play by DramaED in Islamabad in August. The scripts of our upcoming plays like From the Bottom of my Art and Siyah Hashiye as well as few other untitled ones are in the works, and will be performed nationwide, later this year and the year after. Besides acting in plays on TV, I have started sketching out screenplays for possible drama serials. In due time, I plan to learn more about writing and production for the screen.