TVTalk
Based on Sarwat Nazir's novel of the same name, the play is a clever reflection on issues that follow women in real life.
Taking a break from the usual saas-bahu disputes and familial ties, Sehra Main Safar tells the story of an educated, modern-day, girl Iqra (Zarnish Khan) who has to step out of the house to earn a living for her family after her father's illness and ends up marrying the person of her choice, Shehryar (Emmad Irfani) against the wishes of her parents, who wanted her to marry her cousin Ayaz (Ali Kazmi).
Shehryar, however, has been a playing a pretend game with Iqra. He poses as a guy, who belongs to a well-off family, but has been kicked out of the house by his father because of his decision to marry the girl of his choice. The last episode saw Iqra finding out the truth about her husband's reality and doubting her decision of marrying Shehryar. What she still doesn't know though is that Shehryar is also involved with another woman and wants to marry her as well.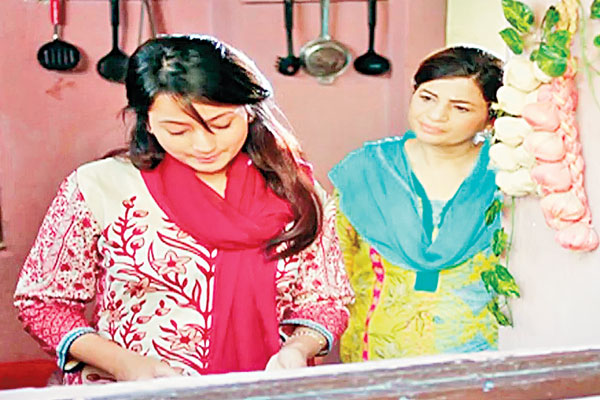 The interesting bit about Sehra Main Safar is that it defies all stereotypes associated with the regressive portrayal of women on television and at the same time shows that only freedom and independence doesn't lend anyone the sensibility to make better decisions in life. Women, who are self-reliant and self-sufficient, may also end up in situations that may force them to reflect on their decisions. It also offers a lesson in life that one should not give into emotions and trust others quickly. Iqra thought Shehryar to be her perfect match when in fact he was just using her as a means to an end. Interestingly, the play also highlights that even if given the option, not all women would like to work after getting married. Iqra, who worked hard to support her family before her marriage, didn't really want to work afterwards but her greedy husband wanted her to work so that he could live off of her money.
Based on Sarwat Nazir's novel Sehra Main Safar, the play touches upon several relatable issues that a woman could face – be it related to work, family or marriage – even if she is not necessarily confined to her home and is instead an educated, progressive individual.