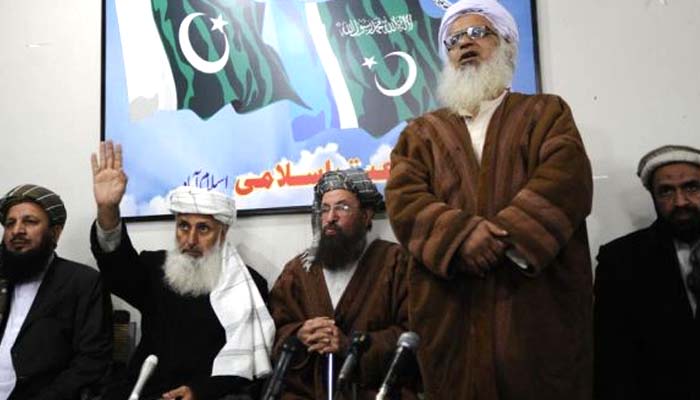 "The devil can cite Scripture for his purpose. An evil soul producing holy witness Is like a villain with a smiling cheek, A goodly apple rotten at the heart. O, what a goodly outside falsehood hath!"

― William Shakespeare, The Merchant of Venice
Run up to 2018 elections would be exciting and challenging times. Though Pakistan is full of soothsayers, none however can predict what is likely to happen from now to the polls. Ever since Panama leaks surfaced many heads have rolled for corruption in civilized countries. In Pakistan instead of bowing to the irrefutable charges of financial misdemeanors and quitting politics, those accused in Panama leaks continue to offer tough resistance to the judiciary.
Former prime minister Nawaz Sharif has been disqualified along with his daughter and sons from politics. Cases are hanging like Damocles sword on the head of PTI chief Imran Khan and his party MNA Jehangir Tareen also accused of hiding his assets by non-declaration. Element of obduracy and brazen defiance in accepting what is glaring—seem to have become a challenge for the highest judiciary. One does not know what course this tug of war would ultimately lead to; there are many more serious threats to the existence of Pakistan.
As a student of social sciences one had believed in the power of morality in character. Indeed, Quaid-e-Azam Mohammad Ali Jinnah was prophetic in his observation when he said: "All is lost when character is lost". And this was reflected in his politics. Had he dithered in the defence of his secular ideology and commitment to liberal and democratic Pakistan, all those 'ulema' who opposed him would have jumped on his bandwagon. Once a Sindh Muslim League leader wrote to MAJ about a particular assembly seat that he thought Muslim League could easily win if it were to have the support of the main Khatib of the area mosque and that Khatib was willing to support Muslim League candidate in exchange of One lac of rupees. Quaid's minced no words and responded: "We would rather lose the seat then bribe the Maulvi in winning it."
Unfortunately Pakistani politics has come to be something like supping with the ideological enemy. Alliances are made and broken for various considerations. Now has emerged the new concept of engineering in politics. In 2014 one heard a great deal of 'umpire's finger' that failed to go up to boost IK's dharna politics. In NA-120 bye-election one saw the emergence of Laibaik Party and Milli Muslim League. And their performance in the bye-elections caused lot of apprehensive ripples. General Pervez Musharraf-engineered Mutehda Majlis-e-Amal (MMA in 2002) too is trying to get out of political cemetery. Why should he be left mind with over millions of facebookwallas waiting to join his 23-part alliance to "save Pakistan". Less said the better about the abortive engineering by the Establishment to merge MQM-P with PSP. Its one outcome is worth appreciating—it let the "engineering" cat out of the beg and now people know what does Establishment and powers that be stand for.
In the midst of this confusion came the news that Maulana Samiul Haq, leader of Jamayat Ulema-e-Islam — (JUI-S) and PTI's Imran Khan have agreed to 'politically sandwich' each other in a 'joint strategy' for the upcoming elections. More often the two leaders would meet to chalk out their common strategy for contesting 2018 election supporting each other. This development-whatever is its worth-- has come at a time when 'engineering' of political groups is in full swing. It seems that the objective of the engineers is to ensure that there should not be anything better than a hung parliament allowing it enough space to have its puppet as a prime minister.
Notwithstanding the fact that IK has made a name for himself as a cricketer par excellence, his Shaukat Khanum Memorial Cancer Hospital is a colossal symbol of his love for his mother and in the service of cancer patients. However, his trajectory in politics—though full of sound fury—needs a re-think on his ideological commitment. So far it seems to be much more of the same hue as oft repeated by former prime minister Nawaz Sharif as his ideology. Both see themselves in the spitting political image of MAJ though they look different in mirror. They sleep in different beds, yet they are comfortable in dreaming about a sandwich position with either Taliban, Mulla Fazlul Haq more popularly known as Mullah Radio, Maulvi Samilul Haq, Hafiz Saeed, Maulana Aziz of Red Mosque and all those who had cavalcaded in the funeral procession of Mumtaz Qadri and lately in their protest dharna at Faizabad Chowk.
Times has come to stop giving benefit of doubt to either coco-nut politicians who are white from inside and brown from outside until they categorically denounce bigotry as an act of blasphemy and rededicate themselves to Quaid's ideology or his Pakistan where religion would have to be a private affair. The exceptional treatment by the government extended to internationally declared terrorists like Hafiz Saeed, Masood Azhar, Ludhyanvis, Maulana Abdul Aziz and others who laid siege to Islamabad or earlier its reluctance to take effective action against extremist organizations such as Sipah-e-Sahaba, LeT, Jhanghvis, JuD and their headquarters in Muridke besides what its critics call—payment of crores of rupees protection money to them by the government—one does not need any evidence to conclusively say that they are in cahoots with each other.
Good thing about Imran Khan is that he does not hide his sleeping with the enemy. He supported the Taliban and TTP and opposed military operation against them. He even wanted the 'proclaimed father of Taliban' Maulvi Samilul Haq to broker a deal with them to delay military operation. His past professions do not hide his love for them and to join hands in a politically sandwich position with Maulana Samiul Haq is in keeping with the urges of both. Please don't forget PTI-KP's government's grant of Rs 300m to Sami-ul-Haq's seminary Dar-ul-Uloom Haqqania. Incidentally this seminary was funded enormously by the Americans during CIA's Afghan Jehad and it is alleged to have provided rent a killer for the assassination of Benazir Bhutto who the then dictator President General Musharraf thought as the main stumbling block in his way to life presidency.
Pakistan is standing at a critical juncture. It is facing an existential threat. It has lost over 70,000 civilians and over 7000 members of law enforcing agency of all ranks and file. Only the other day yet another brave, handsome and smiling 28-year old Major Ishaq laid down his life in defence of the country and its people. By joining hands with such extremists we would be negating the huge sacrifices given by or security forces and civilians. It won't give extremists acceptability, it would rather expose those political elements supporting them or joining them in alliances as birds of the same despicable feathers.
---
*Author is former High Commissioner of Pakistan to UK and a veteran journalist